Important note: This article is not an investment recommendation and should not to be relied upon when making investment decisions - investors should conduct their own comprehensive research. Please read the disclaimer at the end of this article.
Continental Resources (NYSE:CLR) is a shale oil operator that has no shortage of high-quality drilling opportunities. So when Continental points to an asset in its portfolio that provides the highest drilling returns, it probably means that the play is exceptional.
The following slide shows Continental's estimates of drilling returns for its various operating areas. The yellow curves on the plots correspond to well costs targeted for 2016. Excluding the NW Cana Joint Development Area where Continental's returns are boosted by the 50% drilling carry paid for by the JV partner, the over-pressured oil window in STACK appears to be the leader in the company's vast portfolio in terms of drilling returns, and by a wide margin. According to the slide, the company expects to generate drilling returns in the ~75% range at $45 per barrel WTI and $2.25 per MMBtu Henry Hub, assuming $9.5 million completed well cost (the 2016 target). This return handily beats the expected returns in the Bakken for high-graded inventory wells (900 Mboe EUR, $6 million completed well cost target).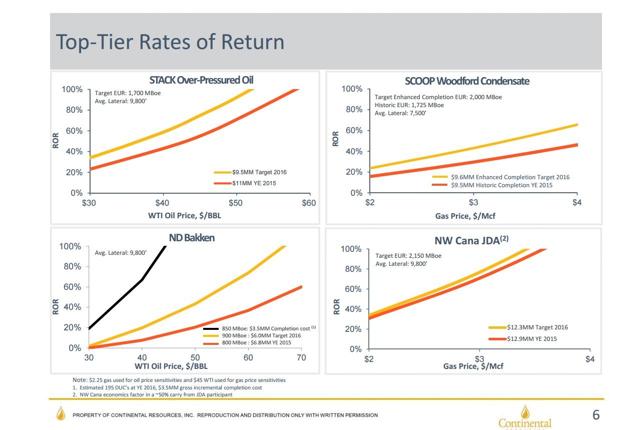 Click to enlarge
(Source: Continental Resources, May 2016)
The return estimates for STACK are underpinned by the company's type well model which implies oil EUR of ~1 million barrels and gas EUR of ~4.3 Bcf per well.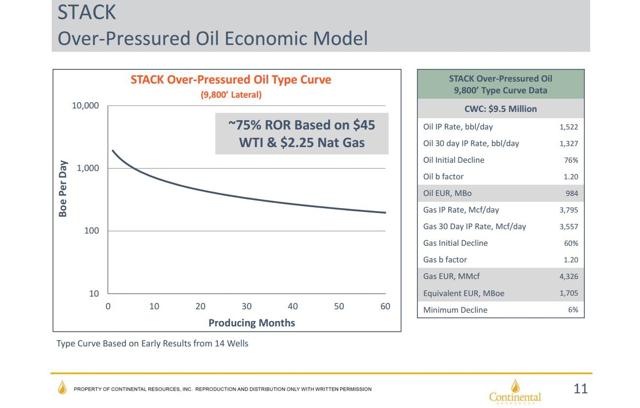 Click to enlarge
(Source: Continental Resources, May 2016)
On the surface, EUR per dollar metrics for STACK appear comparable to those for the Bakken. Assuming that oil represents 75% of the 900 Mboe EUR for the type well in the Bakken, the Well Cost / EUR ratios come out at ~$8.90 per oil barrel in the Bakken and $9.65/oil barrel in STACK. However, there are several factors that make STACK wells more economic, all else being equal.
The first factor is price differentials. STACK, which is located in immediate proximity to the Cushing oil hub, the pricing point for NYMEX WTI, has a clear advantage over the Williston Basin as the cost of transporting crude from North Dakota is quite high in comparison. Moreover, over time, the Bakken is more vulnerable to seeing periods of abnormally wide differential when production exceeds takeaway capacity. The same is true about natural gas that tends to receive higher prices at the wellhead in Oklahoma compared to North Dakota. The impact of the price differentials on drilling returns becomes particularly noticeable when oil prices are low (every dollar of margin counts).
The second factor is the value of the gas component. STACK is a gassier play than the Bakken, yielding materially larger gas EUR per barrel of oil EUR, boosting the economics. The value of the natural gas component increases if one were to assume strip pricing for natural gas
Finally, oil and gas severance taxes are another important factor. Oklahoma has at least a 3% advantage over North Dakota in terms of production/extraction taxes. This advantage can be even wider once all the tax breaks are taken in consideration. Royalty rates may also play a role, although the comparison obviously must be lease-specific.
These considerations help to understand the exceptionally high drilling returns that Continental is projecting for STACK, even for a depressed commodity price environment.
Quite notable is Continental's May 17, 2016, press release issued to specifically highlight a strong new well result in the STACK. According to the release, the company's Verona 1-23-14XH well in the Meramec flowed at an initial 24-hour rate of 2,345 barrels of oil and 6.0 million cubic feet of 1,370-Btu natural gas (oil was 70% of the production during the test) on a 34/64-inch choke. The Verona is a 9,700-foot lateral in the over-pressured oil window of STACK drilled and completed at $9.0 million. The Verona is located immediately east of the company's strongly performing Ludwig well (Continental is currently drilling an eight-well density pilot on the Ludwig unit).
It is still premature to dismiss well performance risks in STACK given that the majority of the wells in the over-pressured window have limited production history. The most important metric to pay attention to is the gas-oil ratio and its evolution over the well's life. I would also be cautious relying too much on IP rates as a well performance indicator. Still, there are many strong early-time well results reported in the play to date (select Continental wells are highlighted on the slide below) with significant cumulative production volumes, which makes STACK an important emerging play worth paying attention to.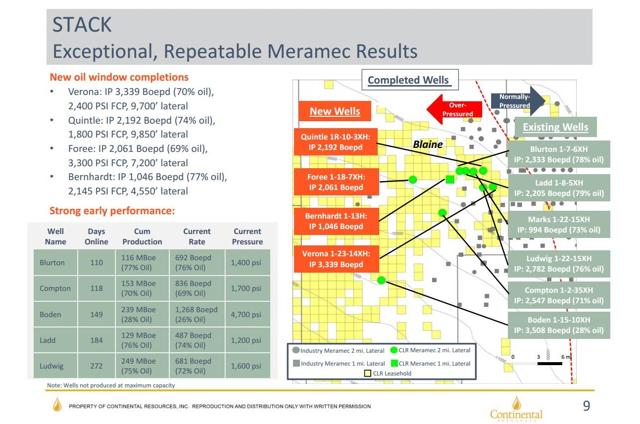 Click to enlarge
(Source: Continental Resources, May 2016)
STACK's delineation is progressing rapidly. Continental alone has 11 operated rigs drilling in STACK, with six targeting the Meramec and five targeting the Woodford. Devon Energy (NYSE:DVN), Marathon Oil (NYSE:MRO), Newfield Exploration (NYSE:NFX) and Cimarex Energy (NYSE:XEC) are also actively drilling in the play.
For in-depth data and analysis of commodity fundamentals, please consider subscribing to Zeits OIL ANALYTICS that provides analysis of the crude oil and natural markets.
Disclaimer: Opinions expressed herein by the author are not an investment recommendation and are not meant to be relied upon in investment decisions. The author is not acting in an investment, tax, legal or any other advisory capacity. This is not an investment research report. The author's opinions expressed herein address only select aspects of potential investment in securities of the companies mentioned and cannot be a substitute for comprehensive investment analysis. Any analysis presented herein is illustrative in nature, limited in scope, based on an incomplete set of information, and has limitations to its accuracy. The author recommends that potential and existing investors conduct thorough investment research of their own, including detailed review of the companies' SEC filings, and consult a qualified investment advisor. The information upon which this material is based was obtained from sources believed to be reliable, but has not been independently verified. Therefore, the author cannot guarantee its accuracy. Any opinions or estimates constitute the author's best judgment as of the date of publication, and are subject to change without notice. The author explicitly disclaims any liability that may arise from the use of this material.
Disclosure: I/we have no positions in any stocks mentioned, and no plans to initiate any positions within the next 72 hours.
I wrote this article myself, and it expresses my own opinions. I am not receiving compensation for it (other than from Seeking Alpha). I have no business relationship with any company whose stock is mentioned in this article.