May has come and gone and U.S. equity indexes are still hovering near 2016 highs. Each year, many pundits invoke the "Sell in May and Go Away" rhetoric. We have recently heard some argue that the failure of equities to sell-off in May 2016 suggests that "Sell in May" does not apply this year. So perhaps a Bullish case for equities for the coming months? We were curious to see how equities have fared historically when markets begin selling off in May versus the cases when the month of May has been strong or stable for equities.
We designed a simple study to test "Sell in May and Go Away… and Come Back on St. Leger Day". As St. Leger Day falls in mid-September, we looked at the performance of the S&P 500 (which gives us a sufficiently long data history) from May to October starting in 1948. We screened each year into two categories: 1.) "No Sell in May" and 2.) "Sell in May in Effect". For Sell in May to be in effect, one of two criteria had to be met:
May's monthly close was at least -2% lower than April's close, or
A draw-down of at least -3% had to occur from the May intra-month high into the final week of the month.
Considering the S&P 500 (NYSEARCA:SPY) price data from 1948, we have 67 "May observances". The breakdown is as follows:
Sell in May on the S&P 500 since 1948

No Sell in May

Sell in May in Effect

42 years

25 years

63%

37%
Our hypothesis beginning the study was that a weak month of May would announce particularly poor May-September equity performance. The chart below plots the mean trend performance of the S&P 500 under each scenario. We set the March closing price as base 100 each year to also observe the April monthly performance trends. A quick glance at the two curves below confirms that equity selling in the month of May has absolutely NO predictive power for the S&P 500 summer performance. Two more points worth noting:
April is traditionally the strongest month of the year. Under both scenarios, April's mean return is positive. We find the same results in our weekly trend indicator charts.
When the market does not sell-off in May, June S&P 500 returns are typically negative.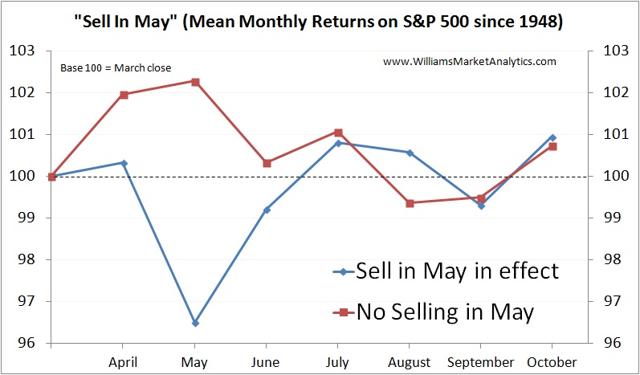 Click to enlarge
Some might argue that "Sell in May" is a more recent phenomenon. So we re-tested the S&P 500 price data from 1980. Of the 36 cases, the breakdown is as follows:
Sell in May on the S&P 500 since 1980

No Sell in May

Sell in May in Effect

26 years

10 years

72%

28%
A similar chart with a shortened date range is posted below. The results are strictly the same.
In sum, whether the S&P 500 sells off in May or not, we can make no forecast on June to October S&P 500 returns based on the propensity of investors to begin selling in May. Nonetheless, the May to October period is typically the weakest of the year, as shown in our weekly trend indicator charts. The month in which selling begins is purely random and has no bearing on predicting summer S&P 500 returns.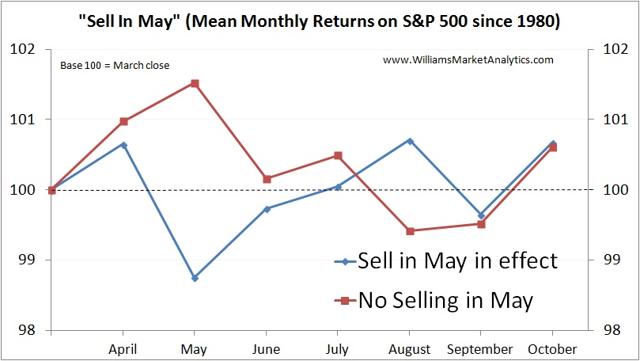 Click to enlarge
12-Months of U.S. Equity Stagnation
Most market observers are aware that U.S. large cap indexes posted the last record high exactly one year ago, in May of 2015. Last Spring, we gave a timely warning based on excessive valuations, optimistic sentiment, and weakening technicals (see U.S. Equities: The Top May Now Be In). Since last May, U.S. equities have churned and churned, corrected and rebounded a couple times, but have failed to advance to a new high. Twelve months seems like a long time for equities to "stagnate" (or fail to make a new high) in an expansion, so we investigated. Our working hypothesis is that we are at least in the "Late Expansion" phase of the economic cycle (we may even argue that the economy is already in the "Slowing into Recession" phase, see Late Expansion or Slowing Into Recession Trade?). The current economic expansion is already the fourth longest on record, so we hope we don't get much push back in our "Late Expansion" assumption.
We took the S&P 500 price data going all the way back to 1928 and looked at the period preceding the drop into recession. Specifically, we counted the number of months the S&P 500 "stagnated", or failed to make a new high, before the economy turned down into recession. The results are edifying and confirm that the current 12-month dry spell for reaching a new S&P 500 high is indeed unprecedented. We broke the S&P 500 price history into four data frames to better see how the index behaved prior to the U.S. economy entering a recession.
Between 1928 and 1950, the U.S. suffered four recessions. In two cases, the S&P 500 continued making new economic expansion highs up to the onset of the recession (No Stagnation). In the 1945 recession, the S&P 500 did not even correct (the only time that this has occurred). Prior to the 1948-1949 recession, the S&P 500 stagnated only 4 months.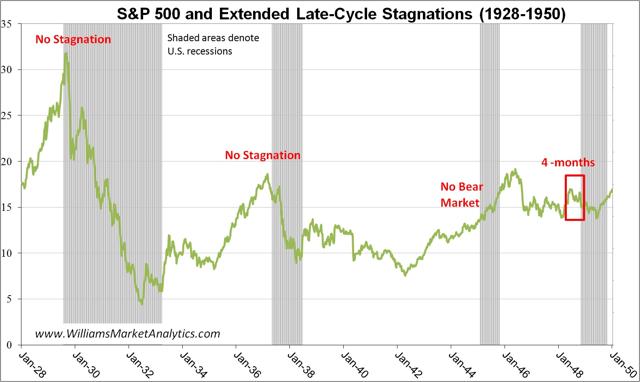 Click to enlarge
Between 1950 and 1972, the U.S. went through four recessions again. Again, one case of no stagnation and two periods of about 5 months of equity stagnation before equities fell with the onset of recession. The 1957-1958 case is the only example similar to today, with equities spending 11 months in the Late Expansion period without making a new expansion high before dipping during the recession. Note that the 1957-1958 recession was relatively brief and the S&P 500 only fell a bit more than -20%.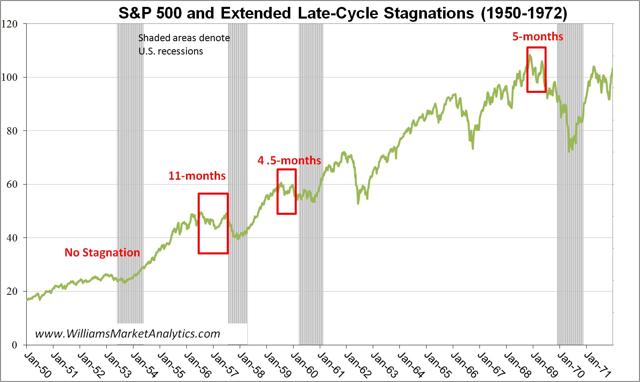 Click to enlarge
Between 1972 and 1994, the U.S. suffered four recessions once again. In three cases, there was no stagnation of equity prices. In the 1981-1982 recession, equities slopped around for 8 months before recession selling began.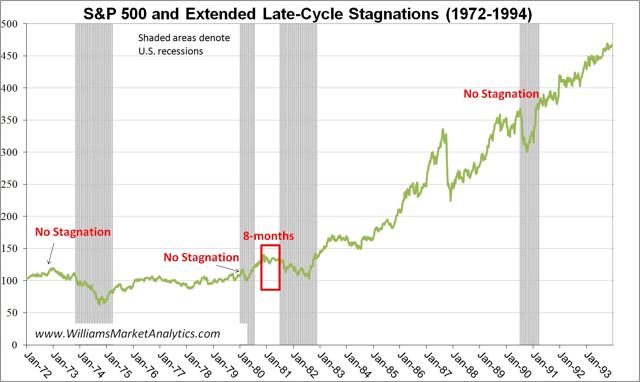 Click to enlarge
Between 1994 and 2016, the U.S. suffered two recessions. In each case, the Late Expansion stagnation period was much shorter than the current 12 months of stagnation.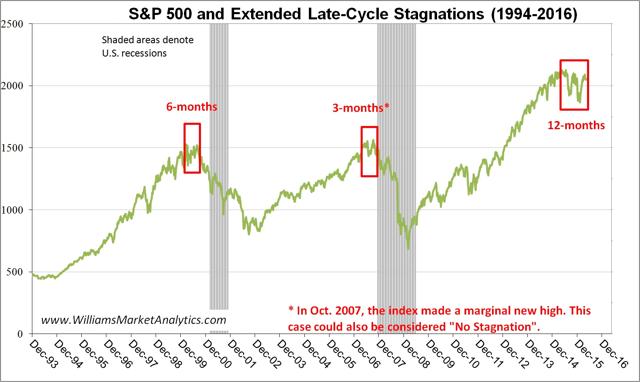 Click to enlarge
Conclusion
The 12-month period of stagnation during which the S&P 500 has failed to make a new expansion high, should be a concern for equity investors. The precedent stagnation periods have reflected growing doubts among investors about the perennity of the economic expansion. Why has the current stagnation period on the S&P 500 been so long relative to the prior cases? Most likely due to the belief among many investors that the central bank will be able to forestall the next recession with extraordinary monetary policy. When investors collectively realize that the "emperor has no clothes", and worse, that counter-cyclical monetary tools have not been replenished by the central bank during this expansion, we would bet that the 12-month equity stagnation translates into a much more painful equity draw-down during the upcoming recession.
We have also concluded that, based on empirical data, a Sell-In-May effect does not have strong predictive power for returns through the Summer and early Autumn.
Disclosure: I/we have no positions in any stocks mentioned, and no plans to initiate any positions within the next 72 hours.
I wrote this article myself, and it expresses my own opinions. I am not receiving compensation for it (other than from Seeking Alpha). I have no business relationship with any company whose stock is mentioned in this article.