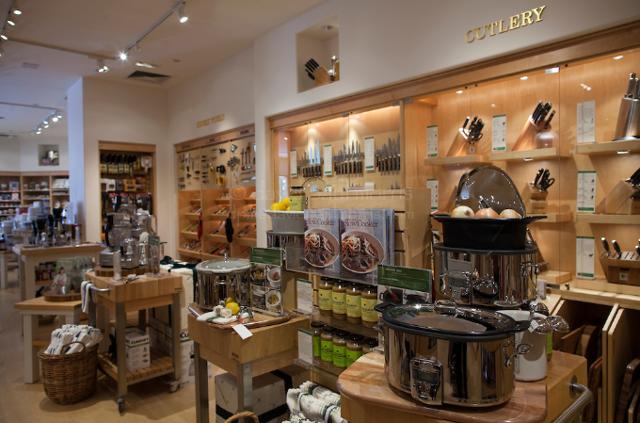 Click to enlarge
You can add Williams-Sonoma (NYSE:WSM) to the list of retailers that is trading at or near 52-week lows after the beating the stock has taken in recent months. I haven't always been a big fan of WSM, as I said it looked very expensive at $76 and more recently, said it was worth buying in the $50s as the stock traded at $63. Both of those things have come true and after Q1 earnings, shares are now just $52. So am I taking my own advice and picking up WSM off the scrap heap here?
As a note, I'll be using a couple of charts from Simply Wall St.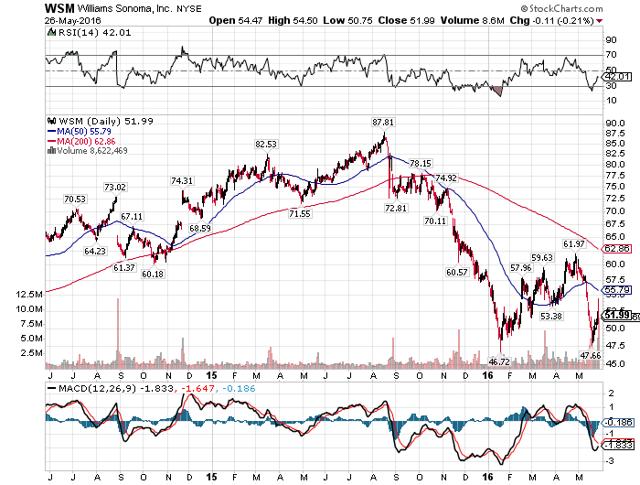 Click to enlarge
My issue with WSM before was not that the business was weak, but rather that the price one had to pay for it was downright ludicrous. It was very easy to spot in the $70s and $80s that WSM was overvalued and I told readers as much at the time. But at $52, the line has certainly blurred as that substantial revaluation is exactly what I wanted last year when I said WSM was way overpriced. Now that we have it, I have to admit that WSM looks pretty good here.
Total revenue was up 6.5% in Q1 as comparable revenue provided most of the thrust at +4.5%. These are both very strong numbers in a weak retail environment and WSM has continued to deliver, despite what the stock price says. And the strength was broad-based as well; the namesake brand was +3.5% while relative newcomers like West Elm (+19%) more than carried their weight as well. And that brings up another point; WSM's portfolio of brands is tough to match in the marketplace and that strength and diversification is a big reason why I like the business. WSM - with its brand portfolio - has a mix of stability and growth that is very appealing.
Unfortunately, product margin was 100bps lower in Q1. However, that didn't stop total non-GAAP operating margins (which exclude some one-time charges) from coming in flat during the quarter. The level of 7% operating margins is decent for a retailer but relatively weak product margins are certainly weighing. I don't care about one-time charges but on an ongoing basis, WSM's recent share price weakness may be due in part to a lack of operating margin growth. Product margins are the first step and they have to get better; I'll be watching that closely in Q2.
That being said, analysts are very bullish on WSM as depicted in this chart of EPS projections.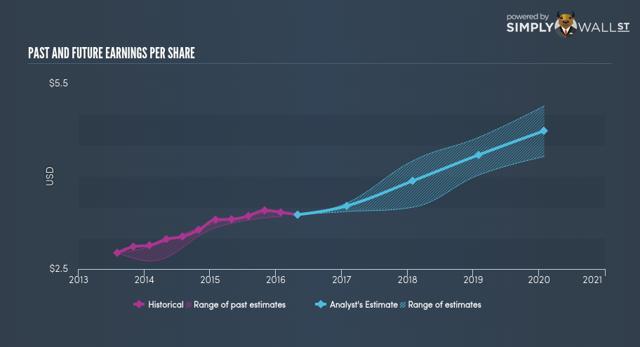 Click to enlarge
WSM is expected to hit high single-digit growth rates in EPS for the foreseeable future and while that is nice, steady growth, WSM has some work to do to get there. Its revenue growth should be good for more than half of that as it continues to see torrid expansion in its West Elm brand and steadier, more moderate growth in its more mature brands. But margins need to be higher for WSM as 7% is certainly nowhere near the top of the pack for a retailer. The continued expansion of the web business should help but right now, I think the only thing holding back WSM shares is relatively weak operating margins. WSM's product margins are decent but not great, but where it can really make some headway is in operating costs. I'll be looking for progress towards that goal throughout the rest of the year because that is central to the bull case.
Apart from nice earnings growth, WSM has a beautiful balance sheet.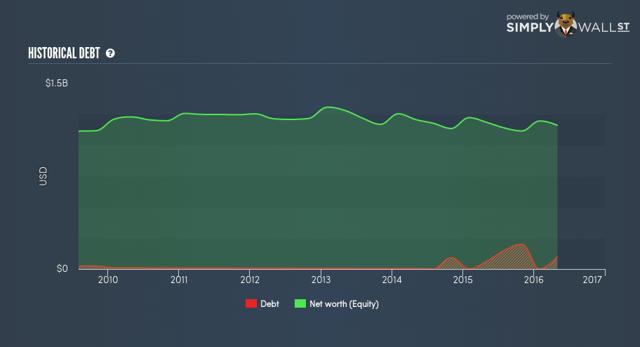 Click to enlarge
The company continues to maintain its capital levels despite the investments it is making in growing the business. That balance sheet will serve it well when it comes to things like necessary capex or even acquiring another brand. In addition, it certainly helps with capital returns like the dividend.
And speaking of the dividend, WSM is joining a growing list of retailers that are accidental high-yielders; those stocks that paid decent dividends but have seen their stock prices crash to create a high-yield situation.

Click to enlarge
WSM is right at 3% now with its yield, certainly a psychological level that gets income seekers interested. And given that WSM pays out only a small amount of its earnings in dividends, it seems there is ample room to grow it over time. Unlike before, the yield is becoming a factor for WSM in the bull case and it is certainly swaying me.
At 14.6 times this year's earnings, WSM is cheap. This is not a stock that is going to double overnight but it is a highly recognizable brand with a loyal following in a niche where quality matters. That has made WSM successful and with the yield at 3% to boot, it is finally time to buy. I am putting my money where my mouth is and buying in the low $50s as I said I would last year; the time is right. The valuation and expectations are balanced well for bulls here so I'm in.
Disclosure: I am/we are long WSM.
I wrote this article myself, and it expresses my own opinions. I am not receiving compensation for it (other than from Seeking Alpha). I have no business relationship with any company whose stock is mentioned in this article.