1.0 Background
In 2016 Q1 earnings, Cheetah Mobile's (NYSE:CMCM) revenue and EPS both beat consensuses, however Cheetah Mobile cut revenue guidance for Q2 and the whole year of 2016. Stock price plunged about 30% in a few days after posting earnings.
2.0 Reason of Guidance Cut
All the evidence point to the change of algorithm from Cheetah Mobile's partner Facebook. Cheetah Mobile's CEO stated in the Q1 earnings call in his mother tongue: "Frankly speaking there was a negligence of management. We thought the decrease of revenue in Q1 was because of seasonality until April. In April, we found something went wrong, seasonality is not the reason". He also talked about the return of growth in the future: "Generally speaking, as long as we get rid of the dependence on some big partners, I believe our revenue will grow again based on our user base and total traffic".
CEO Sheng Fu didn't say the big partner's name but we all know it's Facebook, because Facebook is the only one that has the capability to influence Cheetah Mobile's revenue that much.
2.1 Algorithm
We don't know what algorithm exactly has been changed to kill the growth of Cheetah Mobile's revenue, but we do know there're two significant changes that may have possibly caused the influences.
2.1.1 Integrated Ad Platform
On March 24, 2016, Facebook announced its mobile ad platform Facebook Audience Network partnered with third-party mediation platforms, including Twitter-owned MoPub, Fyber, and Opera Mediaworks. App publishers only need to use one third-party integrated ad mobile platform for monetization, and millions of Facebook advertisers only need to access this integrated platform too.
This was obviously not great news for Cheetah Mobile. It will have more competitors in the new integrated platform, and the advertisers from Facebook didn't change. Namely, the demand doesn't change, but the supply surges. This results as CPMs decrease which Cheetah's CEO mentioned multiple times in the earnings call. The partnership of Facebook and other platforms is definitely good for advertisers, however, it's not the best news for ad publishers. Ad publishers would face more intense competition and receive less revenue.
2.1.2 Advertiser Outcome Score
Last October, Facebook launched Advertiser Outcome Score (AOS). AOS is a measurement system that evaluates the effectiveness of publisher's ad placement to drive outcomes for the advertiser. In short, a higher score means stronger performance and higher CPMs for publishers.
The rumor said Facebook recently changed its AOS algorithm and the score for Cheetah Mobile was lower than before. This made Cheetah Mobile less attractive as a publisher and they got much lower CPMs. Because of this, Cheetah's revenue from Facebook decreased dramatically.
I'm not quite sure which one killed Cheetah Mobile's guidance. As far as I'm concerned, the combination of both has the highest probability.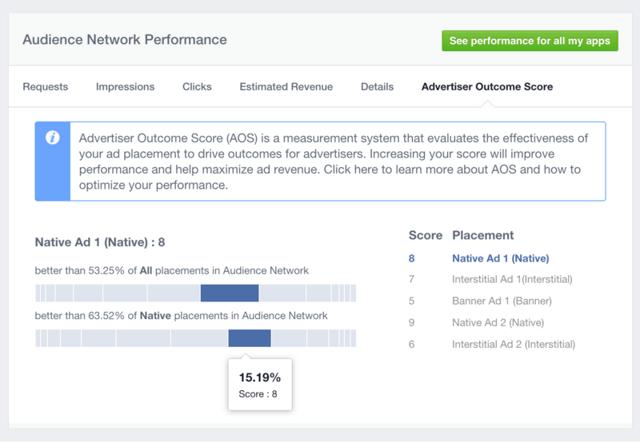 A screen shot of Advertiser Outcome Score displayed on a publisher's facebook page.
2.2 Without Algorithm Change
If the guidance cut was because of the algorithm change, then the problem now is plain and simple: Monetization. Cheetah Mobile's products have no problem; The Research and Development Team has no problem. The traffic and user base have no problem. I believe those are the fundamentals to Cheetah Mobile. If the fundamentals are okay, we may not worry too much.
If there's no algorithm change from Facebook, will Cheetah Mobile's revenue grow like usual? To answer this question, let's see the composition of its revenue. By Q1 2016, 90% of total revenue was "Online Market Service", 8% was "Internet Value Add-on Service" and 2% was "Security and Others". Obviously, the most revenue of Cheetah Mobile is from "Online Market Service".
"Online Market Service" revenue heavily depends on the Monthly Active Users (MAUs) and downloads of Apps. In Q1 2016, Cheetah Mobile's MAUs had a year-over-year growth rate of 47%. In terms of app download, the critical app from Cheetah Mobile performed well in Q1 and even better in Q2. Given MAUs and downloads of apps, Cheetah Mobile's revenue should keep growing in Q2 like usual, but in Q2, guidance revenue didn't grow at all.
Given all these conditions, I'm here to make a bold assumption: Because of the change of Facebook's mobile ad algorithm, Facebook will be able to take more money from Cheetah Mobile's apps. In the meantime, Cheetah Mobile receives way less money via Facebook. In other words, without the change of Facebook algorithm, Cheetah Mobile's revenue is going to grow like usual.
3.0 Fundamentals
3.1 Downloads
According to the data from the world leading App analytics company "App Annie", Cheetah is the 3rd largest company in term of downloads.
The core business model for Cheetah Mobile is pretty simple: they develop apps and if the app becomes popular, they call it the "Critical App". Critical apps will serve as entry points to get users. Once they have enough users, the apps will be monetized by in-app purchases and online marketing services.
The Critical apps developed by Cheetah Mobile can be divided into two categories: tools and games. At the moment, the top tools are: Clean Master, CM Security, Photo Grid, and CM locker. The top games: Piano Tiles 2 and Rolling Sky.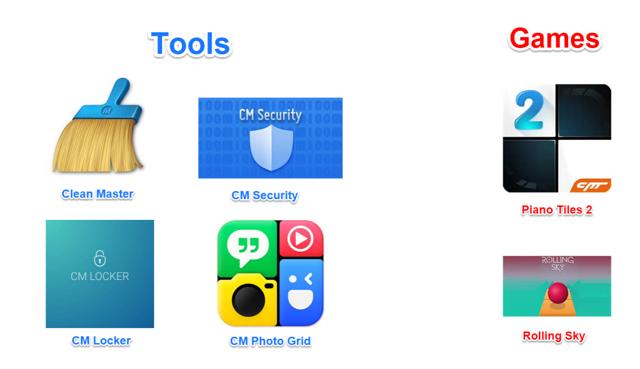 Chart made by author.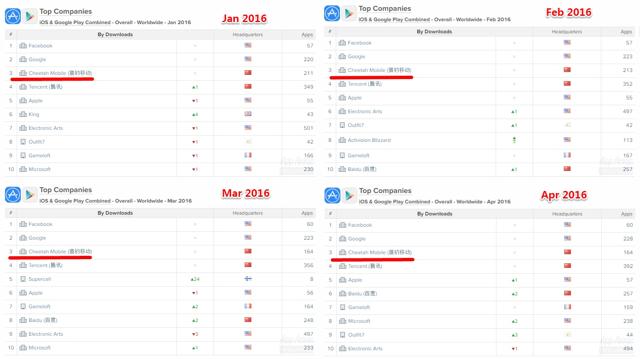 Chart made by author. All information is from App Annie.
In 2016, Cheetah Mobile's critical apps have been performing well, even in April when Facebook's algorithm heavily affected the revenue of Cheetah Mobile. Globally, Cheetah Mobile still stably ranked 3rd in terms of downloads. That's why I'm confident about this company's value. As soon as monetization is fixed, growth will get right back.
3.2 MAUs
By Q1 2016, Cheetah Mobile has 651 million MAUs. According to April and most of May's download data, I don't think there will be a drop in Q2.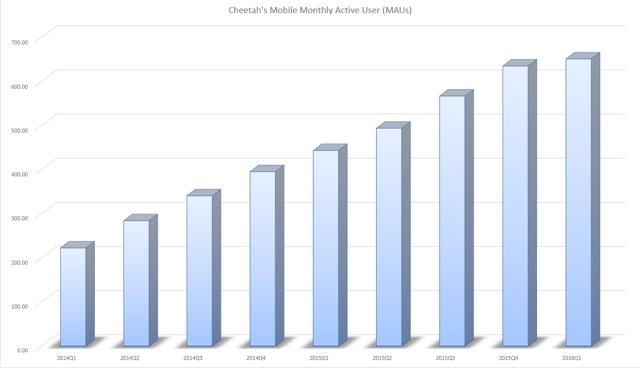 Chart made by author. All information is from company's investor relations.
3.3 PEG
At the moment, Cheetah Mobile has a PEG of 0.23 according to Yahoo Finance. Cheetah Mobile reminds me of another Chinese internet company Qihoo 360 (NYSE:QIHU). I believe a lot of people consider Qihoo as a strong competitor of Cheetah Mobile and usually compare each other.
3.3.1 Similarities
They do have a few similarities: Strong growth in revenue and profit; Trading around or even below the IPO price after going public for a few years until the true value appreciated. They both have similar product lines.
They even had similar troubles: when the growth of MAUs of Qihoo's core security tool Qihoo Security slowed down, investors started doubting the profit and margin would clash soon too. But people forgot what a big user base Qihoo had. What Qihoo did was improve its capability of monetization. It acquired the advertisement platform company "MediaV". After two quarters, Qihoo's monetization capability has improved significantly. Since then, the doubt about growth and profit has gone. Does it seem familiar? Cheetah Mobile has almost same trouble now. Revenue guidance cuts due to the lack of monetization capability. As CEO Sheng Fu said in the Q1 2016 earnings call that they're now building sales force and may see the growth come back in one or two quarters. We all know improvement of monetization takes time.
3.3.2 Competitor's PEG
In the first few years after Qihoo went public, investors did not seem to appreciate the true value of it very much; lots of people doubted if the high growth can continue. Qihoo went public on March 31, 2011, with an IPO price of $14.5. Before the huge breakout of stock price, the share was trading at $14 to $30. On 6th March 2013, Qihoo released its 2012 Q4 earnings. At that point, TTM earnings growth rate was 200%, TTM P/E ratio is 78. TTM PEG is 0.39. Such low PEG virtually means this stock was highly undervalued. And we all knew the story after that, Qihoo never went back to 30s.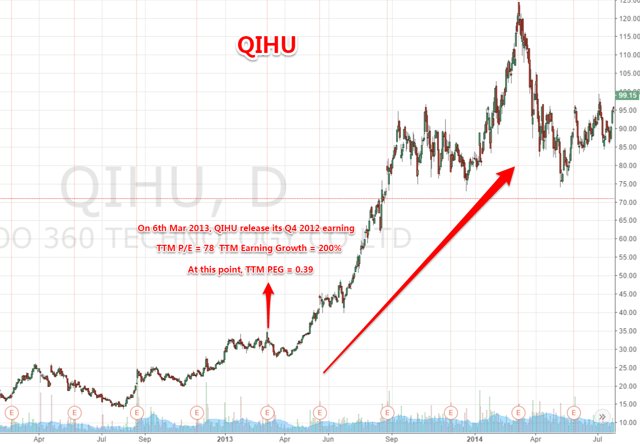 Chart made by author. All information is from TradingViews and company's investor relations.
4.0 Monetization
If the user base, traffic, and MAUs are growing like always, now the only problem is monetization.
4.1 Time
Improvement of monetization needs time for sure, especially when you need to get rid of the dependence of the big former partner. Cheetah Mobile needs to build its own sales team for monetization. That's what Cheetah Mobile is doing right now. It will be difficult and time-consuming, but once the sales force has been armed, sustainable growth can be expected.
4.2 Other partners
On 24th May, Cheetah Mobile announced the successful partnership with Google's (NASDAQ:GOOGL) (NASDAQ:GOOG) AdMob. AdMob is one of the toughest rivals of Facebook's (NASDAQ:FB) Audience Network. This was actually quite a nice move by Cheetah Mobile's management. Working more closely with Google is definitely helping generate revenue in the current situation where Facebook significantly dropped CPMs for Cheetah Mobile.
5.0 Future
Since the IPO, Cheetah Mobile's revenue was up 391% and net income grew 185%. However, the stock price now is trading at around $10 and the IPO price was 14$. This is ridiculous.

Table made by author. All information is from company's investor relations.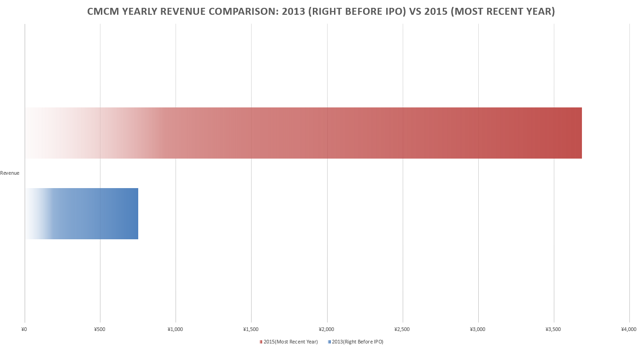 Table made by author. All information is from company's investor relations.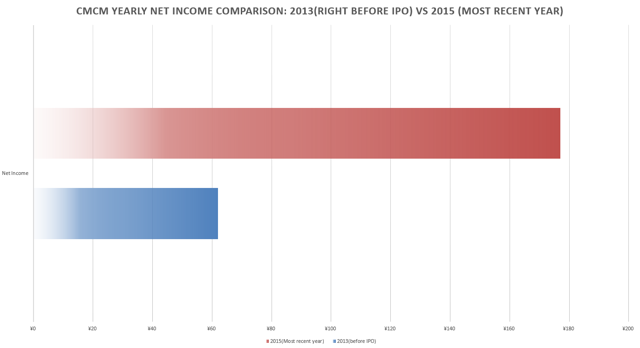 Click to enlarge
Table made by author. All information is from company's investor relations.
"Be fearful when others are greedy, and greedy when others are fearful" by Warren Buffett. For Cheetah Mobile, we can tell now most investors are definitely fearful, but is it the right time to be greedy?
In my opinion, this is not the time to worry. It will worry me if the following happens:
The MAUs start to decrease
The downloads of critical Apps drop
Significant negative changes to the management or R&D team
To sum up, based on the current situation, if the company's share is still trading under its IPO price of $14, I believe it exposes a truly rare investing opportunity in a highly undervalued company with huge potential. As long as they fix the monetization and get the growth back, the share price would soar.
Disclosure: I am/we are long CMCM.
I wrote this article myself, and it expresses my own opinions. I am not receiving compensation for it (other than from Seeking Alpha). I have no business relationship with any company whose stock is mentioned in this article.