We got the rally I called for at the start of the week. Taking risk off ahead of a Fed Chair appearance and a long holiday weekend is probably wise for some investors now. In this new age of Fed hawkishness and terrorism, carrying vulnerable shorter term risk here near all-time highs just does not make sense.
However, long-term investors take risk off through asset diversification and good stock-picking. Those with shorter term interests may want to employ option protection, volatility instruments, counter positions using ETFs or even by taking a portion of profits, even if it's just temporarily.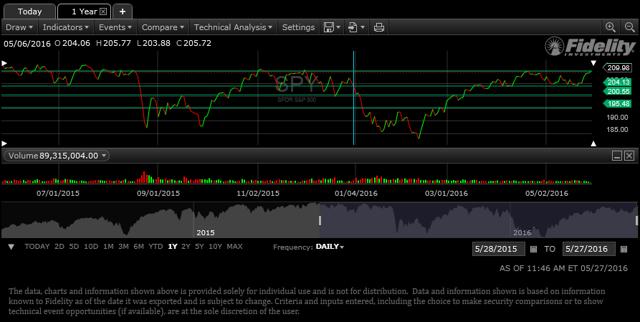 Click to enlarge
1-Year Chart of SPY at Fidelity.com
As I watched the SPDR S&P 500 (NYSE: SPY) approaching its 52-week high on Friday morning, with about an hour to go before Fed Chair Yellen was scheduled to appear at Harvard University, I thought now would be a good time to take risk off.
While I am not expecting much market moving news out of the Fed Chair today, if she says anything important it is more likely to be hawkish. The U.S. dollar already reflects that today, and the PowerShares DB US Dollar Bullish ETF (NYSE: UUP) is up roughly three-tenths of a percent, which reflects about the same move in the U.S. Dollar Index. It's not an unimportant move, and marks the continuation of yesterday's trend after the mid-week break for the dollar on European strength. As a result of the dollar action, oil prices are off their highs and the United States Oil ETF (NYSE: USO) is down fractionally after having opened off by far more.
Stocks have been able to climb on their own momentum and because of the easing of expectations around the Fed Chair's appearance since the start of the week. In my report calling this rally early this week, I suggested to investors that equities could meander their way into the weekend on light volume and on a Fed non-event. That said, we are now at 52-week highs heading into a Fed Chair appearance after signals from other Fed members that a rate action is likely coming near-term. That sort of scenario and market level makes for a good point to take risk off, or to hedge risk at minimum, perhaps using iPath S&P 500 VIX ST Futures (NYSE: VXX), which is relatively inexpensive now compared to recent price action for it.
Investors may also use option protection, counter positions or by taking some profits, if even temporarily. Gold will not necessarily work as well as a hedge now (works only against terrorism in US), so avoid use of the SPDR Gold Trust (NYSE: GLD) or other gold instruments, as nascent dollar strength harms gold.
Also, let's not forget that we live in an environment where terrorism is increasingly possible. Three days off is a long time in an environment like that. While terrorism is more likely to occur overseas than in the U.S., just last week, the leader of ISIS called for attacks on Westerners and the West.
Let's do the prudent thing here and reduce risk at the high and into the weekend. Tuesday is another day, with its own possibilities, so this is simply a temporary thought for those in position with shorter term stakes that may be at special risk. Long-term investors reduce risk like this through asset diversification and good stock-picking. I cover the market regularly and invite interested parties to follow my column here at Seeking Alpha.
Disclosure: I am/we are long UUP.
I wrote this article myself, and it expresses my own opinions. I am not receiving compensation for it (other than from Seeking Alpha). I have no business relationship with any company whose stock is mentioned in this article.