"It ain't what we don't know that gets us in trouble, but what we do know that just ain't so."
Introduction
The S&P 500 (SPX) (NYSEARCA:SPY) is at roughly 2090, approximately 40 points below all-time highs. To the uninformed eye, this should be looked to as a sign of strength in the US economy, and a resounding vote of confidence from the financial community that the macro outlook is bright. Sadly, a second look paints a much different picture for equity investors and should be examined with a cautionary eye. The market has been trading range bound for nearly a year and a half, failing to gain any traction as we are again failing to breach the critical resistance level of ~2,130, or conversely, break past long-term support of 1,800. The market has remained in this tight range for some time, and this situation should continue in the near term as monetary policy, earnings, Brexit, and China continue to cloud investor outlook. I have added a chart of the S&P 500 as a courtesy of Thomson Reuters Eikon.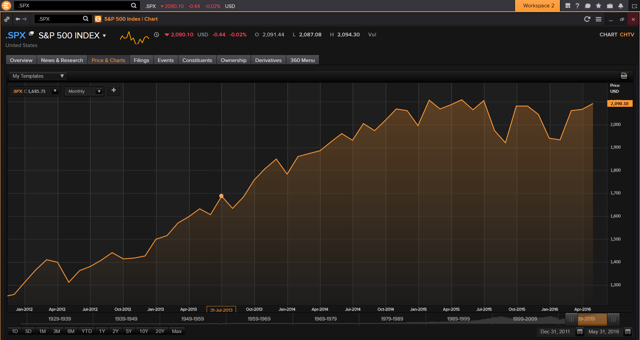 Click to enlarge
The public opinion has been that the lack of direction in markets is a direct result of the volatility in China, Europe, and the slowdown in commodities that has clouded the outlook for global growth while the US economy is slowly trudging along. Nevertheless, this is a slight optimistic spin of the true picture, which should be taken as a cautionary sign for longer term investors.
Earnings
I want to first discuss the earnings picture as a primary driver for stocks. There are two metrics to look at: i) the current earnings trends up to the present and ii) earnings expectations and revisions for the future. First, let us go over the LTM earnings and review how expectations are shaping up. To recap Q1 2016, we noticed that earnings declined by a blended average of -6.8% while revenues declined by -1.5%, according to FactSet. This marks the fourth consecutive quarter of earnings declines and the fifth consecutive quarter of revenue declines. The last time we saw this blend of declines was in 2008-2009, which was during the Great Recession. Granted, the magnitude of earnings declines is much less than before, during that time, US stocks were down by more than half. Today, US stocks are trading near all-time highs perhaps evading the earnings slowdown all together. Let's look deeper into Q1 and validate the bear case for stocks. Looking into the sector numbers, a greater proportion of sectors missed earnings estimates than beat. Earnings estimate that were excessively low.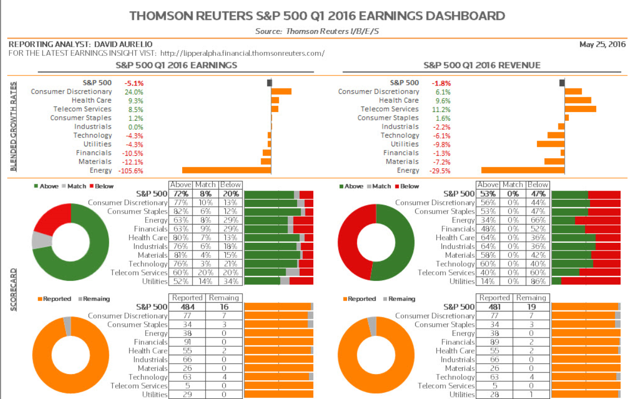 Click to enlarge71% of companies topped estimates for EPS while 53% reported revenue that topped forecasts. The EPS beats topped the five-year average of beats while sales did not, pointing to a growing trend of declining growth. This is concerning considering that expectations were excessively low, begging the question, do these EPS beats prove that companies are doing better than expected, or should these be ignored all together. I would argue the latter while emphasizing the fact that despite low expectations, corporations still had trouble besting the numbers and the trend in growth and earnings remains down. Another important note about corporate earnings numbers is that an increasing number of companies are relying on non-GAAP metrics to paint a rosier picture on the earnings front. I suspect that much of the positive EPS headline beats came from the growing disparity of companies reporting GAAP vs. non-GAAP metrics. I have supplied two charts from FactSet that should constitute as a warning sign for investors. The charts are a courtesy of FactSet.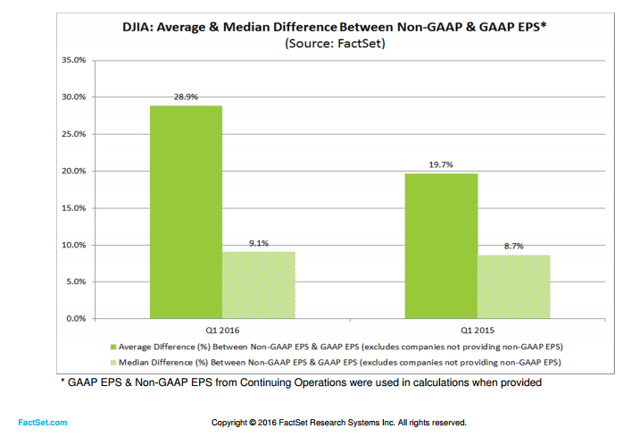 Click to enlarge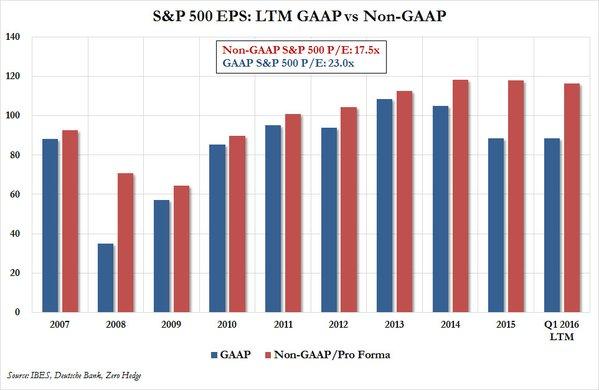 As you can see, the differential between GAAP and non-GAAP is growing, suggesting that the earnings picture is in fact much worse. Granted, GAAP earnings will always be less than non-GAAP, the differentials have bested the average differentials by larger and larger levels. This differential becomes a problem when examining valuations on in relation to P/E. On a GAAP basis, the S&P 500 trades at 23.0x earnings vs. a non-GAAP basis of 17.5x. By these metrics, non-GAAP earnings are slightly overvalued with the historical mean P/E of the S&P 500 (about 15.6x according to multipl.com) while actual GAAP earnings are pointing to an even greater over valuation in US equities. Here is a chart to further emphasize the disparity between GAAP and non-GAAP: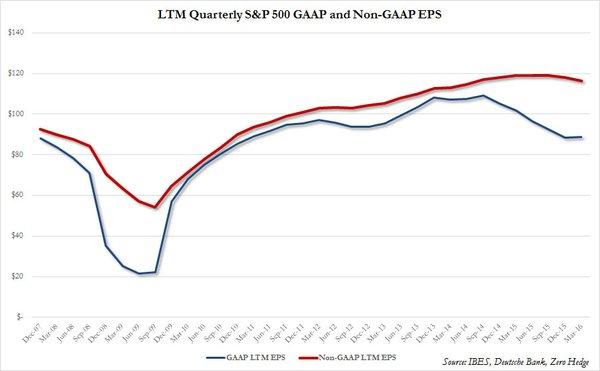 In Q4 earnings season, the S&P 500 was trading at 21.0x GAAP earnings, it is now trading at 23.0x despite a lack of growth. At these levels, the S&P 500 is trading nearly 8.1x above the historical mean P/E, which could be justified in an environment of strong economic growth. Unfortunately, we are in an environment where earnings have been weak and GDP growth remains muted. On the revenue front, the picture is even bleaker. Below is a chart provided from multipl.com that examines revenue growth trends in the S&P 500. As you can see, growth has actually declined since peaking in 2012. The last time we saw such a decline in growth was in 2006. One year after, we began to see economic deterioration and an eventual recession. Many have attributed the earnings recession to the slowdown in the commodity space, interpreting earnings as ex-energy. This mantra is absurd considering that, according to Thomson Reuters, energy is the second biggest industry in the American economy and thus should not be ignored as an outlier. That line of thinking has helped maintain equity markets and shift the attention away from the growing, sector-wide deterioration in earnings. I would be one to grasp the concept if the earnings decline was actually confined to energy; however, even that is not true, as the profit decline has began to hit six of the 10 sectors in the S&P 500, suggesting that the earnings decline is a broader market trend.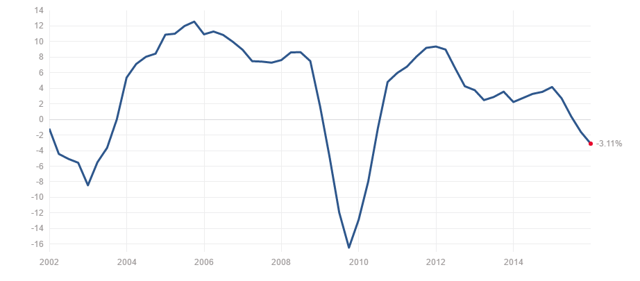 Click to enlarge
Regardless, the earnings recession appears to be a thing of the past as markets have shrugged it off and are pricing stocks for a pickup in growth in 2H2016 citing many of the slowing factors as transitory. I am skeptical of this supposed rebound as the trends in economic activity are pointing to the downside suggesting expectations are detached from reality. Two quarters ago bulls were claiming that earnings would improve and they haven't, and forecasts have been pushed forward to 2H2016. Here is a look at expectations for corporate earnings on a quarterly basis as provided from Thomson Reuters and FactSet: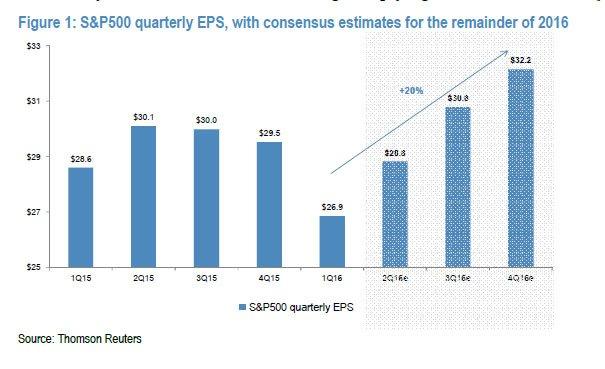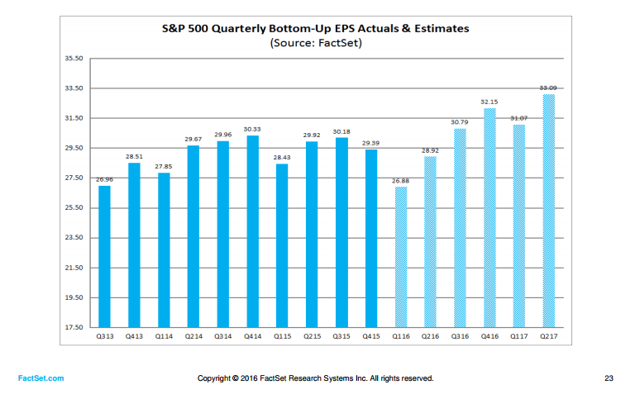 Click to enlarge
Typically, earnings do better in the second half of the year, so there certainly will be a pickup QoQ, but the fact remains that the Street is expecting YoY growth rather than declines on the backdrop of a deterioration of underlying economic fundamentals. Now, it could be the case that the S&P 500 P/E is justified given the forward-looking estimates. After all, markets are forward looking, right? Well, unfortunately, this may not be justified and is another "growth will come hope" argument suggested by bulls to justify overvaluations in the face of a global growth slowdown and a four-quarter corporate earnings recession. The entire problem that this mispricing dynamic creates is inherently fundamental as the earnings recession has not been priced into stocks, which could spell trouble for the broader market if these forward expectations are not met. It may be reasonable to assume that the commodity downturn has reached an inflection point and energy and mining earnings improve; however, recent commodity data still points to oversupply. Moreover, some of the headwinds that have helped rally commodities, a weaker dollar and a dovish Fed, look to be drastically turning as the Fed has become increasingly hawkish presenting upside for the dollar. This presents the first bearish catalyst, a failure to match expectations for a pickup in growth in 2H2016 and FY2017.
The Economic Front
The Fed has stated that it intends to raise interest rates in June, and perhaps twice more in 2016. As all eyes will be on Janet Yellen this Friday, the market continues to be positioning itself in accordance with Fed speak, the likes at which we have never seen in history. It would appear that the market is pricing in a rate hike as a positive given the fact that the market declines after the release of the Fed minutes have since been pared as the market has rallied to close higher than the day of the Fed minutes release. Despite this, Fed Funds futures are pointing to a <40% chance of a rate hike suggesting that markets have not fully priced in the rate hike. There is the possibility that Fed Funds futures market makers and the equity markets are pricing in two different scenarios. I personally am inclined to believe that the equity markets have taken the hawkish Fed speak as a reason to be "risk-on" as rate hikes are a vote of official confidence in the US economy. After all, the Fed has said that its decision to raise rates remains data dependent, so therefore it is safe to assume that rate hikes are a result of stronger economic data prints. I think it is prudent to be skeptical of that conclusion as it is my opinion that the current data points do not warrant a rate hike, and the Fed is rather desperate to maintain balance in the equity markets by restoring faith in the slowing economy. Let's have a run-down over the recent economic trends. It is important to realize that economic data does not matter if looked at one-data point at a time, but rather the growing trend. As such, we will focus on the growing trends.
Job Growth
Those bullish on the US economy have pointed to the labor market as a sign of strength in the US economy. I would argue that while the economy has certainly added more jobs, the economic benefit of job growth has been nonexistent. The basic economic principle for the benefit of job growth is that it provides more money to the consumer, which therefore will drive up spending and generate growth and inflation. Unfortunately, this has not happened. Wage growth remains heavily subdued.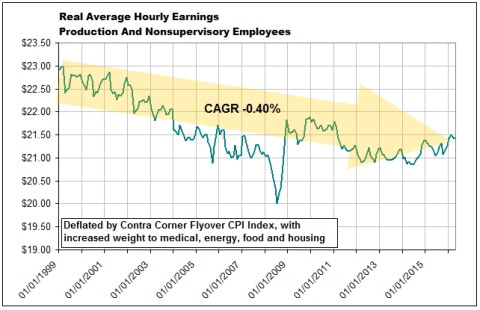 While wages have picked up recently, albeit modestly, more layoffs have been announced. I was surprised at how many headline articles were released, detailing some of the strongest companies from a blend of industries cutting their workforce in response to slower growth and compressing margins. It would then appear that wage growth acceleration has been met with job cut acceleration, which essentially creates a net negative effect. If wages pick up at the expense of job growth, lesser people will hold jobs and consumer spending will slip as it is directly reliant on a broad-based rebound in job and wage growth. Furthermore, analysis of an inflation-adjusted index that bears more weight to the top four spending categories, housing, medical, food, and energy, paints an ugly picture where real household income has in fact been on a decline for nearly three decades.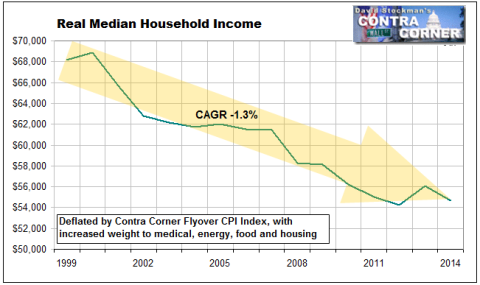 Many bulls argue that the nonfarm payroll and unemployment numbers are reason to preserve faith in the economy. While nonfarm payrolls have been strong, a majority of jobs added have been low-paying service jobs that offer limited opportunity for socioeconomic mobility, which is yet another economic benefit of job growth. Thus, the old adage, the rich get richer and the poor get poorer. This also explains the rapidly deteriorating middle class. Another bullish argument is that the job market is at full employment, which always occurs during economic expansions, and we therefore can't be in a recessionary environment. I would argue that the BLS unemployment headline figures are detached from reality. Labor force participation remains subdued. Headlines look to spin this as a response to the changing demographics in America. Nevertheless, looking into the numbers, we can clearly see that this is in fact a misconception given the fact that more workers aged beyond 65 are working than ever before as shown by the second graph by Bloomberg. Taken together, these labor market trends have been overhyped and have not provided the bulls with the results that they have been expecting.
(click to enlarge)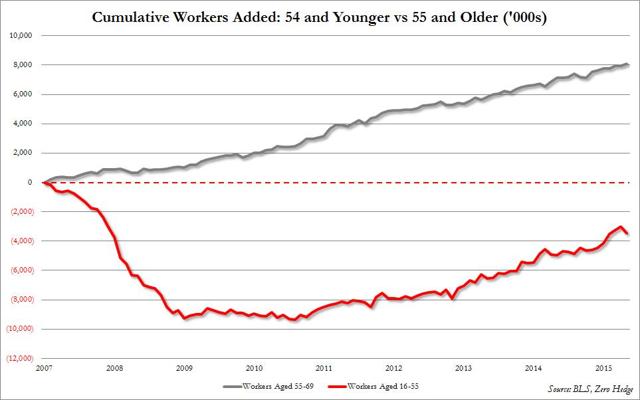 Click to enlarge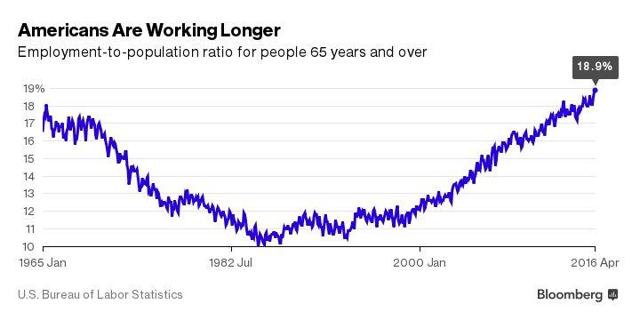 Click to enlarge
What about the auto market?
Another strong data point has been the strong auto market. This is yet another twisted argument as the auto market remains propped up on an unhealthy mix of subprime loans. I have written an article detailing the extent to which subprime lending due to a mix of low rates and fraudulent lending practices have fueled a bubble in the auto market that will have dire consequences should there be a collapse in used car values that will exacerbate an already slowing auto market. The auto market has peaked and will face a deleveraging stage that will render a bullish auto case baseless as default rates tick up in the teens and more and more buyers face negative equity on their overly lengthy loan payments.
The Industrials Recession
By any measure, the manufacturing sector has been weak. Global trade is continuing to post weak numbers and the industrial outlook is becoming increasingly worse. Below is a chart that is looking at the ISM PMI print taken from Thomson Reuters Eikon: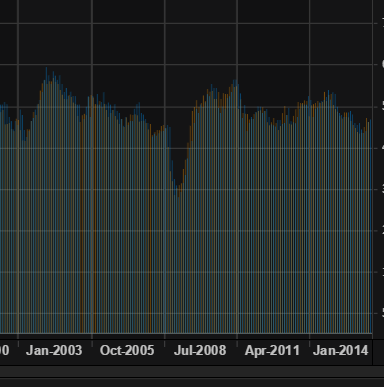 As you can see, the ISM print has experienced consecutive declines since mid-2014. The blue lines are expectations polled by Thomson Reuters while the orange lines are the actual. As you can see, expectations have consistently been higher than the actual numbers and are currently pointing toward a pickup in growth. As with the earning picture, I am becoming increasingly more skeptical of this bullish rebound in manufacturing given the mix of data we have received in the past few weeks. Moreover, rail traffic, which is a leading indicator for economic growth, has fallen to multi-year lows on the backs of soft global trade. I like to look at rail traffic as an indicator because it is a good proxy for business productivity across the manufacturing and mining sectors. Typically, slowdowns in transports precede recessions.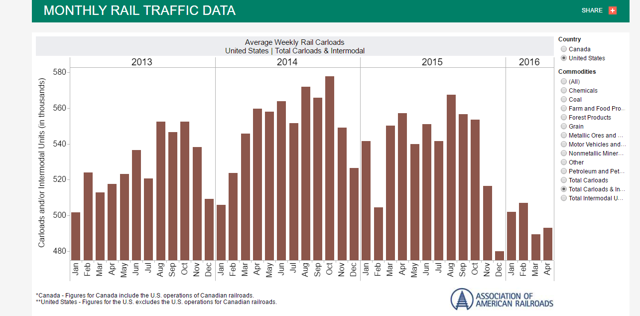 Click to enlarge
Furthermore, capital goods spending has been consistently revised to the downside and remains in a downtrend. This should be taken as a sign of caution considering that a slowdown in business spending will always lead to a slowdown in growth as less spending is recessionary. Taken together, these figures continue to reflect a slowing economy rather than a rebound, which is what markets are appearing to be pricing in. Thus, another reason to be bearish on the pickup in 2H2016 and to cut exposure to US equities.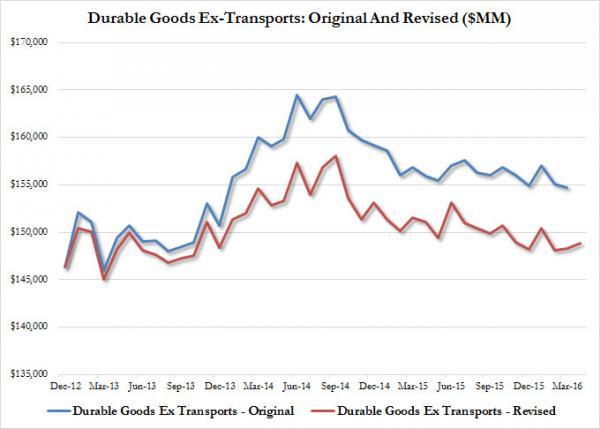 What about the service sector?
This week, we got a fresh look at the Markit PMI print, which pointed to a continued slowdown in the service sector. The argument pointed against the global slowdown in manufacturing is that the US is a service economy and that any negative effects from the manufacturing slowdown will be bested by a pickup in growth in the service sector. While this is generally true in a service dominated economy, the numbers are not reflecting this perceived reality. In fact, according to the recent prints, there is a growing lack of strength in the service sector that continues to discredit the bull case. To sum it up, the Markit PMI posted a -1.6 decline and continues to be in a downtrend though it remains above the key level of 50. It declined on the backs of slowing job growth and demand hesitance as business owners remain increasingly less optimistic about the economy. This is yet another reason why I am skeptical about 2H2016 expectations.
But housing is strong?
Housing remains a bright spot, but yet again, a look at the figures paints a less positive picture. While there is no subprime crisis at hand as credit standards are tight, home prices have since soared and are nearing their 2008 peaks on the backs of muted supply and growing demand. Interestingly enough, we are now seeing a resurgence of credit to the mortgage market as Wells Fargo (NYSE:WFC) announced it will broker 3% down payments to homeowners with sub-optimal credit, ~650. While there still remains no risk of a housing crisis, borrowers and home buyers may be buying at a peak. Houses are assets, and while they do go up over time, much like other assets, they do not elicit a linear price appreciation trajectory and are susceptible to corrections. A big risk at these levels is that a slowdown in the availability of credit will cause home buyers to buy houses that are overvalued given the current market. If recessionary factors take hold, house prices could mildly correct forcing current buyers to sell, creating a supply and demand dynamic that could further depress home prices and potentially slow down the growth in the housing market. While this will not be a 2008 rewind, it will ease the growth of the housing market and slow down construction and other stronger sectors of the economy. Below is the Freddie Mac index of home prices. As we can see, price appreciation has slowed down. In regards to housing, I would imagine that we could see the housing market lose steam and possibly correct to the downside as foreign buyers wane, credit tightens further, and housing supply increases causing average prices to fall. Thus, risks are more heavily weighted to the downside and ultimately present yet another reason to sell.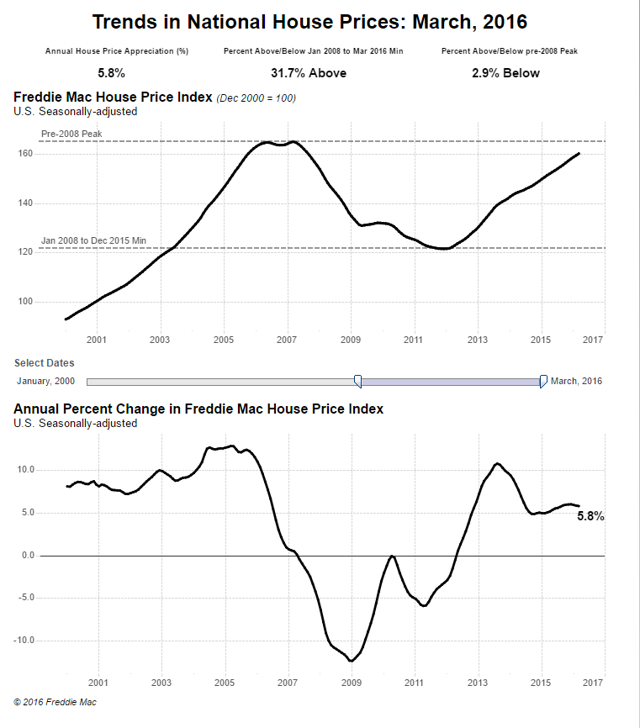 Click to enlarge
Final Thoughts
I have already since mentioned a number of potential warning signs for US stocks. I am surprised at the hawkish Fed given the backdrop of current data. Regardless, at the current moment, the Fed is not looking out for the economy, but for the equity markets. The Fed missed the chance to hike rates and now is looking to raise them quickly to fill its tank with ammunition to combat the next recession. Negative interest rate policy is a disaster and has not helped the Japanese economy. NIRP will likely cause massive dysfunction and panic selling in the equity markets as it will be viewed as an official vote of no confidence in the US economy. To restore the balance, I would expect the Fed to drastically hike rates to avoid the fall out of negative rates. Make no mistake; however, these rate hikes are not a sign of economic strength, but desperation by central bankers who have inflated an asset bubble that has been fueled by cheap debt and monetary policy. Many people are assuming that a bullish stance is contrarian at this point in time; however, equity exposure is the highest it's been since the dot-com bubble, suggesting that sentiment and exposure are inversely correlated at this point in time. I would ultimately argue against this rationale as market participants are not putting their money where their mouth is. Ultimately, markets are determined by supply and demand and the action of buyers and sellers, not the reported sentiment of each, and at this point, it appears that there are more buyers than there are sellers. Unfortunately, years of ZIRP have created a chase for yield that has caused investors to be excessively exposed to risk assets. At some point, the reality that ZIRP and central bank policy cannot prop up markets forever will take hold, and fundamentals will play their course. Many bulls point to the fact that there is no euphoria in the market, but quickly turn and argue against the potential for a sell-off, justifying their rationale with the excuse that the Fed will prop up the markets. The idea that the Federal Reserve will be there to backstop a drop in global equity markets that will be looked at as the next misconception that investors once had, much like the idea that housing prices always go up, or that excessively high valuations for Internet companies, will eventually be grown into. We do not look to exploit momentum in the markets, nor are we calling for the end of the world. Regardless, one can't ignore the warning signs. The current macro environment makes stocks an overly risky investment, and for that reason, we are heavily short the major averages along with selective sectors.
Disclosure: I am/we are short SPY.
I wrote this article myself, and it expresses my own opinions. I am not receiving compensation for it (other than from Seeking Alpha). I have no business relationship with any company whose stock is mentioned in this article.
Additional disclosure: This does not constitute as an offering of securities or a rendering of investment advice. I am receiving compensation from BlackVault Investments and Seeking Alpha.