Is this the death of GameStop (NYSE:GME)? That is the question I received this morning while drinking my coffee and perusing today's headlines. Let me first start by saying I only recently discovered the company because I have young children, two boys ages nine and five who are now heavily into gaming. I was once a gamer, though my "career" ended with the PlayStation 3. Now I am just a casual gamer who plays here and there or with my children. I am officially an adult. But now that I am an adult, I have the cash flow to be able to shop till I drop in places like GameStop. I love the model. Buy and sell games, have membership fees, sell game-related merchandise, own a digital service and compete with major retailers. It is certainly a strong niche to be in. Of course, the health of the company depends on the video game cycle. New systems, new franchise game releases etc. Right now, we are several years into a cycle, that is, there hasn't been an exciting new system release for a while. So that needs to be considered.
As a stock, the name trades at just 8 times current earnings, and is now yielding north of 5%. That attracts me immediately. Despite the name seeing sales declines, which is due to a tough retail market and where the video game cycle is, I am strongly considering initiating a position in the name. If the name falls to the $25 mark, the yield will cause me to back up the truck for a long-term position. But how is the company doing now, and where is it going over the next year?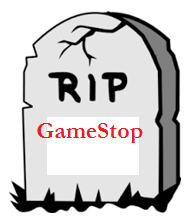 To answer this question, I turn to the just reported earnings that are spooking investors and my readers. Ill cut right to the chase here. The headline numbers were pretty good, but the guidance disappointed. The company saw sales of $1.97 billion in Q1, which were down 4.4% year over year, but in line with analyst estimates. Earnings came in at $0.66 per share and actually beat estimates by a solid margin of $0.05. So why is everyone panicking?
Well, the first ugly mark came from same-store sales. They were down 6.2% compared to up 8.6% last year. Of course, despite earnings beating estimates, they were down 3% year over year. What is the deal here? Well, Video game sales were crushed by a 28.8% decline in new hardware sales and the overlap of several strong new software titles launched in Q1 2015. That internal competition is bad for gamers and for GameStop. Pre-owned sales declined 3.7% compared to Q1 2015 as well.
What is interesting to note is the continued growth in downloadable and digital content. These digital revenue sources rose 16.6% to $259 million. Further the mobile revolution continues with mobile and consumer electronics categories sales increasing 41%, with technology brands jumping 63% to $166 million. Digital content represented 17% of total sales. That is a major and growing segment to watch. While the company recently picked up ThinkGeek, it helped collectible sales spike 250%, and yours truly was a big part of those sales, thanks to several birthday parties for kids addicted to Minecraft and Pokemon.
While the report thus far seems decent, barring the sales declines, what is really a bit nerve-wrecking is the guidance. Again, this reflects the cycle. For Q2 2016, GameStop expects comparable store sales to range from -7.0% to -4.0%. Ouch. Diluted earnings per share are expected to range from $0.23 to $0.30. And for the year 2016, the company is reiterating its full-year diluted earnings per share guidance of $3.90 to $4.05 and comparable store sales range of -3.0% to 0.0%. The reiteration was a positive surprise, however. Still. Based on these projected earnings, say $4.00 a share, at $28 a share the stock trades at just 7 times this earnings. That is a bargain, especially with the yield over 5% and the dividend being secure. This is a stock I want to own long term. I assign buy rating.
What do you think? Are you a buyer? Are you short? What do you think of the yield here? Let the community know below.
Note from the author: Christopher F. Davis has been a leading contributor with Seeking Alpha since early 2012. If you like his material and want to see more, scroll to the top of the article and hit "follow." He also writes a lot of "breaking" articles, which are time sensitive, actionable investing ideas. If you would like to be among the first to be updated, be sure to check the box for "Real-time alerts on this author" under "Follow."
Disclosure: I/we have no positions in any stocks mentioned, but may initiate a long position in GME over the next 72 hours.
I wrote this article myself, and it expresses my own opinions. I am not receiving compensation for it (other than from Seeking Alpha). I have no business relationship with any company whose stock is mentioned in this article.