As a consultant what I'm asked to do is to discover the product development cycle, sample the product/s and offer my complete analysis based on my resources and experience. When I've reviewed and analyzed the product's potential, I disseminate a conclusive outlook. So in this very public manner, I'm going to offer the very same verbiage I offered only three years ago to Keurig Green Mountain (NASDAQ:GMCR):" Stop, just stop and move onto something else". I'm offering this to smartwatch manufacturers and especially to Apple, Inc. (NASDAQ:AAPL) with regards to its future iterations of the Apple Watch. And with that being offered I'll ask the following question to readers: "Have you ever heard of vaporware"?
Vaporware and Product Usefulness
In the computer industry, vaporware is a product, typically computer hardware or software that is announced to the general public, but is never actually manufactured nor officially cancelled. Use of the word has broadened to include products such as automobiles and appliances in recent years. Vaporware in practical terms has also been realized by many product introductions that have exhibited short life spans. Microsoft (NASDAQ:MSFT) is largely accredited with coining the term vaporware and oddly enough its former Zune is a perfect example of a widely hyped, introduced and soon thereafter failed piece of vaporware. I believe in many ways that the smartwatch is another example of vaporware. It is widely hyped, found distribution and found with declining sales soon thereafter with necessary new iterations to offset YOY declining sales. But that game can only be played for so long.
Typically vaporware offers the extended purpose for a technology, another application if you will. Unfortunately, the further we stretch the application of said technology, the less useful it becomes for additional purposes. In many cases, the only way it can be anything but vaporware is through the cannibalization of the former technology application.
Many products come to market year after year after year after year. Some have longevity while others do not. 3D printers became the craze of 2012-2014 and before market saturation was found to be the dominant sales achievement for these products. Without greater distribution to be found, companies selling 3D printers found themselves relying on the usefulness of the products and general sell-through of the products at retail locations. Unfortunately, 3D printers have been found to be another form of vaporware that was interesting for a little while, but far less useful to the general public than the greatness of the idea assumed it to be.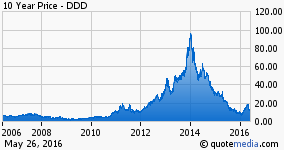 The chart of 3D Systems Corp. (NYSE:DDD) is a perfect depiction of what happens post the distribution saturation of a largely useless product for the general public. 3D printers didn't really solve a problem for consumers. In short, it was a solution looking for a problem to lend itself greater utility than designed.
When I evaluate a product, I'm forced to first recognize form and function followed by utility and/or usefulness. Within those variables is an equation that will be able to discern an addressable market for a product and potential long-term sales. Smartwatches make for an interesting potential utilitarian product. Having said that, the product defies most every trend in place regarding accessories for now several decades alongside attempting to miniaturize the functionality of a smartphone. Engineers are wise to what happens when you attempt to miniaturize things.
Smartwatches: Epitome of Backward Technology
As smartwatches came to the market only a couple of years ago, they became distributed. I would like to say they became popular, but that simply isn't the case. While millions of units have been shipped, it is a far cry from how many cell phones are shipped and sold annually and even since the invention of the smartwatch. Heck, there are more coffee makers shipped annually than smartwatch shipments. There are a great many reasons for why the smartwatch isn't as popular as it aims to be, but mostly it comes down to form, function and cost. Cell phones, by and large, replaced the watch on our wrists, the pay phone and eventually other equipment such as GPS devices. It is for this reason, if not any other, that smartwatch technology is a form of vaporware, a solution looking for a problem where one does not necessarily exist. Most everything the smartphone already does, the smartwatch aims to do in a miniaturized form factor. While that may have been where some of the success for the cell phone came from, miniaturization and mobility, there are limitations, and consumers determine those limitations which are aligned with cost.
For every single smartwatch that has come to market, it has taken less than a year to witness sales declines that have only proliferated further post the product's anniversary. Apple Watch is only the latest in a string of smartwatches that anniversary with sales declines. Smartwatch screens are too small, have poor battery life and overall lesser functionality. It's the epitome of backwards technology implementation.
Apple's greatest return rate for any of its products comes from smartwatches and for mentioned and unmentioned reasons. Many people buy the device thinking it is cool, new and will perform as advertised. What many people fail to recognize is the functionality demands a behavioral change on the part of the user. Smaller screens and smaller touch points are found to be a significant reason for product returns while total functionality is found to be yet another reason for outsized returns.
Smartwatches have become the latest in a string of products that have been widely hyped in the media as the next great thing, but found wanting for greater adoption and sales. Virtual Reality [VR] products are in that same category of products widely hyped, but found wanting. Like smartwatches and even basic fitness tracker devices, VR products offer a solution looking for a problem to solve that likely doesn't exist. Again, this is backward technology implementation. Besides the complexity for engineering these otherwise miniaturized technology form factors aimed to deliver greater utility, they simply deliver nothing more than a novel experience that many users care not to repeat. As I wrote in a previous article, VR products are finding distribution and some early adoption, but not much else.
The actual sales forecasts that have been lowered and lowered yet again twice this year for VR products.

Superdata has lowered its expectations for virtual reality revenues in 2016 for the second time in as many months. The market intelligence firm today revised its 2016 global VR hardware and software forecast down 22 percent from $3.6 billion to $2.9 billion. Its projection at the beginning of the year had been $5.1 billion.

The revision came with the release of the firm's "Virtual Reality and the Next Killer App" report, which identified a number of reasons for the downgrade, among them recent production and fulfillment issues that have affected the Oculus Rift, the HTC Vive, and even the Samsung Gear VR. The report says about 13 million Americans intend to purchase a VR headset this year, but Superdata is only expecting shipments of 7.2 million.
Smartwatch Manufacturers Ignore Form Factor Trends
Smartwatches don't solve any problem the smartphone hasn't solved more efficiently and in an "ideal" form factor. People simply don't like to wear watches and that is the watch industry sales talking against the cell phone sales. The numbers haven't and to this day don't lie. Having said that, there is nothing positive about the Apple Watch other than Apple's ability to generate billions in revenues from the product as distribution partners have yet to understand the real value of the product. In other words, the distribution partners bought a branded Apple product more so than the Apple Watch. These distribution partners have a better idea of the Apple Watch potential a year after dismal sell-through results and markdowns, but even so, they will likely give Apple and its peers another shot with a new and improved smartwatch iteration.
Untethering the Apple Watch from its iPhone compatible "parent" technology is a step forward, but within that promotion of usefulness comes with it even more impediments to adoption. A built-in Bluetooth, WiFi, cell chip enabled device will deliver great stresses on the battery of the Apple Watch that have been exhibited already on the Samsung (OTC:SSNLF) Gear smartwatch. Smartwatches attempt to defy physics and engineering might. In doing so, smartwatches place themselves squarely in the crosshairs of where consumption for smart devices proliferates more broadly with smartphones.
Positives For Apple Watch Are Few In Total
Now let's talk about relevant data and sales for wearables as recently offered by Robert Lehar in "Positive Signs For Apple Watch." I never believed the Apple Watch had the ability or potential to disrupt the cell phone/smartphone industry. Secondly, I don't believe the product has any potential to become the next great thing for communication devices. The smartwatch is no MP3 player in that the MP3 player offered what no predecessor music technology system could do, place thousands of songs in your pocket at the touch of a button. The smartwatch does exactly what the smartphone does, but with lesser efficacy and in a proven to be less desired form factor. That is not a recipe for market disruption.
In the article "Positive Signs For Apple Watch," the author fashions reasons why the Apple Watch has a good opportunity. The first reason being that total wearables devices are expanding presently at a 67% clip according to IDC. The most important aspect of this data point, supported in the following chart, is that this data point is shipments of units and not actual sell-through to consumers. Sell through rate is far less than unit shipments and is just one of the reasons that the leader in wearables, Fitbit (NYSE:FIT), is watching its sales growth decelerate from 92% last year to roughly 38% in 2016. It's rather easy to gain distribution for a new product and with international supply and distribution lines being what they are today.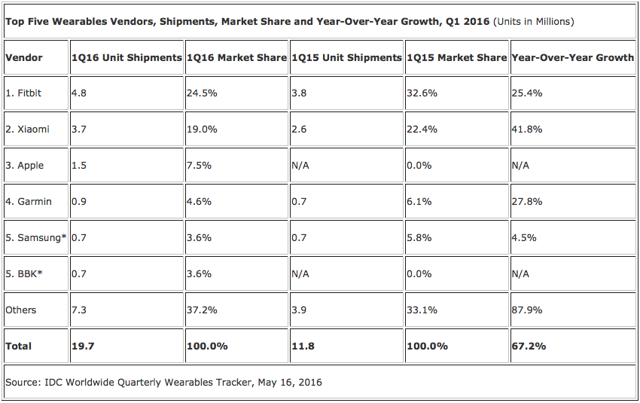 Mr. Lehar offers the following with respect to the data and the wearables trending sales:
Retail, and consumer interest shows the wearables market is on the right trajectory, with much potential to disrupt traditional watchmaking and expand the TAM for wrist-worn devices.
What Mr. Lehar isn't offering is that not all the shipments being offered by IDC sales tracking come from wrist-worn devices. At least ¼ of wearables are worn elsewhere on the body or embedded into other form-factors like shoes, shirts and headgear. But don't worry, the sell-through is worse for devices not worn on the wrist and as such they aren't even discussed publicly to the extent they are for wrist-worn devices. Moreover, Mr. Lehar advances the topic of differentiating wearables into basic and smartwatch categories as defined in IDC reporting.

What is important for readers to better understand is that with respect to the IDC reported tracking results for Q1 is that they don't take into account Fitbit's smart watch named Blaze… and it shouldn't. It shouldn't because the product didn't launch until early Q2 2016. Having said that, Blaze has usurped sales of Apple Watch on amazon.com and more broadly in the mass-market sales channel. In Q2 thus far, and as reported by Fitbit during its Q1 2016 results dissemination, the company shipped roughly 1mm Blaze units. This would put Fitbit above Samsung in the Top Five Smartwatch Vendors as of that reporting period. In short and come IDC's Q2 reporting period, the firm will likely update its vendor list to show Fitbit as either number 1 or number 2 with regards to top smartwatch vendors. Furthermore, what the grand takeaway from these general sales statistics is that we are talking about less than 4mm smartwatch units shipped. Can you imagine how long it would take to supplant or even draw even with smartphone sales? Numbers don't lie and the rate of adoption for smartwatches is just not there to achieve a status of "the next great thing" by any smartwatch manufacturer.
When Apple launches the AW2 later this year, it will likely be an untethered smartwatch. Here is what to expect with this iteration:
Massive sales boost due to carrier inclusion from the likes of AT&T (NYSE:T), Verizon (NYSE:VZ), China Mobile (NYSE:CHL) etc.
Sheer distribution gains will be tremendous boost to units shipped as presently carriers can't adopt the product as it is tethered.
Analyst will praise the AW2 for its sales boost being a factor of untethering the device when the actual sales boost is the inclusion of greater distribution or sell-in.
A revisiting of past arguments from sentiment surrounding the Apple Watch.
AW2 will require a separate data plan and must be paired with an iPhone.
AW2 will require a connection fee of $35-45 and monthly data plan of $10-19.99, in conjunction with smartphone plan.
AW2 will have improved battery life, but not much. Almost 90% of watch body is the battery.
AW2 will not perform functions that a smartphone can't perform at a lesser cost.
It has been offered that Fitbit validates Apple's approach to smartwatches by Mr. Lehar. While this is often offered as a comparative and qualitative analysis for like products or product approach, it rarely defines validity in product development. Let's carefully analyze what Mr. Lehar offers in this respect of product validation.
Apple's approach to wearables is being increasingly validated by Fitbit. Earlier this year, the company released a fitness-oriented smartwatch, the Blaze, and since then, has frequently talked about innovation and opportunities to integrate their products "with the cars or homes or buildings or payments or [identity] authentication". This was recently followed by Fitbit acquiring wearable payment assets of Coin, a Silicon Valley consumer electronics and financial technology company. Note what Fitbit CEO James Park had to say about the purchase:

"The inclusion of their payment technology into our offerings will further our strategy of making Fitbit products an indispensable part of people's lives."

At this point, there cannot be any doubt that Fitbit is embracing and validating Apple's concept of wearables by making them smarter, more valuable, and more integrated into customers' lives.

However, compared to Fitbit, Apple can already enjoy a large head start with its apps and mobile payments infrastructure. Furthermore, it has the benefit of a mass-market brand which is a better fit for a universal device like the smartwatch catering to various interests, activities, and needs.
The primary issue with this comparative and qualitative offering by Mr. Lehar is that the premise must assume Apple Watch is generating increased adoption and sales if it is in fact to be found the " right approach." Unfortunately, what we are forced to understand is that is not the case at all. With analytics, if the premise is wrong, the totality of the analysis is found in error. It is also important to understand that the total concept of Fitbit's smartwatch excludes the redundancy of smartphone applications, unlike that of the Apple Watch that has found sales deteriorating. In short, Fitbit's Blaze smartwatch is less of a smartwatch in function than in form factor. It really is a glorified fitness tracker with improved upon functionality. Lastly, the sheer dominance of fitness tracker sales to smartwatch sales exonerates any validity assigned to the notion that Apple and Apple Watch had/have the "right approach." Apple would have obviously been wiser to develop fitness tracker, stand-alone products.
While Fitbit is aiming to deliver greater functionality and utility for its fitness and smart fitness devices, it still remains to be seen if these improvements can boost sell-through year over year. The suggestion that with Fitbit acquiring Coin assets validates Apple Watch's approach to smartwatches won't be known without greater YOY results. Apple Watch with Apple Pay hasn't shown Apple's smartwatch to grow sell-through, and as such, the premise of Mr. Lehar's analysis hasn't been proven either. I would forecast that greater applications and functionality of these fitness and smartwatches will do little to nothing in aiding greater adoption and sales long term. Again, these additions don't solve problems or address a larger market, and in many cases decrease functionality while increasing failure and attrition rates. The only reason that anybody discusses Fitbit's attrition rate and not the attrition rate of smartwatches is because all that is available publicly is Fitbit's metrics in this regard.
Apple Watch Technology and Mobile Cardiac Telemetry
"But the Apple Watch can gain a bigger market with clinical applications." I agree that it could but that bigger market still can't move the needle for Apple and still will never be able to supplant the sales of the iPhone. The numbers don't lie! What most people refer to regarding Apple Watch or any wearable achieving clinical applications is that it must achieve at least FDA Class II medial grade status. This takes years to achieve, and I wouldn't put it past Apple to be effecting this product development. But in no way would such a smart device be consumer driven. In fact it would have to be prescribed by a physician.
The largest market available for medical applications is the market for cardiovascular disease. Diagnostic tests such as ECGs are used to detect, diagnose and track certain types of cardiovascular conditions. The US portion of the ECG market is expected to be worth $9.32 billion in 2020 and is comprised of three major segments: resting (non-stress) ECG systems, stress ECG systems, and event monitoring systems. The event-monitoring segment alone is expected to be worth $4.66bn in 2020, according to CardioNet (NASDAQ:BEAT), and is currently broken into the Holter, Event Loop, and mobile cardiac telemetry (MCT) monitoring categories.
What many would desire for Apple and its Apple Watch to be able to service is the MCT marketplace. MCTs are in need of advancing technology for remote patient care and the market is largely moving in that direction. The MCT diagnostic is a robust, continuous, remote monitoring solution for cardiac arrhythmia, and it often eliminates the need for expensive overnight monitoring in a hospital. However, the MCT devices currently available are based on outdated technologies, which often require a patient to wear a bulky device, and are not readily accessible.
In the U.S., MCT tests are primarily conducted through outsourced Independent Diagnostic Testing Facilities (IDTFs) that are reimbursed at an average rate of $850 per diagnostic test. There are currently five competitors within the U.S. MCT diagnostic market, which have effectively restricted MCT services to outsourced clinics and locked physicians out of the MCT market with no ability to receive financial reimbursement for MCT diagnostics.
Today, some MCT devices offer real-time tracking and feedback through the implementation of Bluetooth and cell connectivity, but most do not because of the necessary time to achieve efficacy results and to then be cleared by the FDA. The problems that prevented remote patient care and the greater use of MCTs in the past were related to billing codes and how the system reimbursed for these MCT devices. In the past, there was no billing code available for MCTs and physicians were forced to use an outsourced payment model that only benefited the medical device sellers and monitoring centers. Since the Affordable Care Act, however, billing codes for MCTs have been made available for use.
Maybe it would behoove Apple and the Apple Watch technology to move into clinical applications, but even so, the dollar value can't move the needle for AAPL. For Fitbit, it certainly could, but not Apple. Apple will be competing with already existing MCT technologies for that forecasted $4.6bn for event monitoring solutions through 2020. Even if Apple garnered a ¼ of that dollar value, it doesn't do much for it if its iPhone, iPad and iMac sales continue to decline. For all that is consistently offered by the media for what the Apple Watch can, could or should do, you've likely never seen the relative dollar values assigned to the clinical applications. Most reporters don't dive that deep and care not to view the prospects in that manner as they don't consider the potential along the lines that the investor does or should.
In truth, most companies with these fitness trackers and wearable devices aimed at health and wellness don't want the FDA involved as it is largely absent regulating these products to date. While some apps, not devices but apps have been FDA approved, it is not likely that a wrist-born consumer device will achieve FDA medical grade clearance by Apple or Fitbit in the near future. And Apple doesn't really want to go down that road anyway; it is far too long a road for a smartwatch to travel. Here is what Tim Cook offered last year regarding this very subject matter:
We don't want to put the watch through the Food and Drug Administration (FDA) process. I wouldn't mind putting something adjacent to the watch through it, but not the watch, because it would hold us back from innovating too much, the cycles are too long. But you can begin to envision other things that might be adjacent to it-maybe an app, maybe something else," Tim Cook said in the interview for the Telegraph.
The Apple Watch, akin to 3D printers, VR and Keurig Kold is a good idea, but the practicality leaves much to be desired. The only thing that validates this statement are the sales trends in relation with what the Apple Watch is truly trying assumed to supplant in the smartphone. One can literally walk into a smartwatch retailer, ask any question they want pertaining to the device and never be found wanting for the answer, "But my smartphone can already do that." The Apple Watch is likely not the next great thing, and there are few positives to the device. What I believe most people assume is that the smartphone features and applications can be duplicated in the watch and function to the same degree as the smartphone. I would be of the opinion this is not a likely end game as has been evidenced by former technology convergence products. The smartphone is much bigger than the MP3 player, which was incorporated into the smartphone and as an example.
My investment thesis for AAPL's share is not favorable, and as such, I am avoiding shares of Apple unless they exhibit meaningfully lower share prices. With the company lowering FY16 guidance and metrics, I don't believe consumer spending trends will alleviate guidance and metric concerns. In kind, I believe shares of AAPL will trend lower over the next 90-day period. Why I would not short shares of AAPL is largely due to the company's superior balance sheet and flexibility. With that being said, there are likely better opportunities to invest elsewhere.
Disclosure: I am/we are long FIT.
I wrote this article myself, and it expresses my own opinions. I am not receiving compensation for it (other than from Seeking Alpha). I have no business relationship with any company whose stock is mentioned in this article.