We have gotten a lot of messages lately in regard to why natural gas prices are where they are today. We will attempt to explain as to why natural gas prices remain depressed, and why we are bullish on prices going forward.
Today's Price
The easiest explanation as to why prices are where they are today is the chart below: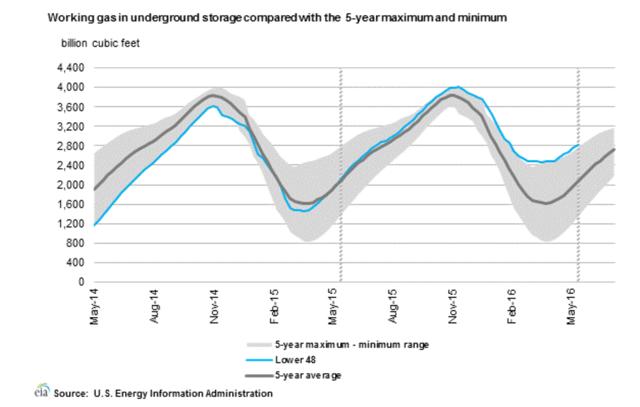 Click to enlarge
Storage levels are materially higher than last year's and the five-year average. U.S. gas production is currently around 70.5 bcf/d, and most followers of natural gas do not understand the importance weather has on prices. But just because the summer outlook is bullish or the winter outlook is colder than expected doesn't mean prices will rally to these assumptions.
Each month, NYMEX natural gas contracts expire, and prices reset to the new price.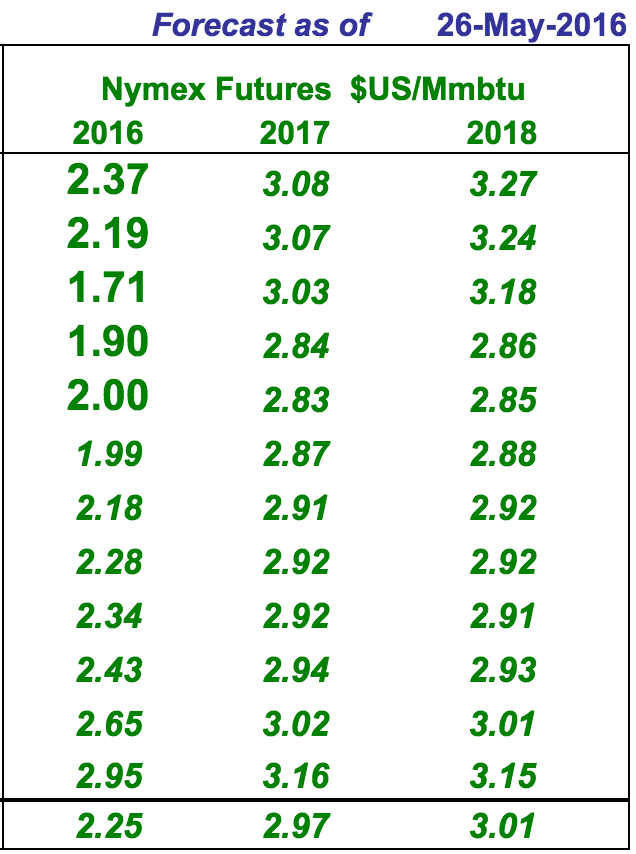 What you can clearly see here is that the forward months' prices are much higher than the "spot." And if you look out into 2017 and 2018, the average prices of those years are much higher than 2016's. This already tells you that the futures market expects natural gas prices to be significantly higher than today.
So, why are prices around $2/MMBtu today and not $3/MMBtu?
Markets are generally very efficient. Prices are low today because the intent is to discourage producers from bringing on additional production. If supply rises with demand staying relatively flat, storage build figures could increase, leading to the potential of overfilling the storage tanks. That's also a big concern right now in Canada as AECO prices hover around C$1.27/mcf, while 2017 prices are C$2.72/mcf.
If weekly inventory numbers continue to build at a pace at which we will hit the storage cap, natural gas prices will fall. Obviously, it's not that simple as weather plays a bigger role on the demand side. That's why we follow weather forecasts closely.
In all, prices are where they are today primarily due to storage concerns. And the market is efficient in pricing in a lower price today and higher prices in the future.
Why We Are Bullish?
Like anything in investing, one of the best questions to ask is what the current market sentiment is. We understand the bear side of the argument for why natural gas prices will remain lower for longer. The bears argue that LNG demand is in jeopardy due to a global glut, and that producers will ramp up productions the moment prices increase.
We can't argue against both cases, and we are very bearish on global LNG prices. But one key assumption the bears don't bring up is the weather forecasts. We all know that weather forecasts are extremely uncertain, and Mother Nature tends to throw us some bait, only to lead us into traps. But we contend that significant cycles like the record El Nino we saw last year, and the potential La Nina this year, could wreak havoc on the bear case.
In a La Nina year, the demand difference is 10%. In winter months, demand for natural gas averages 90 bcf/d. Despite the 2015-16 winter being one of the warmest on record, natural gas demand still rivaled that of 2014-15's winter.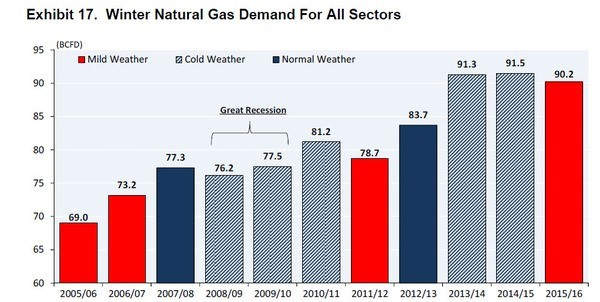 The big reason why we are currently in surplus storage territory has to do with supply growing much faster than demand.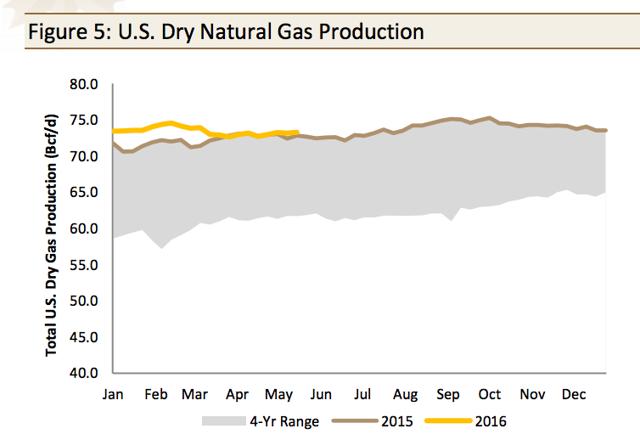 Click to enlarge
Now that supply growth has slowed, the remaining question is: Where will the demand side stand?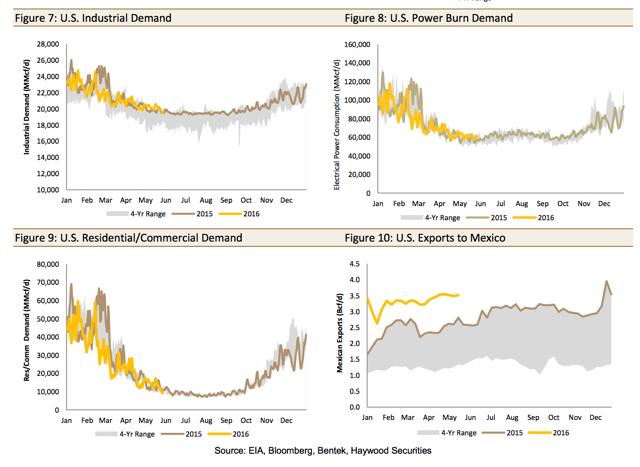 Click to enlarge
This year will be the year when the U.S. becomes a net exporter of natural gas, thanks to Cheniere Energy's (NYSEMKT:LNG) LNG exports. Demand is expected to be 1.2 bcf/d, and this will help to alleviate some of the storage glut. In addition, gas exports to Mexico are at an all-time high and expected to be around 4.6 bcf/d by summertime. That's another structural increase. Finally, the possibility of a cold winter is a dagger to the heart.
Despite a mild winter, demand rivaled that of the two previous years. So what happens if we get a colder-than-normal winter and demand increases by 10 bcf/d? Current estimates point to the storage levels being 500 bcf higher than normal by the end of the shoulder season. If we assume all else remains constant, and demand is higher merely from colder weather, the 10 bcf/d of demand increase would eliminate the surplus within 50 days.
All of a sudden, the surplus doesn't look so large anymore.
Finally, there's the supply side argument that U.S. production would rapidly pick back up if prices increase. We don't dispute that fact as many of the producers we follow will ramp up production when prices increase above $3/MMBtu. But one thing to also consider is the speed at which these producers ramp up production.
We see overall natural gas production increasing, but not at a pace where it can offset a 10 bcf/d increase in demand. There are serious structural demand increases in the natural gas market, and even with a mild winter, demand came in significantly higher than previous years. Coal production has been in decline, and Pira estimates that the coal market will be much tighter next year. If coal prices increase, it will incentivize utilities to use more natural gas, which will again increase the demand side.
Natural gas producers have also been using DUCs to keep productions flat. Once the DUCs are exhausted, rig counts will need to rise again in order for supply to increase. Many of the natural gas producers we follow point to the potential to bringing rigs back online, but production costs will likely increase due to a ramp up in drilling activities. We think it will be the survival of the fittest as producers with the lowest cost plays win additional market share. Producers that have struggled when gas was at $4/MMBtu will likely go bankrupt, and many have already filed.
We are definitely not as optimistic on the supply side as many bears seem to be, but we are aware of the productivity of the shale gas producers and what they can do in a short span of time. Nonetheless, we stand by our conviction that supply growth will be a lagging factor to a price spike.
How Are We Playing the Natural Gas Price Rebound?
We have scoured through dozens of natural gas producers, and many of the ones we like are in our HFI portfolio. We don't see another viable way of playing the natural gas rebound as STRIP prices have largely embedded a sizable increase in price. Our weapon of choice is to go long natural gas producers that have not priced in a price increase, and wait patiently for the stock price to reflect the increase.
As always, if you enjoy our natural gas (NYSEARCA: UNG) daily, please click on the "Follow" button above and read our other energy write-ups. In addition, we also have a premium subscription platform that's tailored to long-term, value-oriented investors. This is where we update readers on our HFI portfolio on a weekly basis and give subscribers insights into how we are currently thinking about the positions.
Disclosure: I/we have no positions in any stocks mentioned, and no plans to initiate any positions within the next 72 hours.
I wrote this article myself, and it expresses my own opinions. I am not receiving compensation for it (other than from Seeking Alpha). I have no business relationship with any company whose stock is mentioned in this article.