"Sometimes we need someone to turn the flashlight on for us. Other times we need to turn it on for others."
Lizzie Velasquez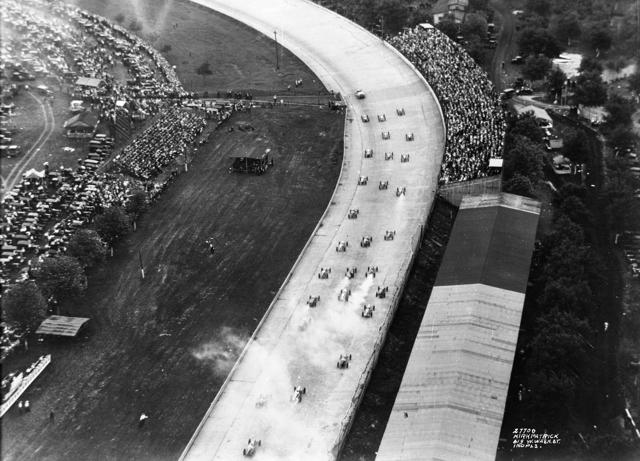 Click to enlarge
Introduction
Living in Indianapolis, and being a sports fan, it is hard not to get caught up in the history and pageantry of the 100th running of the Indianapolis 500, which will take place this Sunday, May 29th, 2016.
Held annually every year since 1911, except during WWI and WWII, the Indianapolis 500 remains one of the biggest sporting events in the world, drawing roughly 300,000 live spectators on race day. The grandstands, which are sold out this year, hold roughly a quarter million people, with the remaining patrons crowding into the infield.
Ray Harroun won the first race in 1911, claiming a prize of $14,250 by averaging 75 mph, over 6 hours and 42 minutes (think how long that is compared to today's race times), to win the inaugural 500 mile race. A picture of Mr. Harroun is below, courtesy of the Indianapolis Motor Speedway.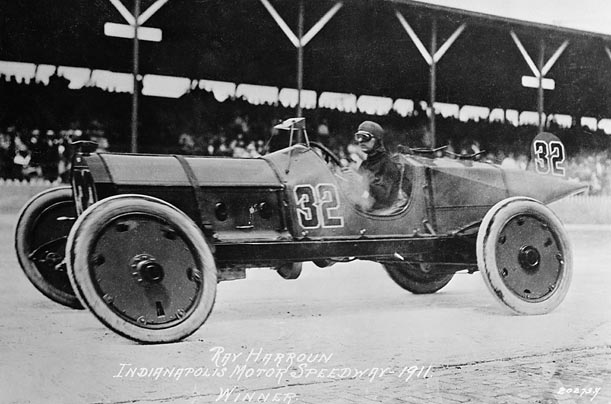 Indianapolis Motor Speedway, the racetrack first built in 1909 to test cars, has gone through many renovations over the years. It was initially built with crushed rock and tar, which broke apart and killed drivers and spectators on its first use, emphasizing the inherent danger in racing. Fortunately, the track was subsequently repaved with 3.2 million bricks.
The glory years of the race take on a different meaning for different people, but my personal definition is that they ran from 1961, the year of A.J. Foyt's first win, through Al Unser Jr.'s 1994 win. This era encompassed the careers of storied drivers such as Foyt, Parnelli Jones, Mario Andretti, Bobby Unser, Al Unser Sr., Gordon Johncock, Johnny Rutherford, Rick Mears, Tom Sneva, Emerson Fittipaldi, Arie Luyendyk, and the aforementioned Al Unser Junior. I apologize if I am leaving out anyone's favorite driver from this era.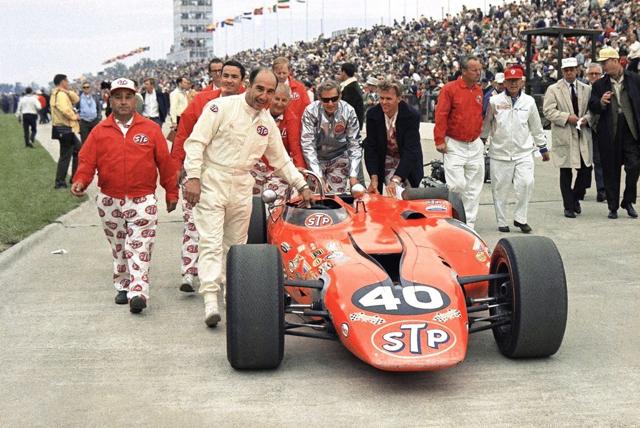 Click to enlarge
Long-time race watchers will opine that the glory years were actually earlier, when the Indianapolis 500 was the unequivocal biggest sporting event in the world, before the rise and television popularity of mega-events like the Super Bowl.
During this time, the world tuned in, often via radio (as we still do at race parties around Indianapolis today), as the best drivers, the best engineers, and the best car manufacturers competed for the prestige of winning the preeminent sporting event.
Whatever your definition is of the "glory" years for the Indianapolis 500, the only universal agreement is that they are in the past, though this year, the 100th running, has brought back the grandeur of the race in its prime.
The U.S. stock market faces a similar conundrum today, as investors reminiscence, and opine, for the glory years of the 1980s and 1990s, seeking a return to the environment that spawned some of the greatest stock and bond market returns in U.S. history.
Unfortunately, the rosy forward-looking asset class returns, which are largely based on historical averages, that individual and institutional investors, like pension funds, use for their retirement calculations are flawed. As a result, most investors face an uphill battle to achieve their expected returns in the years ahead.
Like many of the iconic Indianapolis 500 finishes, investors are in a historic race, competing against the reversion to the mean valuation magnets that will negatively impact the stock and bond markets' real returns.
Thesis
Stock and bond markets remain historically overvalued, offering investors some of the poorest return prospects in history over the next decade, challenging their ability to achieve their desired real returns.
Projected Asset Class Returns
The principal problem facing investors today, especially those in, or near retirement, is that stock and bond markets are trading at historically elevated levels. This is best illustrated with an ongoing review of forecasted real asset class returns via a table I have updated on a periodic basis, using data from GMO. The latest update is shown below.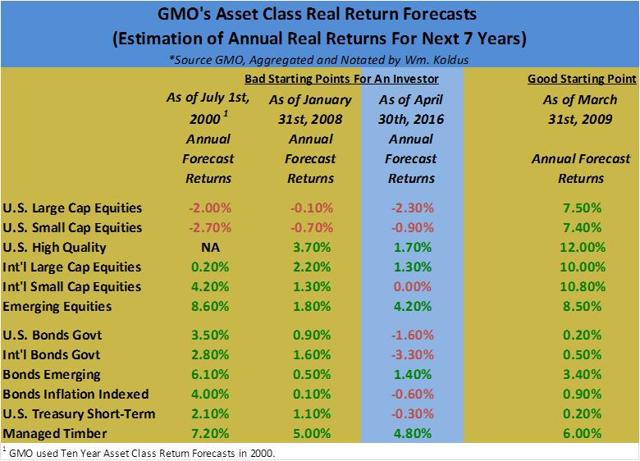 Click to enlarge
With projected annual real returns, for the next seven years, below zero for a majority of stocks and bonds, it is going to be hard for investors to achieve their return objectives. In fact, from current valuation levels, it is my thesis that investors holding a 90% cash portfolio will outperform more traditionally diversified investors over the next seven years.
This thesis has played out, as the "90/10" Portfolio within The Contrarian, my premium research service on Seeking Alpha, has gained 2.9% since its December 7th, 2015 inception through last Friday, while the S&P 500 Index, as measured by the SPDR S&P 500 Index ETF (NYSEARCA:SPY) has lost 0.9% over this time frame.
Building on this, it has not been unusual for individuals and pension funds to estimate 8% nominal returns from the stock market, and 4% nominal returns from the bond market, in order to calculate their expected portfolio return.
With these calculations, a portfolio that was weighted 50% in stocks and 50% in bonds, would be expected to achieve a 6% nominal return on an annual basis. Assuming a 2% inflation rate, the real return is reduced to 4%. However, given GMO's forecasted asset class returns, a 50/50 stock and bond portfolio, would actually be expected to deliver negative real returns on an annual basis for the next seven years!
While these projected returns may be viewed as too bearish, in an environment where the 10-Year Treasury Bonds Yield is less than 2%, the 2-Year Treasury Yield is below 1%, and a number of high-quality, cash-rich, dividend-paying stocks like Johnson & Johnson (NYSE:JNJ), PepsiCo (NYSE:PEP), Procter & Gamble (NYSE:PG), Microsoft (NASDAQ:MSFT), and Apple (NASDAQ:AAPL) offer dividend yields of 2.9%, 3%, 3.3%, 2.9%, and 2.4% respectively, it will be a challenge for investors to achieve their desired returns, in light of the low current yields, in my opinion.
Investors Reach For Yield
The low yields available to investors and savers, and the corresponding high relative prices of stocks, Treasury bonds, and corporate bonds have caused investors to reach out the risk curve for yield, often chasing perceived higher yielding investments, like Kinder Morgan (NYSE:KMI) without regard to potential downside risks.
In Kinder Morgan's case, the unforeseen risk was a larger than anticipated drop in oil and natural gas prices, and their impact on Kinder Morgan's business, which was supposedly largely immune to underlying commodity price movements. The unforeseen risk, revealed when oil plunged, caused KMI shares to crater, significantly impairing the capital of a number of dividend-focused investors.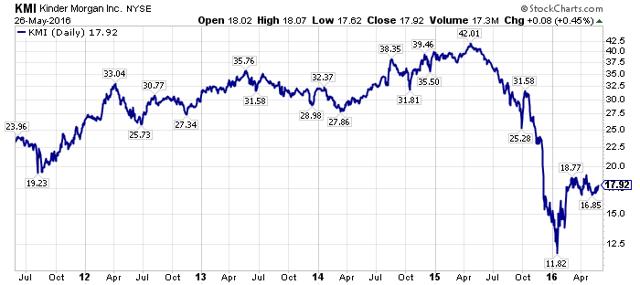 Click to enlarge
Incidentally, after its price drop, I think Kinder Morgan shares are attractively valued today, and they are held in a number of The Contrarian's Portfolios.
For those that question the reliability of GMO's forecasts, and there is considerable debate on this front, I'll offer my two cents. In my experience, actively participating in the capital markets for over 20 years, as an investor, an institutional investor, and from my perspective as a market historian, GMO has been one of the most accurate firms in projecting future asset class returns.
Valuations Are Expensive Any Way You Cut It
If you do not trust GMO's projected returns, there are a host of valuation measures that substantiate their findings of current stock market overvaluation. These include the price-to-earnings ratio, where the S&P 500 Index has a current P/E ratio of over 24 today, expensive compared its long-term average P/E of below 16, to broader valuation metrics like the replacement value of assets, or the Schiller P/E Ratio, which remains elevated today, though nowhere near its 2000 peak level, on a historical basis.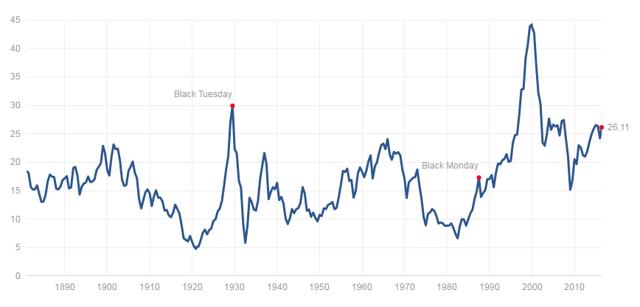 Click to enlarge
In addition to high P/E ratios today, the total stock market capitalization to GDP ratio shows stock market overvaluation. This ratio was cited by Warren Buffett, the famous investment legend behind Berkshire Hathaway (NYSE:BRK.A), (NYSE:BRK.B), to explain his negative view of the stock market in the late 1990s.
Doug Short, a fellow Seeking Alpha author, whose work can be found at Advisor Perspectives has done an excellent job of graphically depicting the market capitalization to GDP ratio, and it currently shows a U.S. stock market that is expensive, and far removed from the halcyon days of the 1980s and 1990s.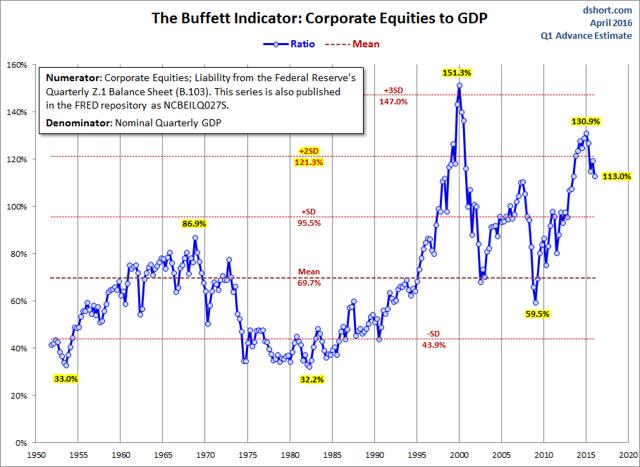 Click to enlarge
From the chart above, the U.S. stock market appears extremely overvalued, even after its recent weakness over the past year, trading at valuations that are above 2007's peak market capitalization to GDP ratio.
Market historians widely believe that the year 2000 marked the single most expensive stock market in modern U.S. market history, with 2007 marking the second, lower peak in valuations.
The Schiller P/E ratio and the market-cap/GDP ratio in the charts above validate this claim. Yet, by December of 2015, the median price-to-earnings and price-to-sales ratios exceeded those two prior peaks, according to independent research boutique, Ned Davis Research.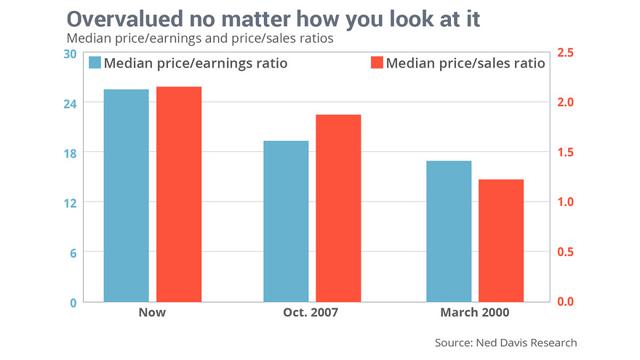 Click to enlarge
As your author, I want you to stop and consider the ramifications of the above chart for several minutes.
Clearly, in 2000, there were many undervalued stocks, which had not participated in the late 1990's bull market, including small-cap value equities, as measured today by the iShares Russell 2000 Value ETF (NYSEARCA:IWN), and REITs like Simon Property Group (NYSE:SPG), and Vornado Realty Trust (NYSE:VNO).
Thus for discerning, value investors, and for those individuals employing diversified asset allocation strategies, it was easy to avoid the overvalued sectors, like technology and telecom, and individual, overpriced companies like Cisco (NASDAQ:CSCO), Intel (NASDAQ:INTC), Microsoft, Qualcomm (NASDAQ:QCOM), which were all quality businesses, and even Coca-Cola (NYSE:KO), which had caught a significant bout of investor enthusiasm, which crested in 1998.
It was even easier for a value investor to step away from the stratospherically priced growth fare like, Amazon (NASDAQ:AMZN) and Yahoo (NASDAQ:YHOO), which went on to lose 90% of their market capitalizations, from their highs in 1999 to their lows in 2002, in the stock market bubble and bust.
The Past Should Serve As A Warning Lesson To Market Leaders Over This Bull Market
In reading the last paragraph, some of you might be saying to yourselves that, "Amazon survived, and went on to thrive." Technically, you would be correct. Amazon did lose roughly 90% of its market capitalization, from its highs in 1999, to its lows in 2001, and it has recovered to become one of the stock market's leading growth stocks, almost improbably, to Jeff Bezos's credit, once again.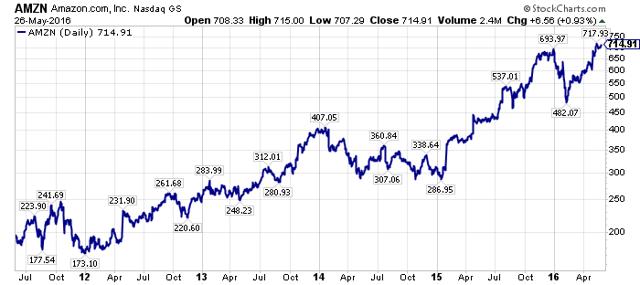 Click to enlarge
AMZN shares that traded for less than $10 per share in 2001, after reaching highs of over $100 per share in 1999, are now over $700 per share today. This is an extreme example, yet it reflects the change in valuation, that a widely respected, acknowledged market leader, could face when its shares go from being in favor to out of favor to being back in favor. So who are bull market leaders that are vulnerable today?
Obviously, momentum growth stocks that trade at elevated valuations including Amazon, Facebook (NASDAQ:FB), Netflix (NASDAQ:NFLX), and Tesla (NASDAQ:TSLA) are at risk for a change in investor psychology, from risk seeking to risk adverse.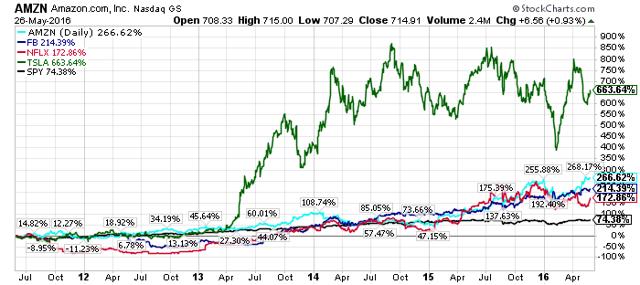 Click to enlarge
I would argue, however, that investors in these aforementioned growth stocks are more aware of the risk of a severe drawdown, even though they might not like it, or expect it to happen.
Additionally, investors positioned in more traditional growth fare like Disney (NYSE:DIS), Gilead Sciences (NASDAQ:GILD), Nike (NYSE:NKE), and Visa (NYSE:V), are aware that these stocks have massively outperformed, and could give back a healthy chunk of their gains if their growth rates were challenged.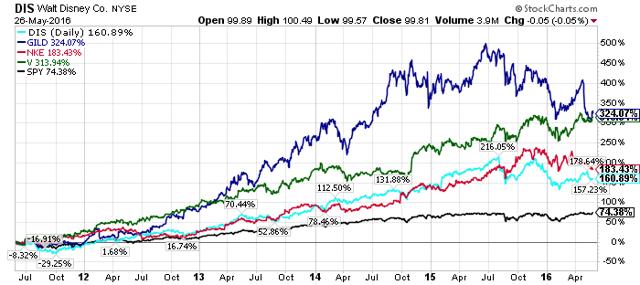 Click to enlarge
Yield Focused Investments Are The Real Risk
From my perspective, more damage could come from perceived strongholds of safety, and this could include a fall in dividend growth stocks, REITs, and utility shares, which have all become overpriced, from my perspective, as investors have adapted, and evolved, to secure the increasingly rare yield-oriented opportunities.
Examining the top ten holdings of the ProShares S&P 500 Dividend Aristocrats ETF (NYSEARCA:NOBL) shows how investors have flocked to companies that have delivered consistent dividend growth.
Consolidated Edison (NYSE:ED), Brown-Forman (NYSE:BF.B), S&P Global (NYSE:SPGI), Leggett & Platt (NYSE:LEG), and Colgate-Palmolive (NYSE:CL), the five largest holdings of NOBL, have all posted strong, absolute and relative stock performance, with only CL lagging SPY's 74% return over the trailing five years.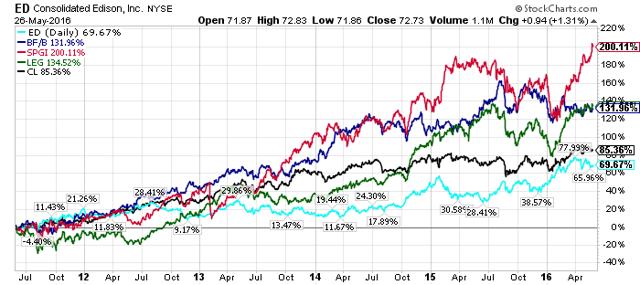 Click to enlarge
The next five holdings of NOBL are McCormick (NYSE:MKC), Hormel Foods (NYSE:HRL), Clorox Company (NYSE:CLX), C.R. Bard (NYSE:BCR) and W.W. Grainger (NYSE:GWW), all mainstays in dividend growth investors' portfolios. These stocks have also materially outperformed as a group, with only Grainger modestly trailing SPY over the past five years.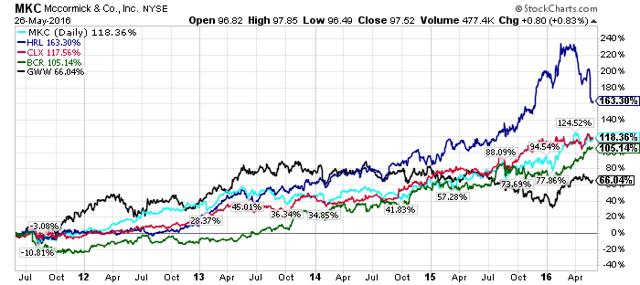 Click to enlarge
In similar fashion, the top ten holdings of the Vanguard Dividend Appreciation ETF (NYSEARCA:VIG) have showed a healthy outperformance as a group, providing further evidence of investor's preference for the safety and security of a bird-in-the-hand cash payment.
Johnson & Johnson, Coca-Cola, PepsiCo, Microsoft, and McDonald's (NYSE:MCD) are the top five holdings of VIG, and like the first row drivers at the Indianapolis 500, they have been heavily sponsored, cheered, and lauded for their performance.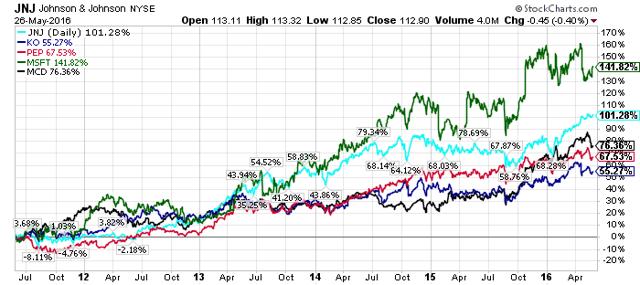 Click to enlarge
The next five holdings, the second row drivers of VIG, are Medtronic (NYSE:MDT), CVS Health (NYSE:CVS) 3M Company (NYSE:MMM), United Technologies (NYSE:UTX), and Walgreens Boots Alliance (NASDAQ:WBA), and they have delivered even better outperformance as a group, compared to their first row peers, versus SPY over the last five years.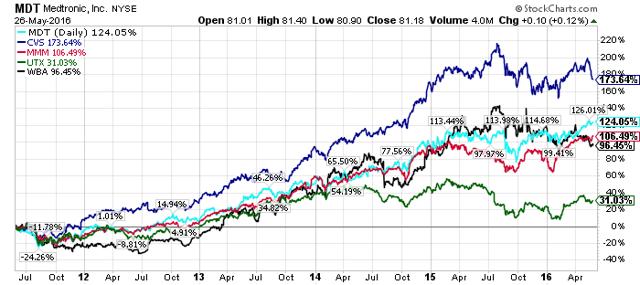 Click to enlarge
United Technologies has been a notable exception to the strong outperformance of dividend growth stocks, and with a trailing 12-month P/E under 12, this is definitely a large-cap, contrarian play on my investing radar.
Rounding out our overview of outperforming yield-oriented securities, I wanted to highlight the performance of several REITs and utility stocks. I have written about utilities recently, where I discussed the change in stock market leadership, and the impressive length of the current bull market, which I called one of the most hated bull markets in history. I have also written about REITs, and the general impact they would face from rising interest rates and inflation.
NextEra Energy (NYSE:NEE), Duke Energy (NYSE:DUK), and Dominion Resources (NYSE:D), are widely held utilities, while Simon Property Group and American Tower (NYSE:AMT) are two widely held REITs. Their collective performance again shows that investors are pursuing yield-oriented investments.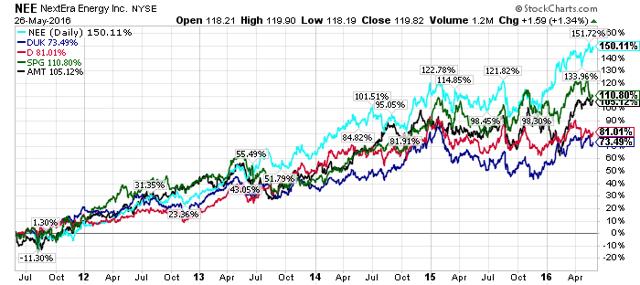 Click to enlarge
Now I am sure that many of you, who made it this far, are saying something along the lines that, none of this analysis really matters, as we are building our dividend-focused portfolios company by company. The mistake, in my opinion, is the classic one, of not seeing the forest for the trees, meaning that investors have grown too close to the situation, through their involvement, participation, and ultimate outperformance in dividend growth stocks, who have prospered tremendously relative to the overall market since 2000, to gain proper perspective by stepping back and seeing the bigger picture.
In summarizing this section, let's revisit Coca-Cola shares in 1998, when even Mr. Buffett articulated that KO shares had probably gotten ahead of themselves. Ultimately, Coca-Cola shares saw a fall of over 50% from April of 1998 to July of 2004, denting the enthusiasm surrounding one of the most iconic dividend growth companies. What if the most universally liked dividend growth stocks, collectively, suffered a similar decline today? How many investors would continue to hold their shares in the face of a significant drawdown?
Investors In (Or Near) Retirement Face A Conundrum
With bonds and yield-oriented investments unequivocally overpriced as a group, alongside nosebleed valuations for the entire stock market, investors are stuck between a rock and a hard place, made more difficult by the fact that in a broad market decline, there are fewer places to hide today, than in 2000, or 2007.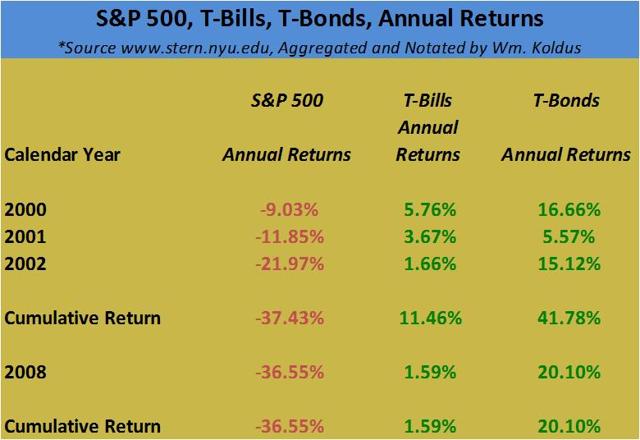 Click to enlarge
Given stock and bond absolute valuations, and their relative price levels, what if bonds do not go up during the next material decline in stocks? Could the next material decline in stocks be caused by a rise in interest rates, which almost no one expects, negatively impacting all yield-oriented investments?
Conclusion - Be Selective And Patient
Who will win the Indianapolis 500 this year? Honestly, I do not know. Historically, however, the winner typically comes from a pool of drivers with experience, who have qualified in a top-tier car, and who have an element of luck on race day.
The stock market often operates the same way, meaning trend following strategies have been shown to statistically outperform. Without knowing it, investors in some of the most popular stocks today, including dividend aristocrats, REITs, and utilities, have unknowingly become trend followers, as the huge pools of global capital have rotated into these securities.
In contrast to the race, however, where poor qualifying drivers rarely win, the biggest groups of "winners" in the stock market are historically derived from the most out-of-favor assets. These out-of-favor stocks have another name, and they are called value stocks. Their sizeable underperformance over the last five years, gives them the considerable advantage of a better starting position in the stock market race for performance.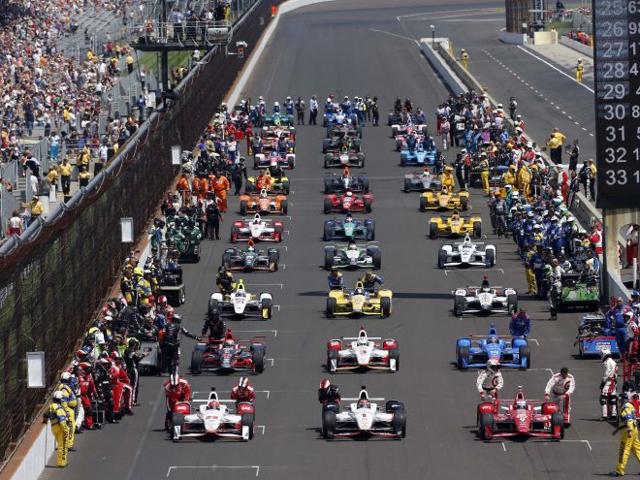 Click to enlarge
Ibbotson data shows that small-cap value stocks are the best performing U.S. asset class over the long-term, and Warren Buffett and his Graham/Dodd value disciples, have repeatedly proved that value investors outperform over time, as Mr. Buffett eloquently articulated in his 1984 publication.
Thus, today, in an environment where growth stocks have outperformed value stocks by a significant margin over the past five years, and valuations for stocks and bonds remain near their all-time highs, investors should keep an eye on the undervalued, out-of-favor assets, like commodity stocks, and emerging market equities.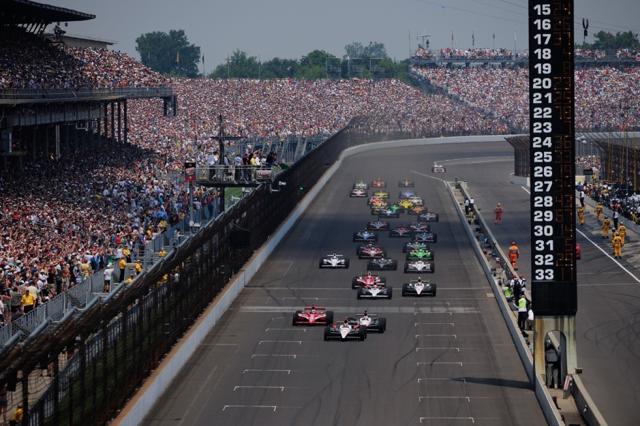 Click to enlarge
To close, the retirement assumptions of many investors today are built on a false premise that the stock and bond markets can deliver future returns anywhere near their historical returns. The robust return environment since March of 2009 has further cemented these historical return benchmarks in investor's minds.
Building on this, I would say the only plausible way that future returns, on a nominal basis, can be anywhere above low single-digit returns, over the next decade, is via a significant increase in inflation. In this scenario, in my opinion, a focus on "real returns," with an emphasis on alternative strategies, out-of-favor asset classes, and portfolio diversifiers will be paramount.
Disclosure: I am/we are long AAPL, KMI, SHORT AMZN, SHORT FB, SHORT SPY, AND CONSIDERING GOING LONG UTX.
I wrote this article myself, and it expresses my own opinions. I am not receiving compensation for it (other than from Seeking Alpha). I have no business relationship with any company whose stock is mentioned in this article.
Additional disclosure: Every investor's situation is different. Positions can change at any time without warning. Please do your own due diligence and consult with your financial advisor, if you have one, before making any investment decisions. The author is not acting in an investment adviser capacity. The author's opinions expressed herein address only select aspects of potential investment in securities of the companies mentioned and cannot be a substitute for comprehensive investment analysis. The author recommends that potential and existing investors conduct thorough investment research of their own, including detailed review of the companies' SEC filings. Any opinions or estimates constitute the author's best judgment as of the date of publication, and are subject to change without notice.