Weekly crude-oil inventory changes always get an exciting headline. Maybe because everyone cares about the price of oil.
Here are the last three weeks' updates from Seeking Alpha's website: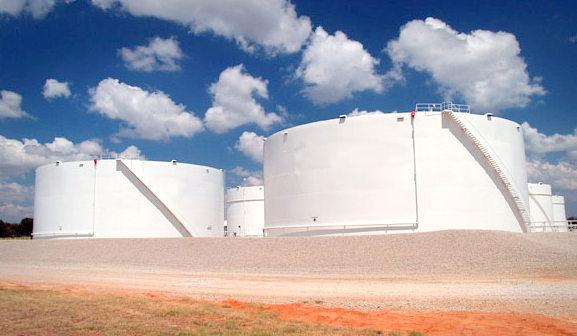 The ups and downs in price tend to follow the drawdown or buildup.
Is this weekly gyration warranted?
The basic answer is 'no', since weekly stock variations really don't mean much.
But there's another important aspect to the drawdown or buildup related to the seasonality of crude-oil product usage. That is, the inventory levels don't vary randomly.
Inventory levels experience seasonal trends. Yes, many of you know this already, but it seems the press relentlessly ignores this fact when reporting weekly numbers.
The summer driving season drawdown is one of the key features of oil inventories. It's also is easy to estimate from EIA oil-stocks data.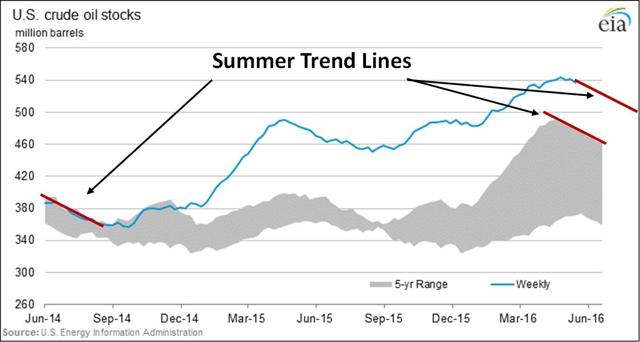 Click to enlarge
I calculated the 3- and 5-year summer trend lines over the months of May through September, where the drawdown is nearly constant. This is just the average weekly change in stocks over that period.
For 2016, I averaged what data we have to date. This is just three weeks' inventory numbers so far.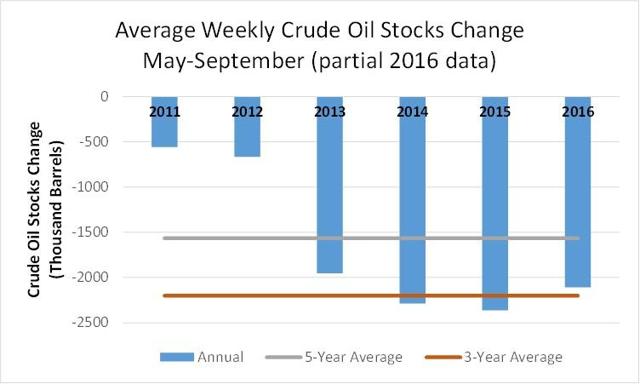 Click to enlarge
The last three years seem to be a good indicator of what to expect in 2016. This timeframe more heavily weights the recent low-gas price period when more driving was being done.
The 3-year average summer inventory change is -2.2 million barrels per week.
So, we could see headlines announcing over a dozen straight weeks of 2-million-barrel weekly drawdowns. The press would go crazy, and maybe the markets, too. But I'd say "ho-hum, that's pretty much what we expected, you know."
How are we doing so far this season? The current average inventory change is -2.1 million barrels per week. Right in line with the average.
If these drawdowns persist at the same average level, the inventory relative to the 3-year average really won't change much.
To the last point, if you look at the inventory relative to the 5-year average, we see the significance of the inventory over the last 20 years. The inventory has tended to fluctuate roughly +/-10% around the average until 2015.
We are now almost 40% over the 5-year average, the highest point in that period by nearly a factor of two. This will take considerable time to draw down and come back to normal, just as it's taken years to build up.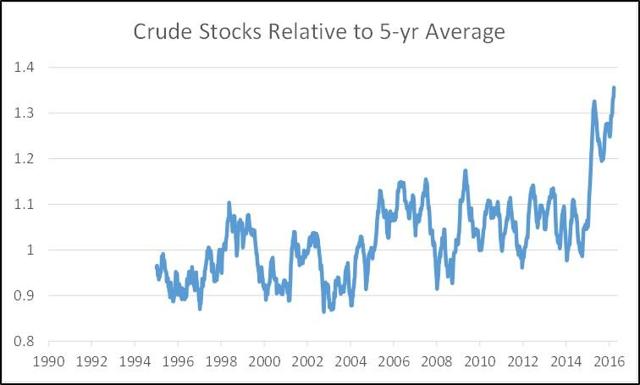 Click to enlarge
Three points to take away from this discussion:
Drawdowns are not special during the summer. Expect crude oil inventory drawdowns around 2 million barrels per week on average.
The net change over longer time periods, such as over the summer, is more important than weekly numbers.
We remain at historically high levels of inventory and that will take significant time to reduce.
Don't let short-term news over-influence your investing decisions without a deeper look at the longer term relevance and implications.
Disclosure: I/we have no positions in any stocks mentioned, and no plans to initiate any positions within the next 72 hours.
I wrote this article myself, and it expresses my own opinions. I am not receiving compensation for it (other than from Seeking Alpha). I have no business relationship with any company whose stock is mentioned in this article.