Amazon (NASDAQ:AMZN) bears are likely a little short-sighted in their criticism of the company. Yes, the company trades at 294x ttm earnings. Yes, the company's international operations are currently operating at a loss. But for a company that's rapidly disrupting and expanding in its market, sometimes you need to be willing to pay a premium today for a company that will be tomorrow's market leader.
At least that's what Amazon bulls say. But when exactly was the last time you saw an Amazon bull tell you when the company will trade at a fair valuation? 2018? 2025? 2030? I have no dog in this race (I'm a deep value investor), but I thought it was time to bring a little math and a little common sense to a debate that often has neither.

Of course, predicting a company's financials is difficult. The further out you model, the more and more sensitive your data becomes to even incredibly small variations in your inputs. I never model out beyond five years for this reason. But when you're playing with your future retirement money, five years should be plenty of time for a company to meaningfully get to a decent value proposition. Do you really want to invest your money in a company that isn't going to be "reasonably valued" (more on that below) five years from now? I personally don't.
What Is A "Reasonable" Valuation?
Tough enough question, but one that has to be answered before we get knee deep in SEC filings and mathematical models. Everyone has their own relative opinion of what a fair and reasonable valuation for a stock is, and that obviously can vary, even for the same individual investor. It can differ based on the company's chosen business market, its future prospects, any risks such as secular trends, along with a myriad of other factors. For all intents and purposes, I'm going with a ttm GAAP P/E of 20 for this exercise. It is nice and round, eliminates all those pesky back-outs like stock-based compensation that executive suites like to exclude nowadays, and isn't far off the average ttm P/E of large caps in the market that exists today. If you don't like that number, feel free to tweak it for your own uses. For my own numbers, that's what we're rolling with.
Building An Income Statement Model
We know our end goal here: In order for Amazon to trade at a 20 P/E, the company must generate in the neighborhood of $16.85B in after tax GAAP profit based on today's equity price. The after tax profit number for Amazon in 2015? $596M. We've obviously got a long road to go to get this company to that number. I would have loved to put this model together for you piecemeal line item by line item, but it is difficult to put together in that fashion here on Seeking Alpha. You can either read the line item information below for the assumptions I used, and then go check the results, or vice versa.
Net Sales. Net sales have been accelerating, posting a 19% gain in 2014 and a 20% gain in 2015. This trend has been mostly been driven by growth in the company's Services sales rather than product deliveries (Services net sales up from $13.5B in 2013 to $27.7B in 2015). Overall, Wall Street consensus currently calls for 25% growth in 2016, slowing to 20% growth in 2017. These average numbers are divisive - estimates for 2017 revenue vary 8% around the mean. We'll take the Wall Street guys at face value for 2016/2017 and assume a more moderate growth rate for 2018 and onward, given that a company with $161B in expected 2017 annual sales is likely to see some moderation over time due to sheer size. I've taken 18% annual from there and went with it. That's plenty aggressive in my opinion.
Cost of Sales. Gross margin was 27.2% in 2013, 29.5% in 2014 and 33% in 2015. Trend is up, but it has been a fluctuating target that has proven hard to estimate. This is a lumpy expense category - anything from the wholesale cost of consumer products that Amazon sells to digital media costs associated with Prime Video and Prime Music are found here. As the company gains size and scale, however, gross margins will tend to improve naturally. If you look through Amazon's SEC filings, there is very little granularity provided when it comes to cost of sales, which is what has led to such a surprise on bottom line expectations consistently for Amazon. For our purposes, we'll assume continued gross margin improvement due higher margins in the quicker growing Services segment and continued benefits from operational leverage. I've gone with 100bps in gross margin improvement in 2016 and 2017, falling to 50bps annual improvement thereafter. Just remember that the higher Amazon's gross margins go, the more incrementally difficult it becomes to extract further gains.
Other Operating Expenses. While Amazon breaks down this category in its financials, I've lumped Fulfillment, Marketing, Technology and Content, and General & Administrative costs altogether just for terseness. For added detail on these expenses, fulfillment costs relate to costs incurred in operating and staffing fulfillment and customer service centers, along with payment processing costs (credit/debit cards). Marketing expenses are related to costs incurred in keeping Amazon a household name through the company's marketing initiatives. Technology and Content expenses relate to most of the costs related to Amazon Web Services (servers, networking equipment, payroll). General & Administrative is simply corporate overhead.
Overall, these "Other Expenses" have been growing quicker than revenue growth in recent years. Nominally, now $33.1B in 2015 from $19.5B in 2013. You can pin most of the blame here on Technology and Content (up 91% from 2013 levels to $12.5B in 2015 due to the massive investment in Amazon Web Services, including some hefty stock option expense) and Fulfillment (up 56% from 2013 levels to $13.4B in 2015 due to massive investment in the company's distribution infrastructure). We'll assume Amazon has two more years of other expense growth that is higher than revenue growth. I've used 25% growth in 2016 and 2017, and modeled other expense growth at 16% growth for the remaining years (generating the company a little operating leverage in 2018 and beyond).
Interest Expense. As Amazon now generates free cash flow, it is reasonable to assume interest costs will not grow unless the company wishes to intentionally lever the balance sheet. Several of these debt notes that Amazon issued during the November 2012 and December 2014 debt raises will come due during our model timeframe and will need to be refinanced. For the sake of simplicity, we'll just assume $450M in annual run rate interest expense (2015 levels). We don't need to make a mountain out of a molehill in this endeavor, and any movement up or down in interest expense matters very little compared to the other assumptions.
Tax Rate. Amazon has paid varying amounts of taxes over recent years. I've assumed a 32% tax rate, the norm for established retailers in this industry (see Wal-Mart (NYSE:WMT), Target (NYSE:TGT)).
The Model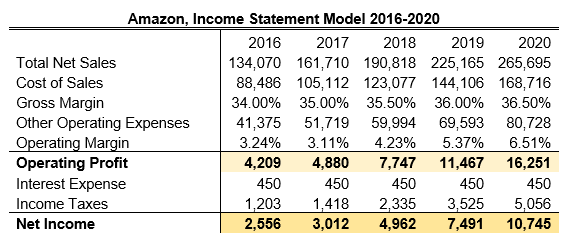 On the assumptions written above, net income comes in at $10.7B in 2020, or a TTM GAAP P/E of 33x on today's share price. Not what we were looking for when it comes to "fair," but it isn't wholly unreasonable compared to a lot of equity valuations today. Sanity check against Wall Street consensus makes sense - on a 471.8M share count, the above model sees $5.41 in earnings in 2016, in-line with the Street. It varies significantly on 2017 earnings from average Street consensus, but Wall Street's 39 brokers have estimates ranging from $4.86/share to $15.05/share in 2017 - it is basically a crapshoot, and that comes down to the lack of margin granularity we highlighted above. As we've erred a bit on the safe side when it comes to those "Other Operating Expenses" and when they begin to moderate, this is why this forecasts only $6.38/share in 2017.
Amazon Web Services' Importance
Critics might say that gross margins here are well above big retailer norms (see Wal-Mart, Target once again as retailer examples, falling in the 25-30% gross margin range). With that said, they should be, as gross margins are already higher than the traditional competition. Amazon's exposure to high-technology fields are responsible for that outperformance, and that is unlikely to change. However, if Amazon is going to carry a fair, justifiable value at some point, Amazon Web Services needs to continue to being a larger and larger contributor to operating income, mirroring the impact that it has had in the past three years. In 2013, AWS contributed just 33% of operating income. 2015? Nearly 42%. For a segment that only generated 7% of net sales, that is an incredibly large portion of the underlying profitability and a big driver of total company margin growth. If you're an Amazon bull or bear, that is where your focus should be - Amazon Web Services health, not on the big top line numbers the company might put out from selling a couple more pallets of paper towels.
Takeaway
For those who are curious, if $265.7B in 2020 sales estimate is an accurate assumption, for the company to reasonably be valued at 20x GAAP P/E on today's share price, operating margins need to come in around 9.5% in 2020. Is that possible if the company is simply the next Wal-Mart? No. Is it possible for a pseudo technology/disruptive retailer? I don't see why not - compared to many companies in technology, 9.5% operating margin is an easy hurdle to clear. On the flip side of that, if margins don't expand, the story is broken.
In my opinion, Amazon is growing into its shoes, provided it continues to execute on its growth initiatives and improving its margins. Is there a significant gamble taking place in going long? Certainly. We assumed top line growth growing at 18.6% annually on average for the next five years. That's a massive number for a company with sales already in excess of $100B. We also assumed nearly 20% in steady annual operating margin improvement - while the starting point is low, that is a fair challenge for even the best management. Given the lack of forward guidance present from management, each individual investor here has to set their own expectations and be willing to trade around those expectations when they are either not met or exceeded.
Overall, the path to a fairer valuation is there, and I can understand Amazon bulls' fervor, assuming the company can execute. But it is important that investors pay special attention to margins going forward. Moderation of the company's expense growth will make or break this story in the long run.
As mentioned, I rarely invest in large caps, growth stories or otherwise. For more research on contrarian plays on deep value companies (such as this bottom call on Wynn Resorts in November of 2015, which has returned 50% in six months), consider following me (via the "Follow" button at the top of this article next to my name) to receive notification when I publish research. Feel free to ask any questions in the comments below. I'll be happy to respond.
Disclosure: I/we have no positions in any stocks mentioned, and no plans to initiate any positions within the next 72 hours.
I wrote this article myself, and it expresses my own opinions. I am not receiving compensation for it (other than from Seeking Alpha). I have no business relationship with any company whose stock is mentioned in this article.