Aeropostale (NYSE:ARO) is a mall-based apparel retailer of teen and preteen clothing. They operate 985 stores (end of Q3 2011), most of which are in the United States, and compete in the older teen segment where Abercrombie (NYSE:ANF) and American Eagle (NYSE:AEO) dominate. For the consumer, Aeropostale is a lower cost option among this group. Their new venture, P.S. by Aeropostale, started with 14 stores in 2009 and has grown to 70-plus stores in 2011. P.S. serves as a bridge to the namesake stores by targeting middle school kids with branded clothing at prices parents don't mind paying. ARO is down 33% in the past year and is fundamentally and technically ripe for a move higher.
Strengths
Management has proven to be shareholder friendly and has continued to purchase stock at what we believe to be attractive prices. They purchased over $100M in treasury stock so far in 2011 and still had $109M in cash at the end of Q3.
Average units per sales transaction (past 39 weeks of 2011) are up 7% (link to quarterly) compared to same period last year.
Net cash for investing in new stores for 2011 has mostly been spent. Most of the cash generated from operating activities in Q4 should show up on the balance sheet or be used to purchase some of the estimated 8 million shares the company can buy back under its current repurchase program.
Weaknesses
Net cash provided by operating activities for the first 39 weeks of 2011 are down more than 90% compared to the same time period a year earlier. It could have been even worse but the company offset this number with the timing of its income tax and other liability payments.
Opportunities
Net sales for first 39 weeks of 2011 are down 2% compared to 2010. The average price per unit is down (11%). With lower prices due to the competitive environment and a decrease of (10%) in comparable store sales ARO is on track to meet or exceed 2010 revenues. With input costs decreasing, we believe the worst of margin compression is behind ARO.
On August 2, 2011, ARO entered into a new three-year sourcing agreement with one of its suppliers. This was done at an advantageous time considering the price of raw materials leading up to and during the negotiation. This should help ease margin pressure going forward.
International growth with agreements made to license out 25 stores in Singapore, Malaysia and Indonesia over the next five years. They also have an agreement with licensees to open 30 stores in Turkey in the next five years and there are 11 stores already operating in the UAE.
Threats
Holiday sales were weak and given the promotional atmosphere it is possible that margins will be lower than what they were in Q3.
Worst Case Scenario $19.73
This is based on meeting revenue expectations and margins averaging below 4% for 2012. We consider this to be an extremely conservative valuation given the growth in P.S. stores and decrease in input costs.
Best Case Scenario $29.89
This is based on a beating revenue expectations and margins at 4% for 2012. Though more optimistic, this assumes the margins experienced in Q3 2011 will be carried forward to Q1 and Q2 2012.
Technical Analysis
ARO's weekly chart sports an impending Golden Cross as well as price action at the 50.0% Fibonacci Retracement of its move from $26.30 in mid-April 2011 down to $9.16 (mid-September 2011). Other positive signs are the 10-week moving average (MA) having stood as a reliable line of support since it was broken in mid-October 2011, as well as momentum and trend indicators at bullish but not overheated levels. ARO should find itself trading back in a former range of $22 to $27 where it spent most of a year (August 2010 to May 2011).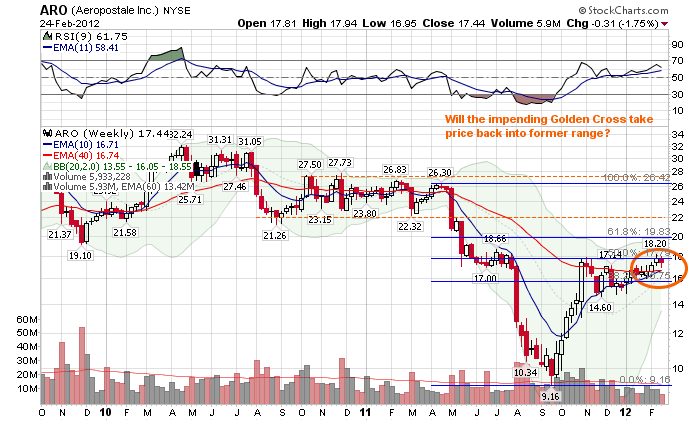 To help support this intermediate term bullish forecast, the daily chart shows a breakout of a narrow ascending triangle on slightly above average volume. It is currently testing the former horizontal resistance line with trend and momentum indicators at relatively neutral levels. If support holds, look for price trajectory to be guided by the ascending trendline of the triangle or the rising but relatively flatter 50 day MA.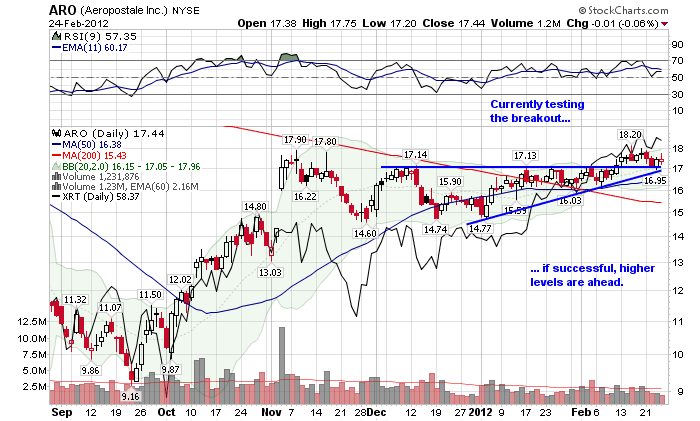 Conclusion
Net sales for first 48 weeks of 2011 are comparable to 2010, therefore managing costs will ultimately determine how profitable the company can be. Key positives include: (1) lower cotton prices that should help reflate ARO's P/E multiple; (2) new licensing agreements in Turkey and Southeast Asia that enable ARO to grow international exposure responsibly; and (3) shareholder-friendly management committed to buying back stock ($1B at $17.57 per share). Technically, we're at a critical point. If support of the broken ascending triangle holds on the daily chart and there is follow-through on the weekly chart's Golden Cross, ARO is cleared higher. Likely pauses may occur just below $20 (61.8% Fibonacci Retracement, projection from triangle breakout, as well as downside target) and around $27.50 (full 100.0% Retracement and top of former range). A reduction in the number of shares outstanding and current short interest will be the catalysts that move price to our upside target.
Given the current technical picture and the fundamental backdrop, consider adding some Aeropostale to your current portfolio's wardrobe.
Disclosure: I am long ARO.