Target Corporation's (NYSE:TGT) operations include general merchandising and food discount stores and a fully integrated online business.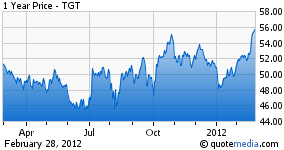 Target also offers credit to qualified applicants through its branded proprietary credit cards. TGT is trading at $55 with a market capitalization of $37 billion. TGT has a current dividend yield of 2.2% that is projected to grow at a 12% compound annual growth rate in the future. Looking forward, TGT will have a 6.7% dividend yield on current costs in 10 years.
Target's strategic initiatives should help drive comparable-store sales and operating margins in the long term. We expect the company to gain market share, and believe that increased focus on consumable items will boost sales in a sluggish retail environment. Target now tends to focus more on store renovations and enhancing store sales productivity, introducing smaller format stores, and eyeing opportunities to open stores in the international markets. However, stiff competition and erratic consumer behavior still remain concerns.
TGT reported quarterly adjusted EPS of $1.49 in January, vs. $1.38, $0.10 above estimates. Results benefited from increased credit card penetration, expansion of consumable offerings, and as an active repurchase program resulted in 5.5% fewer shares outstanding. We expect new store reformats and moderating cost inflation to lead to continued EPS benefits in FY 2013 (Jan.). Future sales growth will come from TGT entering the Canadian market in 2013 but this will cost $0.50 in EPS due to the additional cost.
Earnings yield is useful to compare the relative benefit of owning a stock vs. owning other yield assets such as bonds. If the earnings yield is higher, stocks may be considered undervalued. Target has highest earnings yield of 7.7% among the general merchandise industry.
On February 23, 2012 Deutsche Bank upgraded TGT from Hold to Buy and Jefferies upgraded the shares to Buy from Hold and raised its price goal to $63 from $49. I have a fair value on TGT of $65 which would represent 18% gains from its current trading price. Add in the 6.7% dividend yield on current costs and TGT should be worth buying as a long-term holding.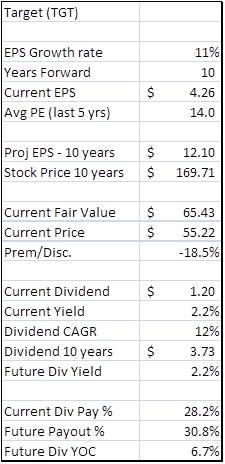 Methodology: By using the average PE ratio and projected EPS growth, you can use the future time value formula to get an estimate of earnings X number of years into the future. Once you have the future projected earnings per share, just multiply by the PE ratio to get a future stock price. All of the projected growth rates are available on most websites providing detailed stock information. This is great information when looking at the future of a stock in comparative terms. Take this one step further, and you can determine the intrinsic value of a stock. Here, you are using the present time value formula based on your required rate of return. The end result is having a fair value estimate of the stock to compare to the stock's current trading price. This comparison will determine if a stock is overvalued or trading at a discount. We use the same concept to determine the future dividend payout and yield in future years. For me, I prefer to project 10 years forward based on past compound annual growth rates [CAPG] of 10 years of data. The number of years can be adjusted for shorter time periods for stocks with less than 10 years of public data. I am currently using a 10% return on invested capital.
Disclosure: I have no positions in any stocks mentioned, and no plans to initiate any positions within the next 72 hours.