Just when you thought things couldn't get any worse, Valeant (NYSE:VRX) finds new and innovative ways to surprise to the downside. I think Slide 11 from Valeant's investor deck pretty much says it all: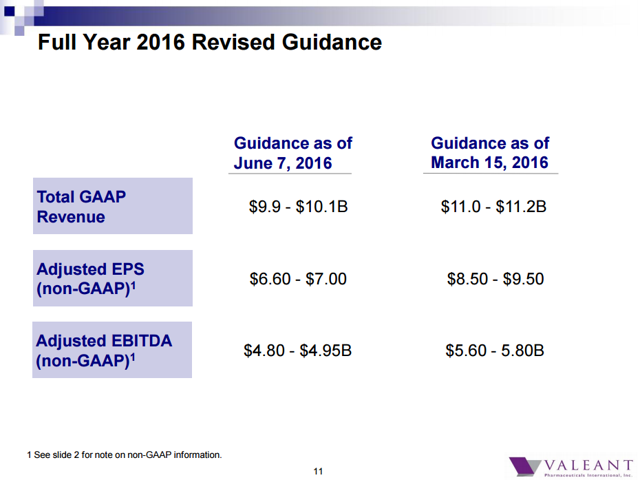 Click to enlarge
Source: Valeant Investor Deck
Despite my generally skeptical view of the quality of sell-side analysis, I must admit that the recent CNBC interview with Wells Fargo (NYSE:WFC) analyst David Maris was spot-on. Valeant is in major trouble.
Here are the issues as I see them:
1) The Current Capital Structure Is Untenable
With the recent cut in guidance, even if Valeant meets its own expectations - which, as of late, it's had trouble doing despite repeated kitchen-sinking - new CEO Joseph Papa expects to exit the year, including debt paydown, at six times leverage.
If absolutely nothing else goes wrong, then Valeant could conceivably squeeze by. But lenders' patience is likely wearing thin, and I think any incremental challenges (which I fully expect to occur) will necessitate significant asset sales.
The challenge here for equity holders is that to significantly delever as an enterprise, you have to sell assets for a valuation that's materially higher than the consolidated level of debt/EBITDA (never mind EV/EBITDA). On the one hand, Valeant seems to want to keep a tight hold on high-quality assets like Bausch & Lomb - but on the other hand, these are the relatively un-hot-potatoey assets that would fetch robust multiples and help delever. (Who would want to buy Jublia or cuprimine/syprine right now? Not me...)
Thus, there's a catch-22 situation: in the (likely) event that Valeant needs to sell assets, it either has to sell its good assets and be left with still-significant leverage on assets of questionable quality... or it will sell some lower-quality assets and likely not be able to delever very much at all, kicking the can down the road.
2) Outlook For Organic Growth And Margins Likely Negative
I'm not even going to talk about the Walgreens (WAG) deal here other than to say that it's ironic that a company that has made its fortunes by jacking up prices implemented a contract so badly that it's selling some drugs for a negative average price.
Besides fixing this contract, I don't really see many credible growth opportunities for Valeant. While revenue as reported grew by $200 million (or roughly 9%) y/y in the first quarter, on a constant-currency, organic basis, it seems as if revenue would have shrunk by $289 million (or over 13%).
The challenges may not be over: Papa conveyed many of the concerns I've had for months, including the fact that Valeant's reputation is toast among the healthcare community. It doesn't seem as if Valeant has any drugs in the pipeline that are going to be material enough to move the needle here, and no matter how efficient Valeant thinks they are, it's hard to see how they can transition from dealmaking to organic R&D in time to really drive revenues.
And then there's the pricing issue - despite all the publicity around this topic, the recent Vanity Fair expose suggests there might be a lot more pricing to unwind. Particularly if Hillary Clinton is elected in November (which, as of current polling data, seems to be the likely outcome), Valeant may find themselves needing to roll back pricing even further.
Remember that pricing flows through not only revenue, but also almost directly to EBITDA - it doesn't cost you anything (except perhaps some variable sales commissions) to increase the price of a drug. So every incremental dollar of price boosts margins on the way up, and on the way down, well... it's painful.
3) Valeant Has Bigger Fish To Fry
Speaking of the pricing issue, Maris intimated that one of the reasons that Papa joined Valeant was to help undo some of the damage that the pharmaceutical industry's reputation has suffered thanks to bad apples such as Valeant and Martin Shkreli. Indeed, with the various ongoing investigations, and the need to rebuild trust among the healthcare community, I think Valeant management likely has much more important concerns than maximizing shareholder value - at the very least, there's no longer the shareholders-at-all-costs focus of Mike Pearson.
Ultimately, Valeant looks like a dead company walking, with a model that once worked and is no longer tenable - but a major debt load built up under that model that they still need to pay off. You can certainly construct scenarios where prospective Valeant shareholders come out with significant gains, but a return to the triple-digits looks awfully farfetched at this point, and even projections of $40 - $50 seem to require doe-eyed optimism at this point.
With the probability for a double seemingly outweighed by the probability of a zero, the risk-reward here simply isn't attractive enough to make Valeant a fundamentally attractive investment candidate. Speculators and swing traders may find something of interest here, but those with an interest in value or margin of safety should steer clear.
Disclaimer: Investing is inherently subjective and this article expresses opinions. Any investment involves substantial risks, including the complete loss of capital. Any forecasts or estimates are for illustrative purpose only. Use of this opinion is at your own risk and proper due diligence should be done prior to making any investment decision. Positions in securities mentioned are disclosed; however, the author may continue to transact in any securities without further disclosure.
This is not an offer to sell or a solicitation of an offer to buy any security. All expressions of opinion are subject to change without notice and the author does not undertake to update or supplement this piece or any of the information contained herein. All the information presented is presented "as is," without warranty of any kind. The author makes no representation, express or implied, as to the accuracy, timeliness, or completeness of any such information or with regard to the results to be obtained from its use.
Disclosure: I/we have no positions in any stocks mentioned, and no plans to initiate any positions within the next 72 hours.
I wrote this article myself, and it expresses my own opinions. I am not receiving compensation for it (other than from Seeking Alpha). I have no business relationship with any company whose stock is mentioned in this article.