Silver Wheaton (NYSE:SLW) is on a hot streak this year, rising more than 70% so far. The stock's rise has continued in the month of June as well with the stock rising in excess of 13%. Now, a key reason why Silver Wheaton has received a shot in the arm this month is because of a weak jobs report, which is expected to force the Federal Reserve to delay an interest rate hike. This has created a positive impact on the price of precious metals such as gold.
Considering that gold is 41% of the company's overall production, and its contribution to Silver Wheaton's total production profile increased over 21% last quarter, a potential increase in gold prices will act as a tailwind for the company. So, in this article, we will see why gold prices should ideally increase going forward and how they will impact Wheaton.
Gold prices will continue to be on a roll
In 2016, the price of gold has increased over 17% and it looks like the latest job report will spark another rally in the price of the metal. This is because job growth in the U.S. has slowed down remarkably since last year. In fact, the U.S. economy has added an average of 125,000 jobs each month in 2016 as compared to a monthly average of 229,000 jobs last year. This indicates a decline of over 45% in the growth rate.
More specifically, in May, only 38,000 jobs were added as business investment has gone down in the U.S. this year, while the unemployment data seems to be artificially inflated. In fact, the unemployment rate of 4.7% in May might not present a true picture since workers who are dropping out of the workforce but are not being counted as being unemployed. This will discourage the Fed from raising the interest rate since strengthening employment conditions are a key requirement to raise the rates.
As such, it is not surprising to see that the probability of a Fed rate hike has declined in light of the weakness in job growth. As reported by NBC:
"Heading into the Yellen speech, the market was assigning very little chance of a hike this summer - just a six percent probability for June and 39 percent for July. September had a 52 percent probability. But the CME's Fed tracker was indicating just a 21 percent chance for a second hike by December. Those probabilities could now shift considerably."
The Fed chair is now in favor of a more gradual rate hike, which means that the gold price rally will continue due to the inverse relationship between the Fed Funds rate and the price of the precious metal. In fact, driven by the weak jobs report and the Fed's dovish stance, the price of gold hit a two-week high.
Given the weakness in the job market, it is not surprising to see that the likes of Citi Research raising their gold price forecasts. In fact, Citi expects the yellow metal's price to increase to $1,280/ounce in the ongoing quarter and then to $1,300 per ounce in the next quarter, up from around $1,240 per ounce currently. This will prove to be a tailwind for Silver Wheaton's growing gold business, which should also thrive due to the company's strong asset base.
More reasons why Silver Wheaton's gold business will soar
A key reason why rising gold prices will have a positive impact on Silver Wheaton's production profile is because of the company's emphasis on low-cost gold streams. For instance, Vale's (NYSE:VALE) Salobo mine is one of the most important gold assets for Silver Wheaton as its production has increased rapidly.
After being commissioned at 12 mtpa in November of 2012, the mine was expanded to 24 mtpa in June 2014 and it is likely that there will be further expansion to the tune of 12 mtpa going forward. Given that Silver Wheaton gets 50% of this mine's gold streams and Salobo is in the first cost quartile, it will be able to gain more gold at lower prices.
Similarly, Goldcorp's (NYSE:GG) Peñasquito mine will be another driver of Wheaton's gold segment since this mine also lies in the first quartile, and it is possible that Goldcorp will increase production over here in the next two years. Moreover, since Silver Wheaton is locked into long-term streaming agreements with its mining partners, its costs will remain predictable and cash operating margins will increase as the price of gold increases. The following chart shows that Wheaton's gold costs will remain consistent going forward: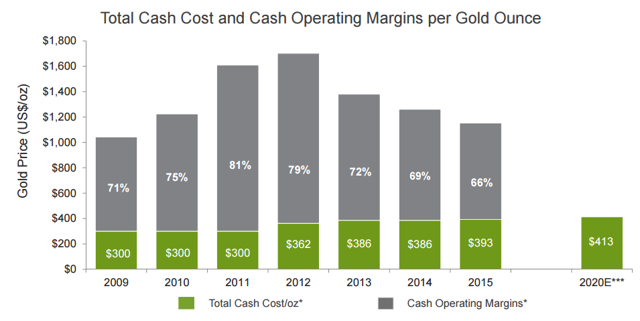 Click to enlarge
Source: Silver Wheaton
Thus, an increase in gold prices going forward will prove to be a tailwind for Silver Wheaton's gold business and add to its margins.
Conclusion
Thus, apart from a rally in silver, the rise in gold prices is another reason why investors should remain bullish about Silver Wheaton. The company has been on a roll so far this year and it is likely that the trend will continue going forward as the discussion above indicates, which is why Silver Wheaton will keep soaring in the long run.
Disclosure: I/we have no positions in any stocks mentioned, and no plans to initiate any positions within the next 72 hours.
I wrote this article myself, and it expresses my own opinions. I am not receiving compensation for it (other than from Seeking Alpha). I have no business relationship with any company whose stock is mentioned in this article.