Gazit-Globe (NYSE:GZT) operates in the acquisition, development and management of income producing properties. The company is headquartered in Israel, but they mainly do business internationally with highest exposure to the US, Europe and Canada. The operations are carried out through its publicly-traded and privately-held subsidiaries in the regions. Gazit-Globe is listed in three exchanges New York, Toronto and in Tel Aviv and its included in multiple indexes. Like any other REIT the company's target is to create value through cash flow maximization, distributing it and capital appreciation from its growing real estate portfolio. Gazit-Globe focuses on shopping centers that have supermarkets and other leisure activities. These additional features drive footfall and are known as must go places which are found to be less effected by the slowdown in traditional retail.
Subsidiaries and property portfolio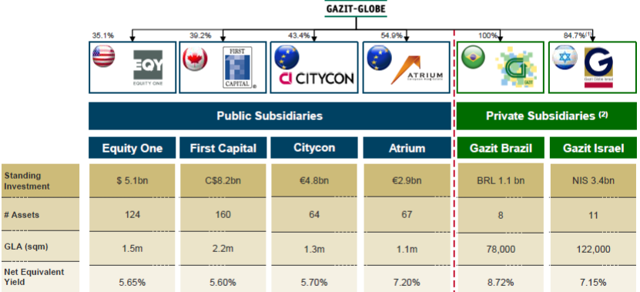 Click to enlarge
Source: Gazit Globe IR
Gazit-Globe operates in more than 20 countries, owns and manages 439 properties with a gross leasable area of ~69.5 million square feet. Assets by direct or indirect holdings are worth about $21.0 billion and a gross annualized income is about $1.7 billion. Recently they increased their position in Gazit Israel from 84.7% to 100% and are planning to increase their business in Israel. But the majority of their business is to acquire large part of local real estate companies that are familiar with the area and leverage their existing portfolios.
Some of the subsidiaries and regions of their real estate portfolios have clearly lagged the rest of the world. The most severely underperformed regions were Brazil and Russia. There are some signs of stabilization in political front in Brazil and the rising oil prices are helping the Russian economy. They might divest some of the properties after the rebound has happened since Gazit-Globe is known to like stable regions that aren't subject to severe political or economic fluctuations. However the more riskier part of the real estate portfolio are clearly yielding higher and could boost the earnings quite significantly when the assets/currencies appreciates. The clear divergence between the US REIT Equity one and the other subsidiaries really started at the late 2014. Gazit-Globe has performed the worst.

Click to enlarge
Source: Google finance. 5 year chart of Gazit-Globe and its publicly traded subsidiaries, Atrium (OTC:ATRBF), First Capital (OTC:FCRGF), Citycon and Equity One (NYSE:EQY).
Fundamentals and dividend
Investors who invest in REITs are looking for one thing only, income stream. The one thing that income stocks should never do is to cut their dividend. Especially if the company's stock price has already lost large portion of its value. However this is exactly what happened with Gazit-Globe. They cut their dividend by ILS 0.33/$0.08 or around 18%. In the past they consistently raised their dividend at an impressive CAGR of 8.3% for 15 years. The reason for the dividend cut was mainly due to write downs of financial derivatives and divestment from the construction company Dori. Even after the dividend cut the company yields 4.5% and is around the sector average. They might start raising the dividend again next year as the redevelopment projects come online and currently the payout ratio is just 50%. Gazit-Globe is financially strong as they want to be flexible in case there are growth opportunities to capture. During the financial crisis they were leveraged (net debt/total assets) at 64.9% but since then they have consistently lowered it and today it stands at 50.8%.

Conclusions and outlook
Gazit-Globe is poised to deliver good results after the volatile 2015 and the beginning of 2016. The redevelopment projects and other investments are finally coming online later this year and in 2017 while the macroeconomic situations in Brazil and Russia strengthens. Income from these properties will boost the fundamentals and provide increased cash flows that could be distributed to shareholders. The occupancy rate in Q1/16 was 95.6% and has remained stable indicating that these supermarket anchored shopping centers have a good outlook even with the e-commerce disrupting the traditional commerce.
Gazit-Globe is currently having some earnings predictability problems and there could be more one time costs similar to the first quarter. For an accurate valuation it's better to wait until the next earnings report to see if the Dori divestment is finally behind the company. But the market isn't pricing Gazit-Globe like the other REITs. It trades in NYSE at a price of $8.76 while the EPRA NAV is $13.6. So when bought into the company today, investors will get a hefty 35% discount for a well managed, well diversified portfolio with great upside potential when the redevelopment projects and investments come online.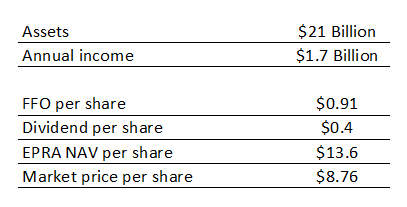 Source: Gazit-Globe IR. Overview of key figures. 1 USD = 3.83 ILS.
Disclosure: I/we have no positions in any stocks mentioned, and no plans to initiate any positions within the next 72 hours.
I wrote this article myself, and it expresses my own opinions. I am not receiving compensation for it (other than from Seeking Alpha). I have no business relationship with any company whose stock is mentioned in this article.