The decline in oil prices over the past 18 months has been a windfall of sorts for the American consumer. Perhaps it is better to call this windfall a sigh of relief, for it has allowed real (inflation-adjusted) wages to grow a modest 2%. I doubt anyone would call a 2% raise a windfall. Still, the dramatic decline in energy prices, led by oil, has depressed the overall rate of inflation to a level that has allowed consumers to realize an increase in their purchasing power, despite average hourly earnings growing a measly 2.5%
For this reason, it is quite a paradox to see yesterday morning's headline read "stocks rise, boosted by climbing oil prices and a weaker dollar." This might make perfect sense to a trader whose time horizon is measured in hours or days, or to those investing in the energy sector, but for those focused on the broad market with a longer-term view, rising energy prices, led by oil, is not good news. In order to understand why, you have to follow the several degrees of separation between the current rise in oil prices and the adverse impact it can have on real consumer spending growth, the rate of US economic growth, corporate profits and ultimately, the stock market (NYSEARCA:SPY).
Oil has been trading in tandem with the stock market and other risk assets for months. It finally eclipsed the $50 level this week, which is an 11-month high. It first fell below the $50 level last August, which is nearly a year ago. It is the year-over-year percentage change in the price of oil that we need to be concerned about.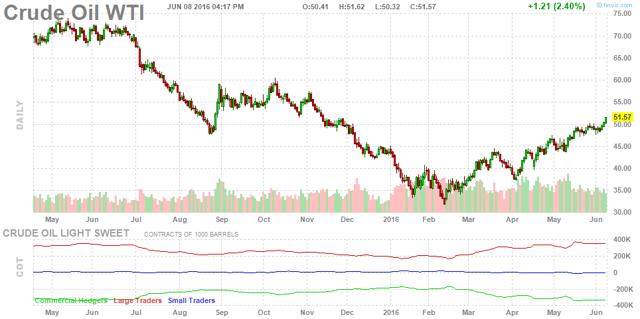 Click to enlarge
In the most recent inflation report, the Consumer Price Index rose 1.1% on a year-over-year basis, as can be seen below. This is well below the core rate of inflation that excludes food and energy, which now stands at 2.1%. What has depressed the overall rate of inflation is the decline in energy prices, led by oil, which even at $50/barrel is meaningfully below year-ago levels. Yet the year-over-year decline is diminishing rapidly as current prices increase and the trailing 12-month price declines.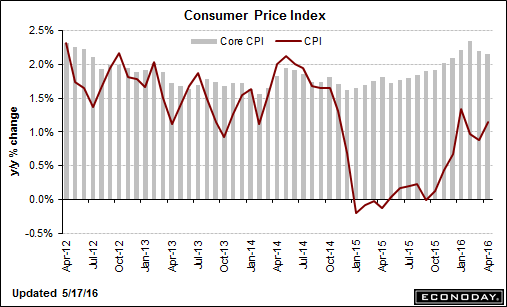 The energy component of the Consumer Price Index is currently down 8.9% on an annualized basis. Gasoline prices have declined 13.8%. There were much larger declines in months past, and as they have narrowed, the overall CPI has risen from approximately 0% at the beginning of 2015 to the current 1.1%. It is clear that if oil prices simply tread water at current prices until August, oil prices will be increasing on a year-over-year basis, and the overall CPI will move closer to the current core rate of 2.1%.
Average hourly earnings rose at an annualized rate of 2.5% last month. With the overall rate of inflation rising at an annualized 1.1%, real wages are rising at approximately 1.4%. This is significantly lower than the 2.5% real wage gains that workers were realizing just a year ago. So consumer purchasing power is weakening. Unless there is a significant increase in average hourly earnings, consumers potentially face the loss of all their purchasing power, as real wage gains will be close to zero when the overall rate of inflation edges closer to the core rate.
It is growth in income, or real wage growth, that fuels real consumer spending growth. The rate of growth in consumer spending, as measured by retail sales, is slowing. I have referred to the chart below on several occasions over the past 18 months, because it shows how a slowdown in the year-over-year rates of consumer spending growth is a long-term leading indicator of stock market declines. The data in this chart runs through the end of 2014.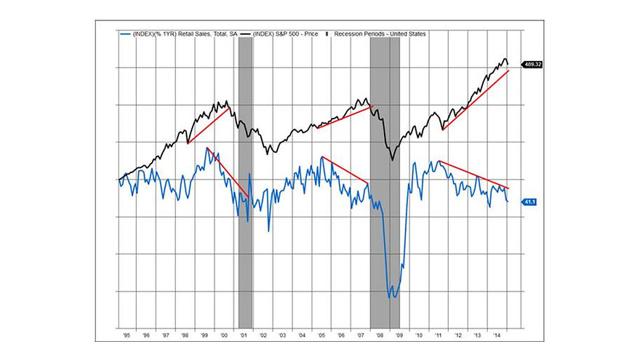 Click to enlarge
You can see a continuation in the year-over-year rate of retail sales growth in the updated chart below. The downtrend remains intact, as the rate of growth has fluctuated between two to three percent. The S&P 500 index has been flat over this same time frame.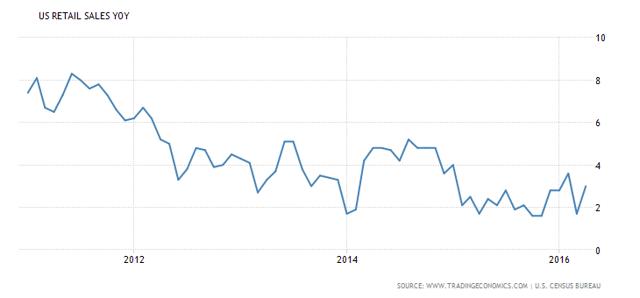 Click to enlarge
Slower rates of real consumer spending growth lead to slower rates of real economic growth, which is what slows revenue and profit growth for corporations. What is strange about the current economic cycle is that we are already in the sixth quarter of a profits recession, yet we have seen no meaningful decline in the stock market, as measured by the S&P 500 index. This can only be explained by the unprecedented central bank intervention in our financial markets since the financial crisis.
Regardless, the fundamental developments that I see on the horizon raise serious doubts about the consensus view for a recovery in corporate profits in the second half of this year. This is because a rise in the rate of inflation in coming months should gradually eliminate what gains we are seeing in real wage growth today. This will further slow the rate of growth in real consumer spending, and as a result, real economic growth. Corporate revenues, which are still declining year-over-year, will not be able to grow in an environment in which there is little to no economic growth. Therefore, profit growth is very unlikely to materialize. Stock prices should ultimately reflect that reality.
A Warning
What I am describing with what I believe to be concrete fundamental analysis is the real world. It is important to remember that there is also a virtual world that has been created by central banks, with the Federal Reserve in the lead position. Our financial markets have been living in the virtual world far longer than those of us with some connection to the real one could have ever imagined. I do not know when this will end, but it will. It always has in the past.
Accurately forecasting a significant deterioration in economic and market fundamentals over the past 18 months, as I believe I have done, has yielded no benefit in terms of forecasting a decline in stock market valuations. This doesn't mean that it has been a fruitless effort, as it gives us perspective on how far apart the real world is from the virtual one. It is important to remember that even if this current forecast for economic and market fundamentals comes to fruition, it doesn't mean that the stock market will decline, as it has in the past following such developments before the financial crisis. I still believe it will, but I am cognizant of the fact that central banks remain in control until these two worlds eventually collide.
Disclosure: I/we have no positions in any stocks mentioned, and no plans to initiate any positions within the next 72 hours.
I wrote this article myself, and it expresses my own opinions. I am not receiving compensation for it (other than from Seeking Alpha). I have no business relationship with any company whose stock is mentioned in this article.
Additional disclosure: Lawrence Fuller is the Managing Director of Fuller Asset Management, a Registered Investment Adviser. This post is for informational purposes only. There are risks involved with investing including loss of principal. Lawrence Fuller makes no explicit or implicit guarantee with respect to performance or the outcome of any investment or projections made by him or Fuller Asset Management. There is no guarantee that the goals of the strategies discussed by will be met. Information or opinions expressed may change without notice, and should not be considered recommendations to buy or sell any particular security.