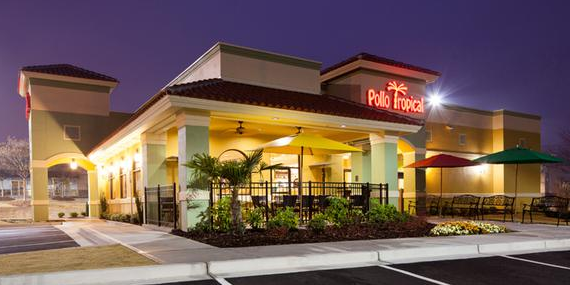 Fiesta Restaurant Group (NASDAQ:FRGI) shares have been absolutely hammered in the past year or so. The stock has lost almost two-thirds of its value since its highs hit last spring amid a tough environment for restaurants in general but also some company-specific weakness. The Q1 report saw a very respectable revenue increase but comps and guidance were weak, sending shares even lower as investors have seemingly run out of patience with FRGI. But with shares still languishing near their lows, is FRGI making a base here or is this just another stop on the way down?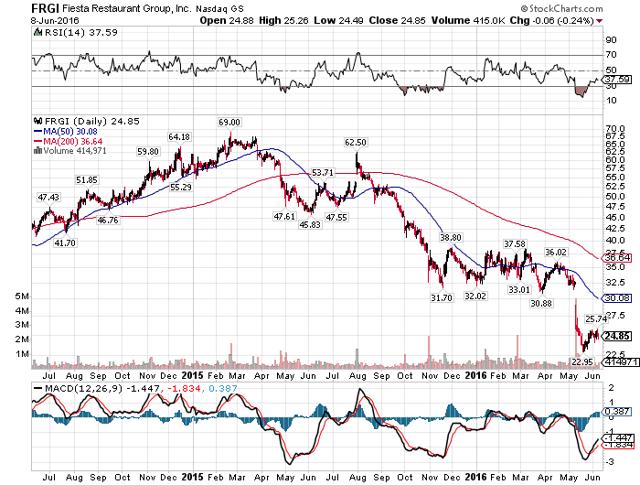 Click to enlarge
Total revenue was up almost 8% but the gains were almost entirely due to the 29 new stores that were opened in the last year. Comp sales came in at +1.7% at Taco Cabana and flat at Pollo Tropical after both brands posted gangbusters comp sales in the first quarter of last year. The marked slowdown in comps is surely not helping investors feel more comfortable with the investment case for FRGI but again, shares have been pummeled so perhaps there is some room for cautious optimism here.
What's interesting about the comp sales numbers is that management admitted to increased promotions and discounts during the quarter. Many management teams feel the need to maintain comp sales numbers even during rough times at the expense of margins. I personally don't subscribe to that view in most cases but on the margin front, it cost FRGI dearly during Q1. The company's work on its supply chain and some favorable movement in chicken prices were partially offset by margin losses due to discounting so this will be something to watch very closely in Q2 and beyond. If comps continue to be relatively weak, will FRGI continue to discount and promote at the expense of margins?
Unfortunately for FRGI, the company's gross margins were only part of the story as it saw huge deleveraging of other expenses like rent, labor and miscellaneous costs. These costs more than offset gains made on the operating level and sent total margins plummeting in Q1. Certainly, that was a sizable reason for the post-earnings sell-off as the headline revenue number was fine. But enormous deleveraging of various kinds of costs is extremely difficult to turn around; it isn't as though there is only one area of weakness to target.
Guidance is pretty vague from FRGI but it did guide for low single-digit comp sales and some unit-level margin improvements at both of its brands. That's nice and combined with the company's aggressive footprint expansion, should make for another year of strong top line growth. But that isn't enough for investors (or me) as weakening margins are a huge concern.
At more than 16 times this year's earnings, FRGI is hardly cheap. Its revenue growth isn't strong enough to carry its EPS growth on its own and with discounting and other pressures on margins taking their toll, strong EPS growth will be hard to come by. On the bright side, some new development that was originally slated for this year has been pushed to next year so while this year's numbers look a little weaker, next year certainly looks like a marked improvement. Still, that only impacts the top line and for me, that is a small issue compared to margins.
FRGI is in the midst of expanding into new markets and management said this was going to be an arduous and expensive process. That's not exactly inspiring and with FRGI purposefully cannibalizing its own sales in existing markets, I'm wondering just how much runway for growth this company has. The store base is sizable at this point and growing every month but is FRGI expanding too quickly? Its existing stores' traffic numbers would indicate it has some work to do to win customers' business but perhaps this is just a bump in the road.
The thing is that FRGI has so many headwinds for margins that it would take a gargantuan improvement in comp sales in order to offset those losses. That means that for me, the company's margins are still at serious risk and in particular, if management decides it wants to promote and discount in order to salvage the top line. So when we boil all of this down, I think there are much better alternatives in the restaurant space with better EPS growth prospects and cheaper valuations; I'll pass on FRGI here.
Disclosure: I/we have no positions in any stocks mentioned, and no plans to initiate any positions within the next 72 hours.
I wrote this article myself, and it expresses my own opinions. I am not receiving compensation for it (other than from Seeking Alpha). I have no business relationship with any company whose stock is mentioned in this article.