European Central Bank (ECB) Chairman Mario Draghi is moving markets this morning. Senor Draghi's speech at the Brussels Economic Forum 2016 this morning is entitled On the Importance of Policy Alignment to Fulfill Our Economic Potential and is highly recommended by this fellow philosopher. It's ironic, because it is a plea for proper policy support from the governing bodies of the eurozone. However, it comes at the same time he is enacting extraordinary measures that extend the central bank's powers to suspect length. The feeling here is that Mr. Draghi is trying to compensate for the failings of fiscal policy, but the risk is that he will go too far and lose monetary policy balance in the process. His hope for democratic congruence toward progress survives, but his confidence in the union's ability to get there fast enough is short.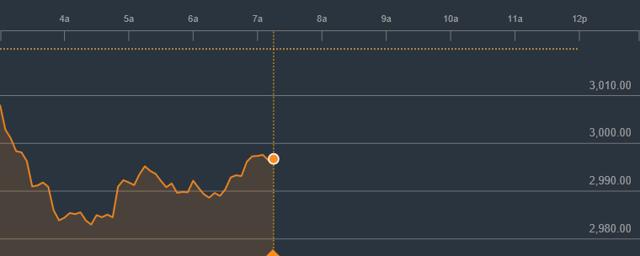 Click to enlarge
ECB Chair Draghi is moving markets this morning, with stocks across Europe lower and U.S. equities likewise indicating poorly. He is not alone in his influence though, as George Soros has also issued a scary statement on the outlook that has equities scrambling. I'm not so worried this week, given U.S. traders have a myopic mania with the Fed, and are absolutely confident they have the all clear to bid stocks toward all-time highs - that's this week…
| | |
| --- | --- |
| Global Sector Security | AM Trade |
| SPDR Euro Stoxx 50 (NYSEARCA: FEZ) | -1.5% |
| iShares MSCI Germany (NYSEARCA: EWG) | -1.9% |
| iShares MSCI France (NYSEARCA: EWQ) | -1.4% |
| iShares MSCI Spain (NYSEARCA: EWP) | -1.1% |
| iShares MSCI UK (NYSEARCA: EWU) | -1.0% |
| iShares MSCI Japan (NYSEARCA: EWJ) | -1.1% |
| iShares China Large Cap (NYSEARCA: FXI) | -0.7% |
| Major US Investment Sectors | |
| SPDR S&P 500 (NYSE: SPY) | -0.4% |
| SPDR Dow Jones (NYSE: DIA) | -0.4% |
| PowerShares QQQ (NASDAQ: QQQ) | -0.2% |
| iShares Russell 2000 (NYSE: IWM) | -0.7% |
| Vanguard Total Stock Market (NYSE: VTI) | -0.4 |
The speaker, and former MIT collegiate friend of Tommaso Padoa-Schioppa, an EU founding member for which the annual lecture has been memorialized, brought with him a sober message. Mr. Draghi made a plea to Europe's governing bodies for policy support toward economic stability and growth. He said that actions must be taken as soon as possible, because otherwise Europe runs the risk of shifting its own potential lower and embedding mediocre productivity. By the way, I completely agree.
He called for the union to be solidified and for reforms to be agreed upon and uniformly put forth. The length of the crisis and economic repercussions, along with the friction some member nations have contributed, are increasing the prospect of economic potential being pulled down to productivity, where the opposite is necessary.
He said that despite demographic headwinds and a shift from a manufacturing base to services, fiscal policy could support improved productivity and employment. He said that some nations had taken the easier route of taxation over budget efficiency initially, and that inappropriate uncertainty about the durability of the union had led to the abandonment of some commitments, especially with some political shifts.
Unfortunately for Mr. Draghi and for Europe, I think creativity is somewhat lacking from the public sector. Europe's private sector has unfortunately been depleted by draws from outside the EU borders. And, some would argue, central bankers are overcompensating for it all with too much creativity of their own. I agree they have gone too far when it comes to negative interest rate policy (NIRP) and to some of the extraordinary measures now being undertaken by the ECB and the Bank of Japan (BOJ).
Dictator Draghi (all great villains are created by the failed public acceptance and acknowledgement of their prior heroism) is following the BOJ's direction, which it took from the lead of the U.S. Federal Reserve. Oh yes, creativity is abundant in central banks the world over today, and I'm worried about it. In his speech, the ECB chair said that microeconomic policy can also serve as a tool to enhance growth even when public policy falls short. To this I respond, what you can do and what you should do can be two different things. Draghi's ECB is, as of yesterday, is acting upon its corporate sector purchase program (CSPP), noted in last week's monetary policy statement. Under the CSPP, the ECB is attempting improve the transmission of its expansionary efforts, as I read his comments this morning and this statement, "to strengthen the pass-through of asset purchases to the real economy." What's next toward this end, taking board seats at Deutsche Bank AG (NYSE: DB) and TOTAL S.A. (NYSE: TOT)?
What the ECB is actually doing is subjectively choosing private investments it believes will help spur economic expansion (read playing God, or rather, playing the market). It's a manipulation of the market and is not by any means monetary policy. This is the type of thing we might expect China to enact, and the type of thing China has actually enacted under significant criticism by western wisdom.
I blame the U.S. Federal Reserve, because it started this process with its own quantitative easing program. What it feels like now though is a car controlled by an overconfident driver who has the pedal to the floor and believes he can brake to a stop on a dime, but in actuality, will find his vehicle in an out of control skid possibly to an embankment or over a cliff's edge if we're not so lucky.
I am certain Mr. Draghi is frustrated with the friction fiscal policy has provided to bankers' efforts towards economic progress. Still, the central bank boss must not allow that frustration to lead him to take monetary policy too far. The further it reaches the more likely it is to lose its own balance. And there is the risk of his precedent being followed by future managers who may be lacking in acumen. I think the best answer for Europe, and probably the world, is to elect monetary minds into government leadership where they can put forth the necessary policies to serve the global economy, or for government leaders to pay closer attention to their finance ministers' advice. Central bankers should not be playing God in securities markets when that route is the necessary way. This has gone too far. I cover the economy and markets and invite interested readers to follow my financial column here at Seeking Alpha.
Disclosure: I/we have no positions in any stocks mentioned, and no plans to initiate any positions within the next 72 hours.
I wrote this article myself, and it expresses my own opinions. I am not receiving compensation for it (other than from Seeking Alpha). I have no business relationship with any company whose stock is mentioned in this article.