Earlier this week, General Motors (NYSE:GM) hosted its annual meeting of shareholders, ahead of which CEO Mary Barra called the stock "undervalued."
Now I want to be clear up front: I like Mary Barra very much. I think she's done a good job at GM and I agree with the broad statement that the automaker is undervalued.
I think Ford (NYSE:F) is undervalued too. I wrote as much back in April, when I asked why the automakers are so hated. The automakers are posting record profits and for crying out loud, have dividend yields that are almost higher than their P/E ratios!
But that hasn't stopped investors from punishing the stocks, with Ford down 5% on the year and 10% over the past 12 months, and GM down 11% and 14% over that same time period, respectively.
The general thesis is that investors should buy these stocks when the economy is in the dumps, ride them into the recovery and essentially, dump them before things get too good.
It's the classic, "buy low, sell high."
But these companies have cleaned up much of their operations and Barra said as much just the other day. Anyone who's got 4 minutes and 41 seconds to spare, I suggest watching her interview, compliments of Bloomberg.
The company says it can still operate at breakeven results if the U.S. SAAR falls into the 10 million to 11 million unit range, down considerably from the 17.50 million sold in the States last year.
That's quite impressive, considering that in the worst economic downturn most of us have ever seen, the SAAR didn't break below 9 million in 2009, and only briefly spent time below 11 million units.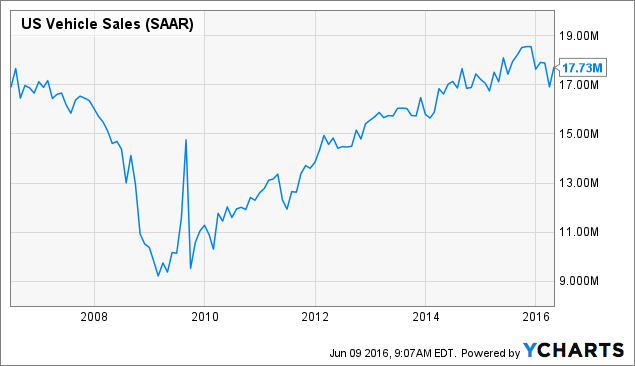 I do have one issue with this assessment though. If the U.S. SAAR falls to 11 million units, what the heck is the rest of the world going to look like? Because right now, we have a 17 million to 18 million unit SAAR, while China is barely posting any growth and is likely only doing so because of government incentives, South America is in the toilet and Europe is only just beginning to get moving.
If the U.S. economy takes a big enough dump to cut auto sales by ~40%, I have a feeling the rest of the world will be in some trouble, and so will Ford and GM. The only caveat is if Barra implied GM can operate at break-even with a big drop in U.S. sales and the rest of the world, but that's not how it came across.
Impossibilities
It's nearly impossible - or at least, beyond my statistical capabilities - to find the midpoint where U.S. vehicle sales need to fall to in order to drag down the rest of the world auto sales to the point where GM is functioning at overall break-even.
Perhaps at 13 million SAAR in the U.S., the rest of the world will be weak but not in free-fall, and GM will be at overall break-even then. I'm not really sure, but it's something for investors to consider.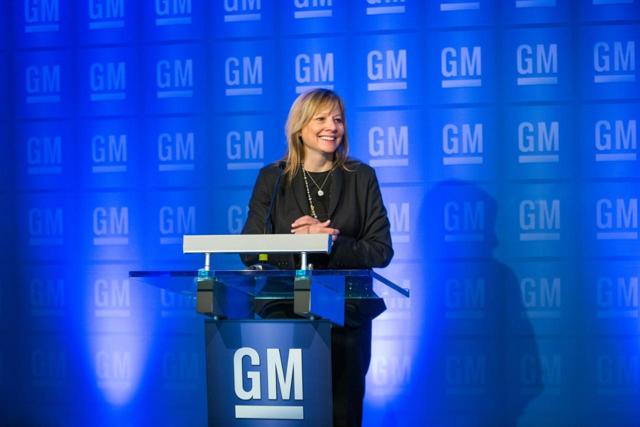 Click to enlarge
I will be the first to admit that GM and Ford are both in a much better place than they were 10 years ago - it's tough to argue that. But I wouldn't blindly accept that we could encounter another 2008-like scenario and these companies would be around break-even operations.
For the record, I don't think Barra is suggesting that, but instead, highlighting that the company is financially stronger than in previous years, while at the same time, the stock is undervalued as investors fear a peak in auto.
In effect, she's saying that even if we are near peak auto, the company will still be quite profitable during a period of stalled or lower sales growth; GM can weather a worse storm than many investors assume.
So Should You Buy?
The automakers have been a tough one for me. I had owned Ford for several years and GM for quite some time too. Last fall - I explained this in greater detail in the story linked above - I threw in the towel because despite the continued good news, the stocks just didn't trade well.
Here we are now, with the latest quarters showing tremendously upbeat results and putting both on pace for an amazing 2016. Yet, the Street doesn't care.
If you can look at Ford and GM as bond-like holdings, where the stocks move very little, but have a handsome dividend payout and the possibility of some upside, then yes, these make sense in one's portfolio.
If however, you are looking for the market to suddenly revalue these stocks with a higher valuation in the current environment, and want the stock price to appreciate considerably in a short period of time, I suggest looking elsewhere.
Disclosure: I/we have no positions in any stocks mentioned, and no plans to initiate any positions within the next 72 hours.
I wrote this article myself, and it expresses my own opinions. I am not receiving compensation for it (other than from Seeking Alpha). I have no business relationship with any company whose stock is mentioned in this article.