By Parke Shall
It was just a couple of months ago that we wrote a few articles about Eros (NYSE:EROS) and why we thought the company would not be a good investment. We looked at the pros and the cons surrounding the company, including activist investor Dalton Investments amassing a large position in the company as well as several allegations of fraud and questionable conduct that were raised by a short seller.
In the interest of brevity, we don't want to review these articles at length, but you can find them all here if you would like to review our history with the company.
The controversy over EROS started in late 2015 and at that pointed caused shares to decline almost 66%. Short sellers, led by Seeking Alpha's own Alpha Exposure, had been alleging that EROS is hiding something from shareholders, noting the company's ballooning accounts receivable, lack of cash flow, and inconsistent labeling of its films.
To read Alpha Exposure's full analysis, you can click here and scroll through their articles.
Today we're going to reiterate our previous stance of avoiding the company based on new allegations made by well known short seller, asensio.com.
While our conclusion months ago was to avoid the company, and it still is, some key points of the short thesis launched several months ago seem to have been resolved. We also wanted to give the company credit for this, but conclude as to why we don't think the company is investable here.
For instance, one of the previous short-seller's allegations was that the company was holding back on publishing a full list of all of its movies to perhaps obfuscate where revenue was coming from. The company released what would seem to be a reasonable explanation for this, releasing a full list of movies on its website and stating that while some movies were made in earlier years, they were only owned in distributed by Eros at different times. This seems to make sense to us, and we noted in one of our past articles that we do not question the company's full video list going forward.
Then, the question moved on to A/R,
Naturally, accounts receivable is an area under scrutiny because it becomes a spot where the company could potentially hide revenue that it has booked but has not collected. Furthermore, the DSO number has been called into question numerous times as well. At best, this shows a company where the quality of earnings is poor, and at worst, allegations may be correct or partially correct that these revenues may never be collected on at all. We are interested in seeing a few more quarters worth of data before we make up our mind. The company has made some promises for the next two quarters, and we want to see how those pan out.
For this reason, one thing that we did do was to question the quality of the company's audit and the deteriorating state of the company's financials at a time where the company has stated that it would outperform financially. Despite several quarters ago the company making statements about improving cash flow and a better financial outlook, Eros still published an ugly set of numbers last quarter. It's fiscal Q1 numbers missed analyst estimates.
This has not stopped the stock from appreciating over the course of the last few months.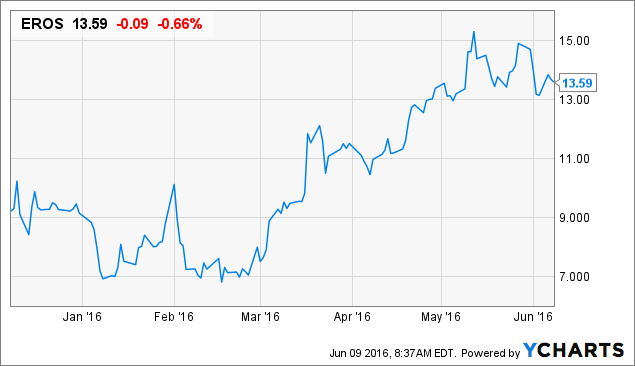 As all of the fraud talk died down earlier in the year, EROS moved from about $8 up to highs near around $13 or $14. Those that bought on the allegations of fraud are far in the money now, but recent red flags have again been raised and we want to reiterate our past statements that we don't think anytime is a good time to own Eros.
As part of refuting the fraud allegations, the company stated that it was going to hire Skadden, a very reputable New York law firm to complete an investigation of the company. As Asensio writes out in his last article just days ago, it appears that the company may have misconstrued Skadden's involvement in the investigation. Apparently, they didn't LEAD the investigation, they oversaw the audit committee who led the investigation. Asensio says,
However, somehow, sometime over the period of its gestation, Skadden's engagement to "conduct an independent" review of the allegations mysteriously transformed into an internal review by the Audit Committee with the assistance of Skadden.
In addition, Asensio released a letter to Grant Thorton, the company's auditor.
The audit is something that we did call into question in one of our last articles, due to the fact that the company's receivables and sales seem to be tucked into two subsidiaries of the company which have separate auditors than the rest of the company. Asensio points this out in his letter,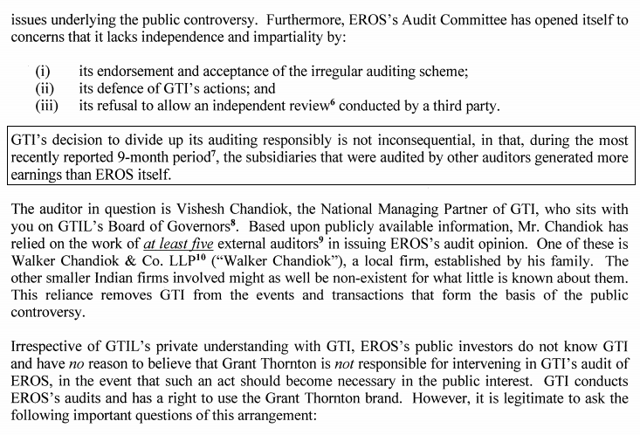 Click to enlarge
We touched on this at the beginning of 2016, stating,
We also believe the company would see it is in its best interest to come out and have one of the big four auditors audit the company and all of its subsidiaries. One of the main credibility gaps that critics of the company focus on is the fact that the company has not had all of its subsidiaries, namely the revenue producing ones, audited by major audit firms. While some investors had bailed on the company, assuming that the opaque numbers would likely lead to bad news, Dalton has done the opposite and bet that once transparency is achieved the numbers will show a business that is operating within the confines of the law.
Major shareholder Dalton Investments has had little to nothing to report in the way of new news. The company's largest shareholder seems content with its position in the company and does not seem to want to relinquish its shares at any point.
A problem that one would have owning this company here is that, despite the fraud allegations, the company is still not valued appropriately, even if it is doing business honestly.
The company is expected to "Earn" $0.86 next year, but those estimates have been revised down from over $1.00 over the course of the last 90 days. The company is only expected to earn $0.15 this year, which means that at $13 its trading at about 15x estimates. More than half of the company's assets come in the form of $735M in intangible assets. This makes up the majority of the company's "book value". There is no floor for the company if it cannot generate cash consistently or if fraud allegations turn out to be accurate.
The company continues to claim that there are brighter skies ahead, but we simply don't agree and cannot give our blessing on owning shares with these types of renewed serious questions up in the air.
Disclosure: I/we have no positions in any stocks mentioned, and no plans to initiate any positions within the next 72 hours.
I wrote this article myself, and it expresses my own opinions. I am not receiving compensation for it (other than from Seeking Alpha). I have no business relationship with any company whose stock is mentioned in this article.