In the last few days, perhaps more so than before, I have been wondering... "What are people thinking?"
On the same day, two days in a row, the equity markets are roaring up striving for new highs, while the 10 year US Treasury auctions have extremely strong demand and the overall treasury rates keep on falling. Only in some strange universe would two bad jobs reports be good news for the equity markets as investors speculate the Federal Reserve will likely keep rates near zero for at least yet another few months.
If that is not weird enough, the ECB has started buying corporate debt in order to further lower corporate borrowing costs as in some way that will spur borrowing and spending. After all, the French 10 year bond at .40% and the German 10 year at .05% is not low enough? Eric Parnell spoke about this madness yesterday in his article "It's Just Not Adding Up," so I will not rehash it over.
What we are here to talk about is what you can do about it and to find out... "Are you Smarter than a 5th Grader?"
The Premise
In the TV show "Are You Smarter Than a 5th Grader?" contestants are asked fairly simple questions on subject matters we learned in elementary schools. Young kids have been proven to be able to see things at their simplest and for the most part, truthfully, without anything clouding their judgment.
One of the basic tenants of investing is supply and demand. The side that has more money chasing it, will tend to go up.
So why is it that investors have the urge to constantly "Fight the Fed?"
I put that into quotes because it is something that has become fairly mainstream in the investment community over the last decade.
Over the last 4 to 5 years in particular, the common scare for income investors was that the fixed income market was in a bubble and investors should dump bonds and go into equities.
While equities did do well... so did bonds.
As an investment advisor, I am not oblivious to the fact that bond rates are near all time lows... heck, near zero... but it would be foolish to dump bonds and take on substantially more risk in equities, particularly in an environment when stocks go up BECAUSE of poor economic numbers.
Late last year I wrote out my predictions for 2016, most of which came true by the end of Q1. One of them was for 10 year treasury rates to keep on falling, below 2%. What I may have to do is adjust that number down closer to 1%.
Yes, a number of US investors may have gotten scared of 2% 10 year Treasuries and moved to 2.5% dividend paying stocks... if you are a European investor, be it an institution or a fund... the current 1.67% looks like an amazing deal.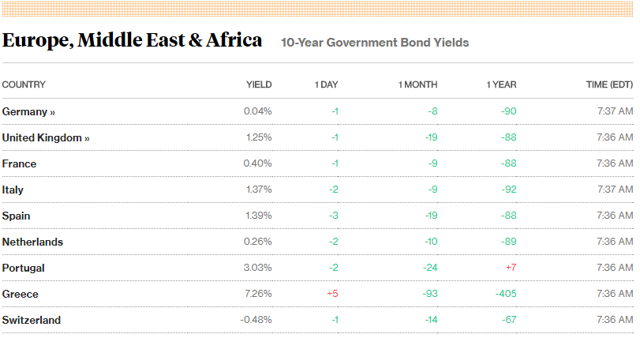 Click to enlarge
Source: Screenshot of Bloomberg.com Bond Yields 6-9-16
The only European bonds that are yielding higher than US Treasuries are Portugal and Greece.
If bond yields are a byproduct and a reflection of security... shouldn't US Treasuries yield lower than say Italy or Spain?
What Bonds would a 5th Grader buy?
So if it is possible that there is still value in bonds... what are some areas of opportunities?
Don't Fight The ECB
In the same spirit of not fighting the Fed... let's not fight the ECB with their commitment to the corporate bond market.
While we do not know how much the ECB is committing to the program, analysts expect a commitment of 5 to 7 Billion Euro per month.
One way to get onto that bandwagon would be to purchase European corporate bonds, either individually or through open end mutual funds, however this is Seeking ALPHA after all, we can do a little better.
Recently I have focused a significant amount of attention on one of my favorite investment themes, the closed end mutual fund structure.
Due to the way CEFs trade, you are able to get good quality assets in the fund at sometimes significant discounts.
While domestically many of the deep discounts in CEFs have shrunk or even turned into premiums, one area of CEFs that still have sizeable discounts are global income funds.
Here are 4 Closed End Funds, trading at discounts that have European bond exposure and which should otherwise benefit from the ECB bond buying and the overall shrinking bond yields.
| | | | | |
| --- | --- | --- | --- | --- |
| | Symbol | Expense Ratio | Distribution Yield | Discount To NAV |
| Calamos Global Dynamic Income | CHW | 1.53% | 11.72% | 13.61% |
| Nuveen Global High Income | JGH | 1.37% | 10.79% | 12.15% |
| MFS® Intermediate Income | MIN | 0.65% | 9.17% | 6.90% |
| Templeton Emerging Markets Income | TEI | 1.09% | 7.38% | 9.44% |
Source: YCharts & CEF Connect Data As of 6/9/16
The Nuveen Global High Income (NYSE:JGH) and the MFS Intermediate Income (NYSE:MIN) funds are pure bond global income funds that have good exposure to European bonds.
The Calamos Global Dynamic Income (NASDAQ:CHW) fund is categorized as a growth & income fund because it can invest in convertible securities and has a dual mandate of capital appreciation and current income. Currently, about half of the fund is internationally exposed.
One area of Europe that should benefit specifically is Developing Europe. The Templeton Emerging Markets Income (NYSE:TEI) fund has significant exposure to the developing EU nations such as Hungary and Poland.
If you lean towards the conservative type of investor, both MIN and TEI are leverage free as per CEF Connect. The added benefit of not using leverage is that it keeps the overall fund expenses lower.
I personally own JGH as a result of a merger of a number of Nuveen's closed end funds, and plan on keeping the fund for the foreseeable future.
Over the next week we will take a closer look at JGH and others that present an attractive value in the overall lower rate environment.
Final Note: I hope you found this article helpful. I am a believer in active management that works and I am here to help you find those opportunities. Please follow me here on Seeking Alpha as we look for those opportunities and sort out the good managers from the mediocre.
Simply click the "Follow" button below if it appears for you, or click "Follow" next to my name at the top of the article. Alternatively, you can click the orange "Follow" button from my profile page.
Disclosure: I am/we are long JGH.
I wrote this article myself, and it expresses my own opinions. I am not receiving compensation for it (other than from Seeking Alpha). I have no business relationship with any company whose stock is mentioned in this article.
Additional disclosure: Maks Financial Services is a registered investment advisor and our Form ADV Part 2 is available upon request. We certify that the opinions and predictions in these articles are our professional beliefs at the time of publication and should not be construed as personal investment advice. Please consult your financial professional to see how anything discussed here applies to you. Furthermore this is not a solicitation to buy or sell any securities. This is not Tax Advice. Please consult your tax professional.