Tahoe Resources (NYSE:TAHO)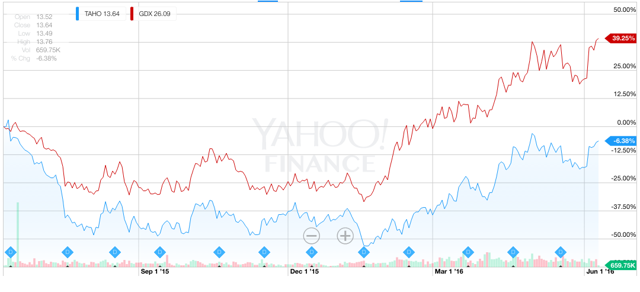 Click to enlarge
Recent Stock Price: $13.633
Shares Outstanding: 300.8 million
Market Cap: $4.10 billion
52-Week Range: $6.48 - $15.14
Tahoe Resources is a mid-tier gold and silver mining company that I previously covered following its $1.12 billion acquisition of Rio Alto Mining (NYSE:RIOM) back in February of 2015. Tahoe is a profitable gold and silver miner and the company continues to stay active on the M&A front following that deal, as it completed an acquisition of Canadian gold miner Lake Shore Gold (NYSEMKT:LSG) on April 1 of this year.
Despite those acquisitions and a strong first quarter earnings report, in which the company reported adjusted net earnings of $35.5 million ($.16 per share) and operating cash flow of $69.3 million ($.30 per share), I don't think shares are a buy here as I'm not convinced the stock will outperform the benchmark gold miners index (NYSEARCA:GDX) going forward (after all, if you don't believe a gold miner will outperform this index, you are better off just buying shares of the index).
I see a few issues with the company here. First, I feel like Tahoe has been overpaying quite a bit for new assets in an effort to diversify away from its flagship Escobal silver mine in Guatemala, which has seen its fair share of issues. And the company's share count has increased quite a bit since those deals were completed.
Guatamala has a reputation as a risky mining jurisdiction, and for good reason. As I mentioned in a previous article, the government of Guatemala has raised mining royalties on Tahoe in the past, and there have been past reports of violent protests and opposition of the mine from locals (read here and here). While there haven't been any reports of incidents for a while now, this is certainly something to keep your eyes on in the future.
The first acquisition of Rio Alto Mining gave Rio shareholders a 22.1% premium and valued the company at $1.12 billion, yet only landed the company a few assets: the La Arena mine (174,100 gold ounces produced in 2015, 46,600 ounces in Q1 2016), and the Shahuindo mine (commercial production expected soon; 1.9 million ounces of gold in reserves, and 100K ounces of gold to produced initially each year). This was a cash and share deal, but mostly shares as Tahoe gave .227 of a common share of Tahoe and payment of $.001 for each Rio Alto share held.
Next, the company announced a C$945 million ($700 million) business combination with Lake Shore Gold on Feb. 8, 2016. Under the terms of the deal, Tahoe exchanged .1467 of its shares for each Lake Share Gold common share, and following the transaction existing Tahoe shareholders own 74% of the company, with Lake Shore Gold shareholders owning 26%. The deal valued Lake Shore at a premium of 28.6% to its closing share price on Feb. 4, 2016.
I actually liked this deal a bit more than the Rio Alto deal. Tahoe bought Lake Shore for its Timmins West and Bell Creek Mine and Mill in Ontario, which is estimated to produce 170,000 to 180,000 ounces of gold in 2016 at sub-$1,000 all-in sustaining costs. Tahoe aims to grow annual production to 250,000 ounces per year by 2020, while also increasing reserves and resource from 2 to 4 million ounces by that time.
Lake Shore's properties have a lot of exploration potential, which is why I originally bought shares of LSG. But, there's still a lot of work to be done there, so expect Tahoe to spend quite a bit of cash to explore these properties. As a former Lake Shore Gold shareholder, I felt Tahoe overpaid for these assets as it paid nearly $1 billion to acquire the company.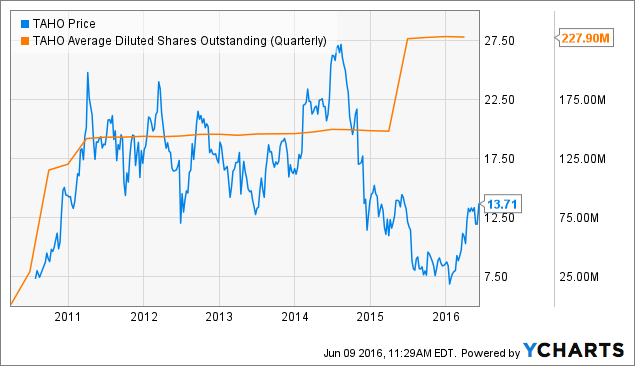 Meanwhile, Tahoe's share count has ballooned to 227.90 million as it completed the last two acquisitions, and these acquisitions were done when Tahoe's share price was fairly low.
The balance sheet is one strength of the company, however, as Tahoe has $127 million in net cash following completion of the Lake Shore Gold acquisition; this puts the company in much better financial strength than some of its peers such as IAMGOLD (NYSE:IAG), El Dorado (NYSE:EGO), B2Gold (NYSEMKT:BTG), New Gold (NYSEMKT:NGD), Agnico Eagle (NYSE:AEM), Kinross (NYSE:KGC), and Yamana Gold (NYSE:AUY), as you can see in the below chart.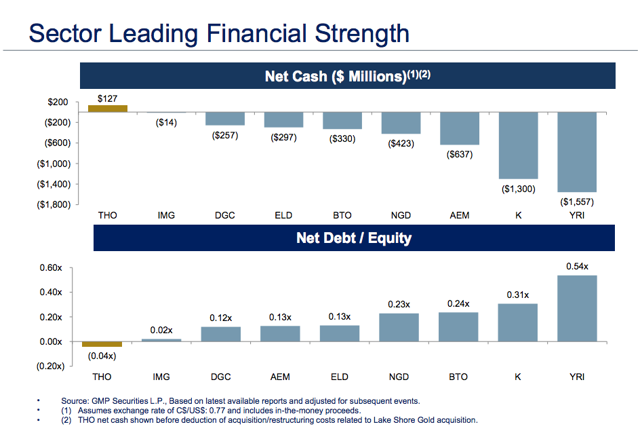 Click to enlarge
(Credit: Tahoe corporate presentation)
But, I'm not convinced Tahoe will outperform peers here. Tahoe's goal is to grow its low-cost gold production to 550,000 ounces a year (800,000 ounces of gold equivalent when you include silver, copper and by-products).
This sounds impressive, but the company is already on-track to produce 600,000 to 700,000 gold equivalent ounces in 2016, so 4-year production growth of 15% to 30% isn't really that impressive, especially since Tahoe's growth is coming mostly from its new acquisitions. And, despite the recent acquisitions, a lot of this growth counts on production from its Escobal silver mine in Guatamala, which comes with numerous risks.
In conclusion, Tahoe Resources has made two acquisitions to diversify and grow its gold and silver production, but I think the company overpaid a bit for these assets. Despite the two acquisitions, the projected growth isn't anything to get excited about in my opinion, and Tahoe had to dilute shareholders to complete these acquisitions. Investors bullish on gold should either consider adding shares of the GDX or check out my top 10 gold stock picks for 2016.
Disclosure: I/we have no positions in any stocks mentioned, and no plans to initiate any positions within the next 72 hours.
I wrote this article myself, and it expresses my own opinions. I am not receiving compensation for it (other than from Seeking Alpha). I have no business relationship with any company whose stock is mentioned in this article.