"Do not take life too seriously. You will never get out of it alive." - Elbert Hubbard
Not a day goes by when some pundit, analyst, trader, or portfolio manager appears in the financial media and explains why he or she is "contrarian" about markets. Personally, I find in my interactions that many claim to be contrarian in rhetoric, but don't actually position or act in their portfolios with investments that reflect such a view.
Regardless, I take issue with the notion that people are truly contrarian. People simply report what has happened with markets instead of attempt to think about what will happen in the future. I get it - the future is impossible to predict, but human beings need an anchor in the face of that uncertainty. Having said that, whenever you see sentiment data that is polled from people in this industry, that sentiment data simply tracks the performance of the stock market. A casual look at the NAAIM Exposure Index (which tracks bullish and bearish sentiment) on top of the performance of the S&P 500 (NYSEARCA:SPY) makes this very clear.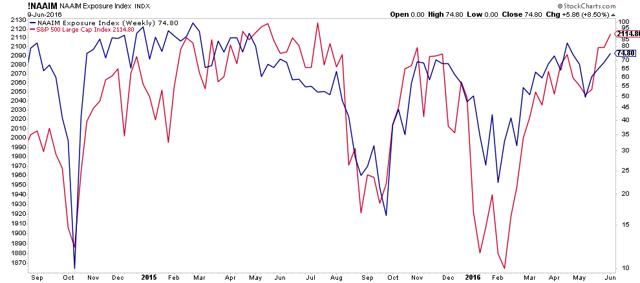 Click to enlarge
One can argue that extremes in sentiment surveys are the only real signals in markets, but if those extremes coincide with the market itself, then all one needs to do is look at the S&P 500 and extreme advances or declines to make a bet. Still, it is remarkable how "those in the know" are simply reporting the news when asked about the future of markets, doing the exact opposite of what contrarians should do. And I assure you many of those participants in that sentiment polling data would identify themselves as contrarian.
The best sentiment data is the market itself, not what someone thinks about the market. So why bother making decisions based on what someone says about the future, when that "sentiment" simply follows the market itself? Rather, following leading indicators of volatility (some of which are outlined in our white papers) is perhaps more valid over longer cycles than the opinions of the masses.
But what do I know? Stocks are up. I'm bullish!
#sarcasm
This writing is for informational purposes only and does not constitute an offer to sell, a solicitation to buy, or a recommendation regarding any securities transaction, or as an offer to provide advisory or other services by Pension Partners, LLC in any jurisdiction in which such offer, solicitation, purchase or sale would be unlawful under the securities laws of such jurisdiction. The information contained in this writing should not be construed as financial or investment advice on any subject matter. Pension Partners, LLC expressly disclaims all liability in respect to actions taken based on any or all of the information on this writing.
Disclosure: I/we have no positions in any stocks mentioned, and no plans to initiate any positions within the next 72 hours.
I wrote this article myself, and it expresses my own opinions. I am not receiving compensation for it. I have no business relationship with any company whose stock is mentioned in this article.