After the recent poor jobs report, doubt was cast on whether the Federal Reserve would still consider increasing interest rates in June or July given the weak data. Given the Federal Reserve has said they are "data dependent" as to whether to raise interest rates, I liken their situation to the following image where the Federal Reserve is driving a car with the windshield & rear view mirror blocked and only using the navigation system to drive. The navigation system represents all the data points that the Federal Reserve is collecting, which will guide them to their destination. However, this does not help at all when trying to avoid pedestrians [stock market investors] (NYSEARCA:SPY) who are trying to cross the street at a stop light [U.S economy]. As I will show, there are four data points, which lead me to the conclusion that the U.S economy has a red signal and that the Federal Reserve should not raise interest rates [run a red light].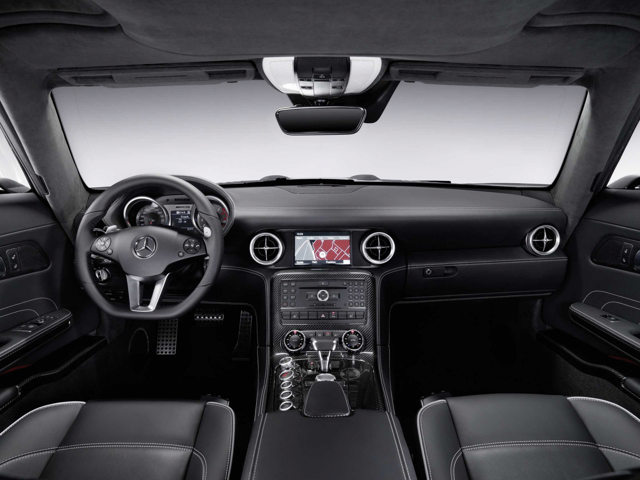 Click to enlarge
[Image from Autoglasssandiego.com]
Data Point #1: Jobs
The first data point I looked at was non-farm payrolls, which have been trending downwards for nearly two years. As you can see in the chart below, non-farm payrolls have been making lower highs and lower lows, creating a downward channel. The Federal Reserve cannot do anything more to improve employment especially raising interest rates. Any gains from employment must now come from the fiscal side in the form of clearing up red tape, increasing infrastructure spending to help with job growth and support future growth on improved infrastructure. Those are just a few of the many things that can be done to help increase quality job opportunities.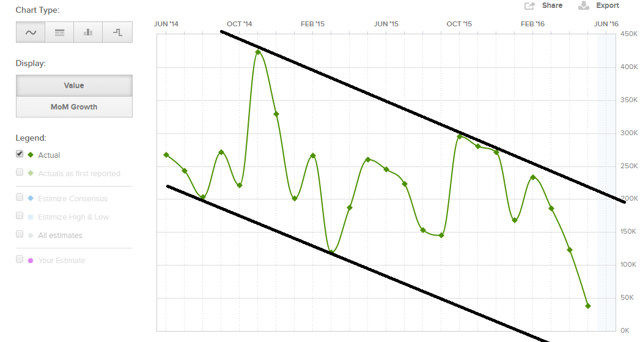 Click to enlarge
[Chart from Estimize. With my black lines I added]
Data Point #2: Corporate Profits
I examined quarterly data from the St. Louis Federal Reserve website for corporate profits. I found that in the last thirty years when corporate profits declined at least five of the previous eight quarters, a large stock market decline occurred within the following year or two. This signal was once again triggered in the third quarter of 2015. The previous signals were triggered in Q3 1986, Q2 1999, Q1 2008. All of these points in time were poor times to invest and is why I believe the Federal Reserve should not be raising interest rates given these data points. Corporate profits are flashing red as shown by the chart below and the Federal Reserve is about to run a red light.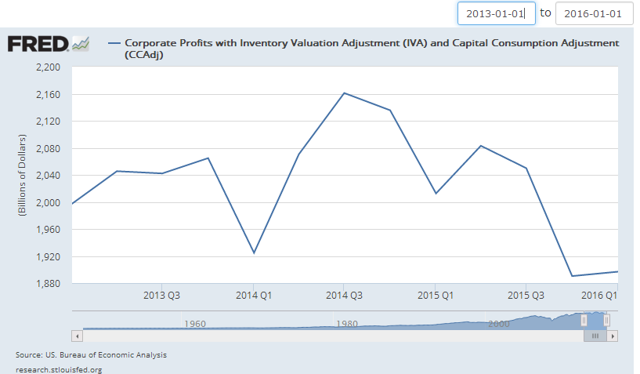 Click to enlarge
[Chart from St.Louis Federal Reserve]
Data Point #3: Credit Card Debt
The next data point that shows the economy is flashing a red signal is the amount of credit card debt held by consumers and the impact rising interest rates has on balances. In a study from earlier this year, it was noted that the average credit card debt for balance carrying households was $16,048. In addition, many small businesses carry balances on credit cards as well, which if interest rates rise, contributes to higher costs for businesses. When interest rates go up, the rate on your credit card goes up as well, which means raising interest rates is effectively a tax on those who carry credit card balances. Having credit card debt is not a bad thing as long as it is backed up by increasing wages, increasing GDP and the creation of new quality jobs in the economy, however this is and has not been the throughout the recovery.
Data Point #4: Health Care Premiums
In a recent article on CNN Money, they noted that the estimated average premium increase for California would be around 8%, which are double the 4% premium increases California had in previous years. A significant increase in premiums is likely to play out countrywide, given that insurers like United Health (NYSE:UNH) are dropping out of exchanges because they are unprofitable. The premium increases will be a tax on consumers and lower their disposable income, thus lowering economic growth.
The following table from InsuranceJournal.com shows the burden of Obamacare has fallen on individuals and it is easy to see why the economy is sluggish. The study found that the average amount an employee contributed out of their paycheck towards health care premiums increased just over 30%. Second, on top of premium payments, out-of-pocket expenses [co-payments, coinsurance and deductibles] have increased over 70%. The data table below clearly shows that more and more of premium costs are being paid by employees, which is a drag on their disposable income and thus a drag on the economy. As this trend continues and when combined with the large premium increases likely coming in 2017, this will be a big burden on individuals and keep economic growth at a minimum.
Total Premium Cost

Average Employer Share of
Premium

Average Employee Share of
Premium

Average Employee
Out-of-Pocket Cost

2016*

$11,484

$8,849

$2,635

$2,433

2015

$11,032

$8,542

$2,490

$2,208

2014

$10,686

$8,325

$2,361

$1,955

2013

$10,237

$8,000

$2,237

$1,708

2012

$9,906

$7,770

$2,136

$1,514

2011

$9,447

$7,421

$2,026

$1,425

% Increase

21.56%

19.24%

30.06%

70.74%
[Table Data from InsuranceJournal.com]
Closing Thoughts
In closing, the Federal Reserve needs to unblock its windshield, so it can see what is obstacles are in front of them. The jobs outlook is poor and has been trending lower for years. Corporate profits have been trending lower, which has not historically been a good time to raise interest rates. Credit card balances are at their highs and an interest rate increase is like a tax on those individuals/businesses that carry balances. Finally, with large health care premium increases likely and the shifting of costs to consumers, disposable income is likely to be depressed in 2017. When all of these data points are combined it is clear that interest rates should not be increased. If the Federal Reserve were to ignore these warning signs and raise rates anyways, in my opinion by the end of 2017 if the status quo on jobs and health care remains in place, there will be talk of rate decreases.
Disclaimer: See here.
Disclosure: I/we have no positions in any stocks mentioned, and no plans to initiate any positions within the next 72 hours.
I wrote this article myself, and it expresses my own opinions. I am not receiving compensation for it (other than from Seeking Alpha). I have no business relationship with any company whose stock is mentioned in this article.