Kinder Morgan (NYSE: KMI) was recently given the go-ahead from FERC for its Elba Liquefaction Project. This project was originally a joint venture between Shell (NYSE: RDS.A)(NYSE: RDS.B) and Kinder Morgan before Kinder Morgan bought out Shell's 49% interest in July 2015. Shell is still committed to supporting the project with a 20-year purchase agreement covering 100% of the capacity.
Getting approval for an LNG terminal is a painstakingly slow process due to regulations. When approved, however, it's a reason to celebrate. Due to the large difference between the prices of foreign and domestic natural gas, LNG terminals are thought to be safe investments as the contracted volume offers arbitrage opportunity to the buyer (guaranteeing demand), who would then ship the domestically produced natural gas and resell it in a foreign market.
The spread has shrunk significantly since 2014, but it's still there. The following graph illustrates the difference between Japan's import prices and spot prices at Henry Hub. This phenomenon also exists in European markets as well.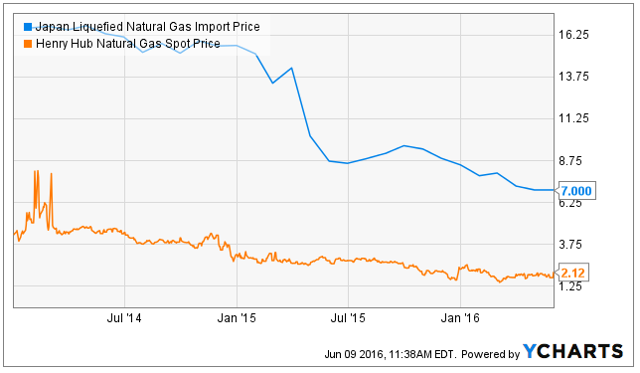 Click to enlarge
The Problem
It is no wonder that Shell wants to retain 100% of the capacity. Presumably, it can "flip" the gas for an easy profit. However, it's interesting that Shell decided to give up its 49% of the project and chose to focus on the end product instead. Whether this was for capital allocation or strategic purposes I cannot say (Shell is seemingly moving away from LNG in general), nevertheless, I believe that Kinder Morgan faces a serious threat in the near future due to technology obsolescence.
The Elba Liquefaction Project involves the construction of ten onshore liquefaction units. Recently a new technology has been getting traction: floating LNG (FLNG). Instead of laying pipelines and building liquefaction facilities on land, the whole process can instead be performed on a moving vessel. This presents two advantages: 1) cost and 2) flexibility.
The final cost of the Elba Project is expected to be $2 billion. In comparison, Golar's (GMLP, GLNG) FLNG conversion for Hilli will only cost $1.3 billion. Does FLNG lack capacity as the result of lower cost? Absolutely not. Hilli's nameplate capacity is expected to be 2.4 mtpa (million tonnes per annum), very close to the ultimate capacity for the Elba Project after Phase II (2.5 mpta, converted from 350 MMcf/day). I understand that I did not take the original purchase price of Hilli into account; however, the original price paid is largely irrelevant. There are many spare vessels today that can be converted into FLNG vessels at a similar cost (i.e. no shortage of supply). Furthermore, a new build (note that Hilli is an old vessel) would only cost around $250 million, bringing the total cost to $1.55 billion, which is still significantly lower than the Elba Project.
In terms of flexibility, FLNG technology is not constrained by the location of the reserves. Instead of incurring the cost of laying pipelines, which could render certain reserves uneconomical, FLNG vessels can just float to the location and perform liquefaction directly.
Impact On Kinder Morgan
You may think that Kinder Morgan is protected by the 20-year agreement with Shell. However, the expected life of LNG facilities are much longer than that, typically in the 40- to 50-year range, possibly longer. Unless the management decided to invest with the expectation of just supporting the 20-year agreement, the project will face significant challenges once the agreement expires. In my mind, FLNG outclasses onshore FLNG in every way possible, there is simply no competition. The caveat is that FLNG is still a relatively new technology, so there may be unforeseeable complications. However, if everything goes according to plan, FLNG will replace onshore facilities like how the steam engine gave way to electricity.
Click the "Follow" button beside my name on the top of the page to be updated with my latest insights. To learn more about the V20 Portfolio (+40% in 2015), whose goal is to compound capital at 20% over the long term, I encourage you to read the introduction to my investment process. Premium subscribers get full access to the V20 Portfolio. You can follow my latest updates, available to all, here.
Disclosure: I/we have no positions in any stocks mentioned, and no plans to initiate any positions within the next 72 hours.
I wrote this article myself, and it expresses my own opinions. I am not receiving compensation for it (other than from Seeking Alpha). I have no business relationship with any company whose stock is mentioned in this article.