The last time I published an article specifically on Memorial Production Partners (NASDAQ:MEMP) was on April 25th. During that time, the price of oil was going for $44.11 per barrel and the price of natural gas was going for $2.079 per Mcf. Since then, crude prices have increased by 12.4% to $49.59, while natural gas prices have risen by 17.1% to $2.435. Given how far the price environment has come since publication, I figured it would be a wise idea to revisit the business and see how my thoughts on it as a viable investment opportunity have changed.
A look at cash flow in the past
In my last article on the subject, I provided the following table below (it was actually broken up into pieces but in this has been aggregated into one table). Based on the data provided, the then-current prices of crude and natural gas, when accompanied by Memorial's outlook and cost structure under the assumption that things would remain as they were in perpetuity, show that the cash flow picture of the business through 2018 should be fairly positive.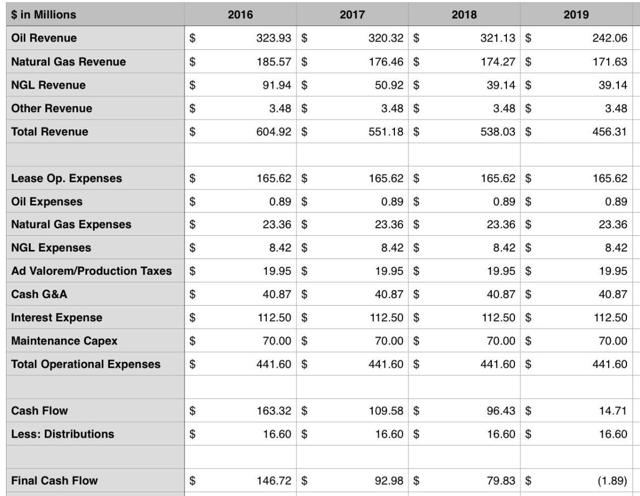 Click to enlarge
Using these assumptions, Memorial should generate cash flow, without factoring in distribution payments of $16.60 million per year, of $163.32 million in 2016. As hedges gradually roll off, the firm's cash flow would decline, dropping to $106.58 million in 2017 and a still-attractive $96.43 million in 2018. It's only in 2019, when a great portion of the company's hedges are gone, that cash flow would fall hard, coming in at only $14.71 million for the year. After incorporating existing payout policies, cash flow in 2016 should still be a strong $146.72 million, followed by $92.98 million in 2017 and $79.83 million in 2018. 2019, however, would be very painful, with cash flow being a negative $1.89 million.
Overall, it's clear that, absent a major downturn in energy prices again that would justify major cuts to its credit facility (it currently has $131 million in capacity on its $925 million credit facility) and absent lenders becoming impatient like they have with Mid-Con Energy Partners (NASDAQ:MCEP), Linn Energy (NASDAQ:LINEQ) / LinnCo (LNCO), and Breitburn Energy Partners (OTCPK:BBEPQ) and absent unforeseeables like fraud, investors have little to worry about near-term. Starting next year, the risks associated with the firm begin to increase but I would say that, under the current environment, there's not a significant amount of risk for the enterprise until probably mid to late 2018.
The picture has gotten a little better
After incorporating the current energy prices listed above, I created the following table below. In it, you can see that 2016's numbers are mostly unchanged thanks to the firm's strong hedging portfolio but the picture does look better as those hedges roll off. In 2017, for instance, cash flow should be $4.91 million better while 2018's numbers should be $6.37 million better. However, 2019's improvement is the greatest, when cash flow numbers call for net inflows of between $15.57 million and $32.17 million, an increase of $17.46 million over the prior estimates.
Click to enlarge
This, in my mind, increases Memorial's chance of survival but we do need to be cognizant that the firm must still do something about its cost structure. One area that would be easy to tackle would be its debt position. While I get the feeling that it will have to allocate at least some cash this year toward paying down its credit facility lendings, an easy way to reduce leverage would be to allocate some capital toward buying back Senior Notes. At current prices, every $10 million allocated toward buying the firm's 7.625% 2021 Senior Notes will reduce debt outstanding by $20.41 million and lower annual interest expense by $1.56 million, and every $10 million allocated toward its 6.875% 2022 Senior Notes will reduce debt by $21.23 million and lower interest expense each year by $1.46 million. Overall, this picture would be very favorable for investors in the long run and would help to bolster profits moving forward.
Takeaway
Based on the data provided, the move higher for oil and natural gas is having a positive impact on Memorial and the chance of it surviving in the long run will increasing. It is because of this and the firm's strong hedging that I am heavily invested in it (it's my third-largest holding) but it's also true that, at some point in the future, management will have to significantly reduce costs or will have to see energy prices soar back to pre-crash levels if it wants to survive. There are many ways to reduce expenses and I pray management works on each of them, but one of the easiest would be to focus on reducing leverage by buying back debt.
Disclosure: I am/we are long MEMP.
I wrote this article myself, and it expresses my own opinions. I am not receiving compensation for it (other than from Seeking Alpha). I have no business relationship with any company whose stock is mentioned in this article.
Editor's Note: This article covers one or more stocks trading at less than $1 per share and/or with less than a $100 million market cap. Please be aware of the risks associated with these stocks.