Introduction
Restaurants are notoriously one of the hardest businesses to run successfully and yet they are still one of the most prevalent enterprises in the world.
But what if there was a better way to make money in the food industry by supplying the equipment that these restaurants need to purchase to operate?
A company like that would certainly care about the success of restaurants, but new ones that failed within a year would have already spent thousands of dollars on their equipment so aside from losing out on future service and repair fees, the company would be fine.
Just such a company is The Middleby Corporation (NASDAQ:MIDD), a leader in commercial food service equipment, food processing, and residential kitchen equipment.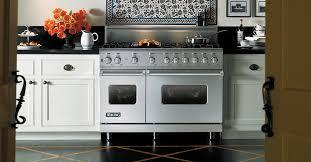 Commercial Food Service is the most important segment of the business at 61.4% of sales, with Food Processing at 16.3% and Residential making up the rest of the 22.3%.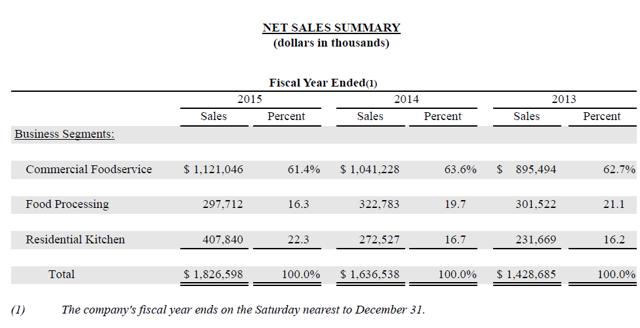 Click to enlarge
Acquisitions Galore
One cannot talk about Middleby without commenting on their acquisition strategy. They are using cash on hand in addition to newly issued debt to fund a variety of acquisitions across their three key business segments. This has been responsible for much of the growth you will see and accounts for the lack of any real shareholder returns via buybacks or dividends at this time.
Over the past three years, the company has completed 16 acquisitions.
Most of these acquisitions have been fairly small compared to the size of the company. Six out of the seven acquisitions in the Commercial Food Service segment, for example, were under $20 million. The company's market cap as of publication is $7.23 billion.
The largest and most important acquisition has been that of Viking Range Corporation for $361.7 million. This is one of the only brands that Middleby owns that I recognize.
Interestingly, the company also bought certain assets of six of Viking's former distributors in a vertical integration move that used to be quite common but is rare to see these days as pure play companies become all the rage for "value unlocking".
Many of these acquisitions have been completed without significant dilution as I mentioned. The diluted share count increased from 51 million in 2008 to 57 million in 2015. This is a fairly modest increase over 8 years and for a serial acquirer, you would have expected a much larger increase if they had been issuing stock hand over fist to fund these acquisitions.
Long-Term Results
Sales have risen 180% over the past 8 years for a CAGR of 22%. Net income has grown from $64 million to $192 million, or 200% in 8 years.
A positive sign that I noticed is that gross margins for the company have stayed pretty consistent hovering around the 41% mark except for 2008 where it fell to 39.9%.
This gross margin metric is important for as it will indicate if the acquired businesses are subpar to the ones already owned by the company.

Click to enlarge
By all accounts, Middleby provided fabulous returns for the past few years.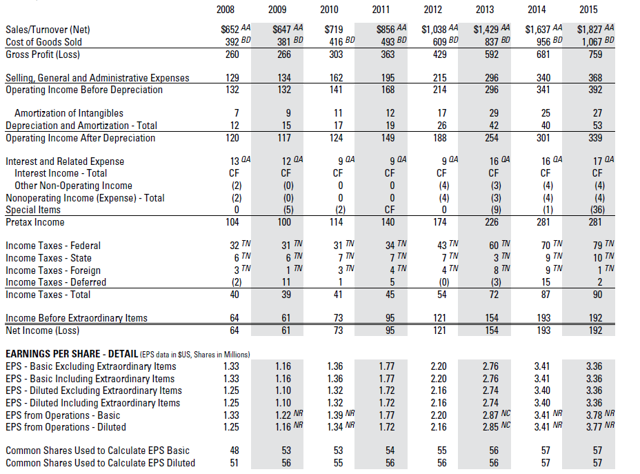 Click to enlarge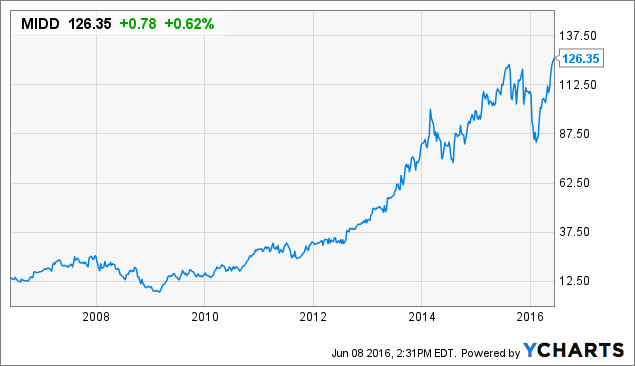 Balance Sheet and Velocity
As The Value Investor points out in his recent article on the company, after their most recent acquisition of Follet, the company will likely have $1.05b to $1.20b in net debt including their pension liabilities.
This compares to around $1.0b in shareholder equity and ~$1.0b in actual real, physical assets. Due to the many M&A moves, 62 percent of the company's assets are intangibles like goodwill and brand names.
This brings me to my thesis about Middleby that, although the company has been an amazing creator of value and shareholder wealth over the timeframe covered in this article, I believe that performance is unlikely to be repeated in the next 8 years and the future is really what we care about, not the past.
This is due to a leveraged balance sheet that reduces the speed and potential for more leverage to fuel M&A and the fact that there may not be as many ideal targets as there were in the past.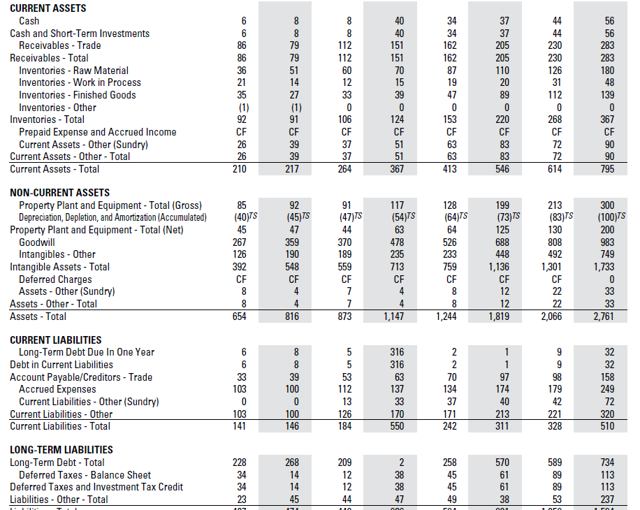 Click to enlarge
On the debt note, if the company cannot finance with debt due to their leverage, then they will likely choose equity financing which will dilute shareholders substantially.
This is something the company has largely avoided so far and accounted for a large part of the reason why shareholders have done so well holding the company over the past decade or so.
I bring up this discussion of leverage because the main portion of their debt, $733 million, is due in 2017.

Click to enlarge
This will have to be paid off or rolled over somehow, likely at a higher interest rate, which could further crimp profitability.
Second, on the topic of velocity, I mentioned that there many not be many M&A targets left. There is no real way to know this other than to acknowledge that money may no longer be dirt cheap going forward and it is statistically unlikely that the company could pull off another 16 acquisitions in 3 years, but they could.
So then we turn to organic growth, which was a paltry 0.8% in the latest quarter. Without currency impacts, organic growth was 2.3%. Better, but still not amazing.
The company is expensive any way you slice it at 23 times forward estimated earnings and over 30+ trailing earnings. Price to sales is 3.72.
Conclusion
At the end of the day, I like the business that Middleby is in. I think the food equipment industry has a low likelihood of technological obsolescence, a slowly growing demand curve as old equipment is replaced and new restaurant concepts roll out, and they have clearly made a bucket load of money for shareholders in the past.
I just feel that buying Middleby today is not really a play on the industry but rather on the ability of the current management team to find, pay a decent price for, and integrate current and future acquisitions. Lack of acquisition targets, a change in management, or lack of financing can put a spoke in the wheel of this business model and then investors are left with little organic growth to show for it
In this way, the company does not fit my personal investing style and I would much prefer if the company made 1 or 2 small acquisitions per year, focused on organic growth, and returned capital to shareholders via dividends and buyback.
Yet, the results are hard to argue with and you may have different goals and risk tolerances. Middleby may appeal to you in a way it does not to me.
Ultimately, the strategy employed here is not something I am entirely comfortable with and one I do not believe gives a high likelihood of an adequate outcome going forward.
This does not mean that the company cannot perform excellently going forward and they could certainly shoot the lights out and perform better in this decade than the next, I just think it is unlikely.
Disclosure: I/we have no positions in any stocks mentioned, and no plans to initiate any positions within the next 72 hours.
I wrote this article myself, and it expresses my own opinions. I am not receiving compensation for it (other than from Seeking Alpha). I have no business relationship with any company whose stock is mentioned in this article.