Jeremy Grantham isn't just interested in making some money for his investors he is interested in saving the planet. His big concern is global warming.
In his most recent quarterly letter he spells it all out for us. Grantham notes that the large El Nino effect in the Pacific Ocean that took place in 1998 caused a bit of a red herring. Because temperatures in years subsequent to 1998 were lower (especially 2013) there became a bit of a false belief that temperatures had plateaued.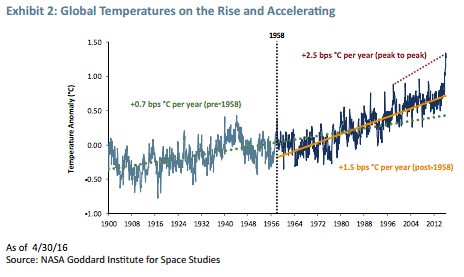 2015 which brought another new El Nino revealed that there was no plateau and that a clear trend is underway. Comparing the 1998 and 2015 El Nino's is very revealing. Global temperatures are moving up and to the right at an accelerating speed.
Here are Grantham's words on the subject:
Ten of the twelve months of 2015 set new all-time records, an unheard of event, and 2015 in total became a monster, not only the warmest year in recent millennia but by a record increment.

Yet, the early months of 2016, still under the influence of what had become one of the most powerful El Niño effects, showed temperature increases that were even more remarkable.

This current El Niño has accelerated underlying warming caused by increasing CO2 - as all El Niños do - but this time the combined effect has been far ahead of scientific forecasts that in general remain dangerously conservative.

January 2016 was the hottest January ever on the NASA series and by a new record amount. It was a full 0.22 degrees Celsius above the previous high for January. Then February became the new shocker, washing away that record by being 0.33 degrees Celsius above the previous February record. Most recently, March was once again the warmest ever March, although not quite by a record amount (see Exhibit 2).

The exhibit makes the scary point clear: global temperature is not just increasing, but accelerating. The average increase from 1900 to 1958 was about 0.007 degrees Celsius per year. From 1958 to 2015 it doubled to 0.015 degrees Celsius per year, and from February 1998 to February 2016 it rose by an average of 0.025 degrees Celsius per year!

Time is truly running out.
If global warming is happening and will continue acclerating as Grantham (and most scientists) believe this should be one macro factor that can put a strong wind at an investors back for a long time to come. The world is going to have to take significant action and that is going to impact commodities and businesses.
It Doesn't Matter If Global Warming Is Real - Most Politicians Think It Is
Interestingly whether or not global warming is real probably doesn't really matter for investors. The people making most of the decisions around the world think it is real and their actions are what we can profit from.
You have likely picked up one of the reports from Norway which details how the country is planning to shut down the sale of combustion fired vehicles by 2025. Governments are taking this global warming business very seriously.
If China or India were to enact the same policy it would turn the oil market on its head and be incredible for electric car manufacturers.
We have already seen what China has done to coal and coal producers. What a wonderful shorting opportunity that was a few years back when the consensus was that China would drive coal demand for years to come.
China's consumption of the fuel doubled in the decade to 2014, reaching more than four billion tonnes a year. And then that growth didn't just slow, it ran into a wall. This is perfect evidence of how politicians can create global warming investment opportunities (China's #1 concern is air quality)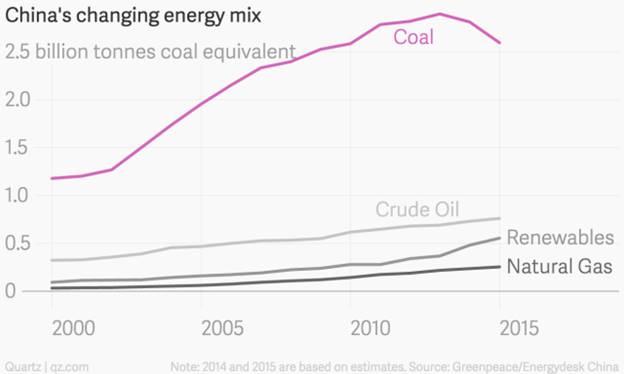 Source: QZ.com
That happened really fast. We have all seen the air problems in China so we can understand the motivation.
What we can't help but think when we look at the graph above is just how much coal China still burns. That coal consumption number is one that the country is going to want to bring down significantly and quickly.
If the coal line in the graph above comes down quickly some of the lines at the bottom (oil, renewables and natural gas) are going to have to move up exponentially. Oil will not be the one that does and renewables likely aren't ready.
We think over the next ten years the easiest way to replace coal for China will be with natural gas. If China does it quickly it is going to be very disruptive, and very good for companies leveraged to natural gas (NYSEARCA:UNG). Combine this with how global warming actions around the world could also be good for natural gas and it could really be disruptive.
They Don't Get Much More Leveraged Than Chesapeake Energy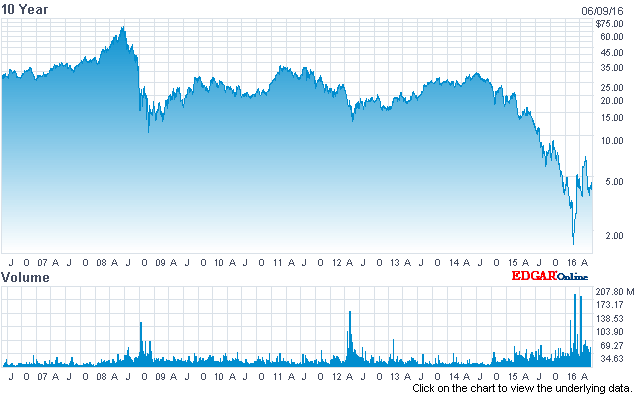 Source:Nasdaq.com
Leverage, as we know works both ways. Chesapeake Energy (NYSE:CHK) shareholders enjoyed leverage for a while as the company bought up huge chunks of the best shale assets in the United States.
That was pretty fun while the company was able to spin off pieces of those assets to other firms and National Oil companies at some pretty eye opening acreage values.
That leverage started to become concerning in 2012 after the company got caught hedge-less in an unexpectedly warm winter, so a serious deleveraging process began. When oil and natural gas both plunged in late 2014 the leverage became life threatening.
What hasn't really changed through all of this is the fact that Chesapeake has an enormous natural gas asset base. Yes large pieces have been sold, but there is still a lot left. Perhaps Chesapeake's big leverage could be the way to get exposure to the world's motivation to move to natural gas?
It really depends on how fast you think an impact will be felt on U.S. natural gas prices. Chesapeake needs help in the short term because for this company the clock is most definitely ticking.
Chesapeake bought itself some time this spring by pledging assets against its previously unsecured bank line. As a result of that its lenders confirmed that its $4 billion borrowing base wouldn't be reduced. The banking syndicate also provided temporary covenant relief by suspending the loan facility's senior secured leverage ratio through September 2017 and reducing interest coverage requirements.
The next borrowing base review will be pushed out one year until 2017.
What that means is that Chesapeake is clear of liquidity issues until then and has time to address pressing debt issues. As the company roles into 2017 it is going to be very exposed to natural gas prices since only 10% of 2017 production is hedged so what natural gas prices are doing in the short term is of critical importance.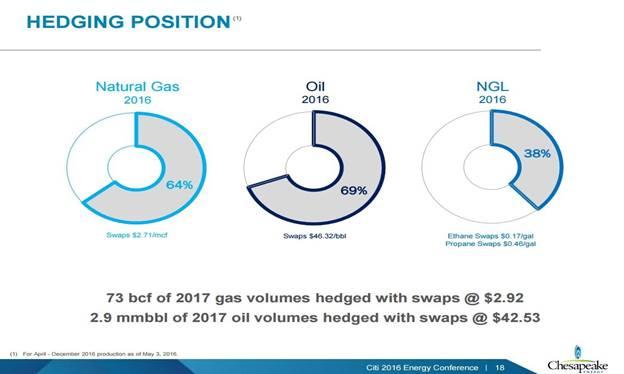 Source: Chesapeake Energy
Can China's swift move from coal and the global mandate to get cleaner fuel sources make an impact on United States natural gas pricing by the time 2017 rolls around?
The answer to that would be no, but what we have been reading does suggest that declining domestic production might help save Chesapeake's bacon. Either way Chesapeake is too risky for us but we think would be a good bet for someone who feels confident in a continued big short term (the next year) natural gas upswing.
What we do think could be useful is considering how to profit from the world getting motivated to fight Grantham's number one concern. If the political will is there to do something about global warming natural gas has to be a big part of the effort.
About The Superinvestor Bulletin
We are building a portfolio of investment ideas from the world's finest investors one idea at a time. We diversify across sectors and sources of ideas. You can learn more about our Seeking Alpha Premium service here or take a free look at one of our 15 to 20 page company reports here.
Don't forget to use the follow option at the top of this article to get more of our writing.
Thanks for reading. Good luck with your investing.
Disclosure: I/we have no positions in any stocks mentioned, and no plans to initiate any positions within the next 72 hours.
I wrote this article myself, and it expresses my own opinions. I am not receiving compensation for it (other than from Seeking Alpha). I have no business relationship with any company whose stock is mentioned in this article.