Shares of Fitbit (NYSE:FIT) fared well in Thursday trade as the market ever so slightly pulled back after a recent S&P 500 march above 2,100. FIT shares benefited on Thursday due to Wedbush initiating coverage on Fitbit. The firm came out with a bullish Outperform rating and an $18 price target for shares of FIT.
Fitbit could continue to see user growth from co-branding prospects, accessory sales, and corporate wellness programs, Wedbush analysts wrote in a note, Barron's reports.

We believe that Fitbit has a tangible and defensible advantage over its fitness tracker peers due to impressive branding and compelling device features, arguably the two most important contributors to its market leadership position," analysts noted, Barron's added."
Wedbush's Nick McKay did a bang-up job with his analysis of the Fitbit business and concluded that shares of FIT would be reasonably valued at $18. Piper Jaffray has the lowest PT at $16 a share, with Sterne Agee matching Wedbush at $18. Most all other firms have their respective price targets at $20 and above. What I found most interesting in the company's report was the following:
We do not see the commoditization of fitness trackers as a threat to Fitbit over the next several years for a few reasons. First, as mentioned previously, wearing a Fitbit sends a strong statement to one's peers, while wearing a generic knock-off does not (at least not a positive message). Second, a large sales and marketing budget has made the word "Fitbit" interchangeable with fitness tracker for many people, regardless of the manufacturer. Third, because of this brand awareness, we believe that corporate wellness buyers will be more willing to buy Fitbit products than those of the company's peers as users should be more willing to give a Fitbit (something that they have actually heard of) a try. Finally, we believe that many consumers are willing to spend more on a product that relates to monitoring their health than on one that does not. Just look at the company's lead in shipments of late versus Apple's (NASDAQ:AAPL) Apple Watch, and versus China's Xiaomi (Private:XI)".
Now, when I stated that I found the aforementioned rendering by Mr. McKay interesting, I didn't say that I agree. What should be understood about the premise that "commoditization of fitness trackers is not a threat for several years" is that the statements that followed this premise have very little to do with what creates commoditization. Most commoditization is, firstly and mostly, a factor of distribution. The second aspect of commoditization is largely due to the breadth of product on the market by various vendors. Another aspect of commoditization is often characterized by a vendor name becoming synonymous with the product or category, which most obviously has been recognized by the consumer with "Fitbit". Don't get me wrong, I don't think all forms of commoditization are valued equally, but to suggest that fitness trackers aren't yet or won't be yet for several years commoditized seems rather negligent. After all, what isn't a fitness tracker today. From wrist-worn fitness trackers, ear buds thermoses, shoes and belts, most everything or area of the body can be claimed by a fitness tracker of sorts.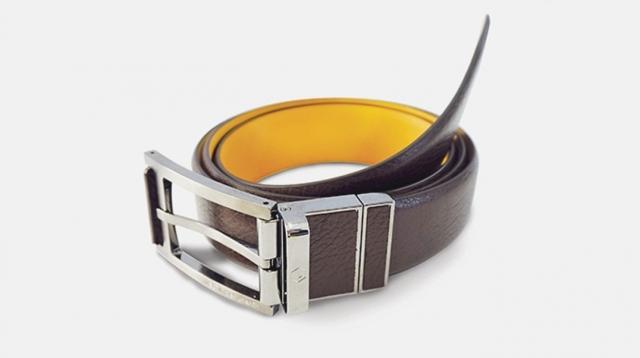 Click to enlarge
When I was at the Consumer Electronics Show earlier this year, it was quite plain to see that the wearables category was very much commoditized. Samsung (OTC:SSNLF) had me try on the company's patent-protected Welt product. This wearable detected whether or not you were bloated or ate too much. And do you know why a person would need that product? Neither did the Samsung representatives, but they sure thought it was neat. That's pretty much a textbook example of a product/category that has become commoditized or at least very near commoditization.
Now, what I do very much agree with in Mr. McKay's analysis is the statements regarding specific devices for health monitoring selling better than smartwatch device types that try to do too much (paraphrasing, of course). Whether it be the form and functionality of the smartwatch or the price points for these products, they have definitively underperformed Fitbit fitness tracker shipments, as reported by IDC. Again, don't get me wrong when it comes to IDC, as they are often wrong with their estimates and forced to adjust them constantly. IDC has been forced to adjust their prior estimates for PCs just recently, and again and in perpetuity. However, though they are generally proven wrong with their forecasts, they are still revered as the most reliable source within the PC and mobile electronics marketplace. But I digress!
I have been tracking smartwatch and fitness tracker sales since late last year, and most recently with Fitbit Blaze launching a couple of months ago, Mr. McKay is most accurate in suggesting the Blaze is beating the Apple Watch by a wide margin. More importantly, that margin continues to widen. Please see Stackline's sales data in the chart below: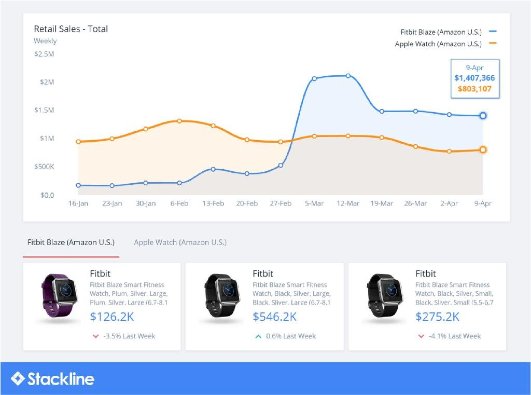 Stackline's sales data generated through Amazon.com identifies that even online sales of Fitbit Blaze will likely double those sales of Apple Watch by Q2's end. I previously offered the debate that had centered on who is more dominant in smartwatch unit sales as favoring the Fitbit Blaze. In an article titled "Fitbit's Sell-Through Results Significantly Better Than Apple Watch", I explored and explained this very subject matter.
The sales data provided by Stackline validates my previous articulations on the matter. As an investor, if you desire to understand better some of the flaws that exist within the smartwatch as put forth by Apple and Samsung, it might be worth your time to consider my publication titled "Apple Watch Will Not Disrupt iPhone... Ever". From reading the article, investors and readers will better be able to appreciate the fundamental and conceptual problems that exist with smartwatches.
In Wedbush's price target of $18 a share, I find a great deal of prudent valuation. I would expect most any research firm at this point, seeing where the FIT stock price rests, to offer a more modest valuation than those that came before. With successive positive quarterly reports to come, as I'm presuming, $18 fits with the ability to see a momentum trade price target achievement, while appearing prudent. It's actually quite thoughtful when taken at the consideration I've offered.
So of course, with shares of FIT bucking the trend on upbeat notes and an Outperform rating being established by an analyst, CNBC has taken a crack at Fitbit. During the famed Halftime Report show hosted by "The Judge", three of the shows experts discussed if this trade is fit or failing. Two of the 3 panelists suggested FIT was more a Hold than anything else. But Steve Weiss, of all people, said it was a commoditized business and that he would be a seller of the stock. Why do I say "of all people" when describing Steve Weiss, you might ask. Well, two years ago, when I was selling shares of SodaStream (NASDAQ:SODA) in the upper $40 range because I felt the business had reached saturation and a critical point of commoditization, he was buying shares of SODA. What I would suggest is that Mr. Weiss' comments are more about "lessons learned" than a full understanding of where Fitbit is in the business cycle. While I agree that the wearables space has become commoditized, complete saturation has yet to occur... but we are getting closer, as I will explain in a future article.
So with all that being said and FIT shares rising today, but range-bound most recently, let's see if the stock can crack $15 in Friday's trade.
Disclosure: I am/we are long FIT.
I wrote this article myself, and it expresses my own opinions. I am not receiving compensation for it (other than from Seeking Alpha). I have no business relationship with any company whose stock is mentioned in this article.