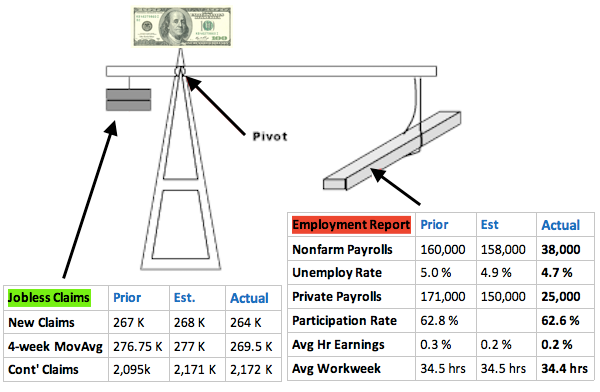 The US dollar (NYSEARCA:UUP) signaled that a bottom reversal may finally be taking hold as it made a new 3-day high. If so, this sets up the potential for retracement of last week's down-gap which occurred due to extreme weakness in the May 2016 Employment report. Today's Jobless Claims report for the week of June 4, 2016 served as a counterweight to last Friday's bad news.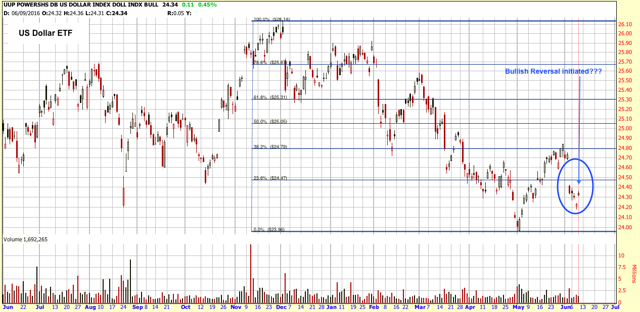 Click to enlarge
Of course, the dollar is also getting some help from its advanced economic counterparts as they come out of denial and publicly confess that their monetary policies are simply not working. Last week's round of Liar's Poker amongst central bankers saw Japan's Abe fold and postpone a widely unpopular consumption tax hike, which it so desperately needs to fund its social security and government deficit, until October 2019. Talk about kicking the can down the road! It was only last April that Honest Abe vowed to go ahead with a tax increase that nothing short of a "Lehman-like crisis" could deter. If this is the case, why anyone want to own Japanese yen (NYSEARCA:FXY) when its economy is challenged by an unattainable 2% inflation rate target, thus implying continued expansion of its balance sheet, is beyond me. I have written on more than one occasion about the unsustainable strength of the current yen versus US dollar relationship. Perhaps the chart below may best exhibit the limits that market forces may be imposing on yen bulls.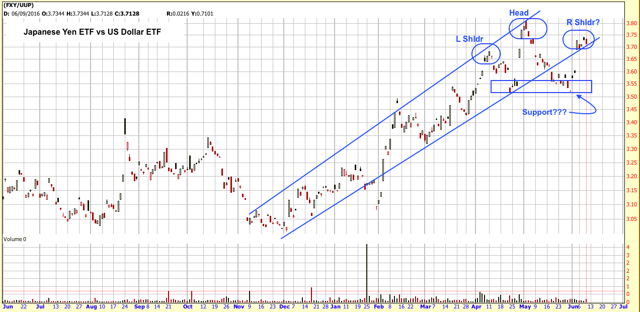 Click to enlarge
Now we switch tables to the euro (NYSEARCA:FXE). Today, it was ECB chief Draghi who folded and admitted that monetary policy alone is not enough to meet its objectives. Europe needs structural reforms to assist with the heavy lifting of avoiding the "lasting economic damage" of weak growth and productivity. However, it lacks the political will and cohesion to attempt, let alone accomplish, such. One certainly cannot fault Billy for reconsidering the pros and cons of its Club Med membership. Many will be watching the upcoming June 23, 2016 Brexit referendum. If passed, it could be the tipping point of a domino effect, as Britain is not the only nation with doubts. In summary, like Japan, the EU is struggling to meet its own inflation targets, and NIRP (negative inflation rate policy) is not having its intended effect. When one looks at the chart below of the euro versus US dollar exchange-traded funds, the bearish implications of its patterns are quite similar to that of the yen versus US dollar ETF.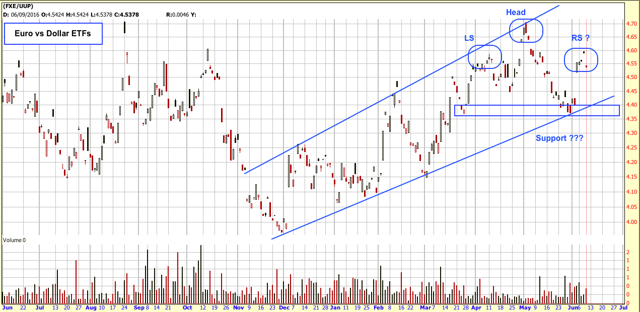 Click to enlarge
For some of my critics who lament that I write about investment ideas in which I have no investment stake, you hereby notified that I am front-running you, as promised. I'm keeping my bullish dollar strategy simple with long exposure to the US Dollar Index via the September 2016 futures contract which I initiated on Tuesday and doubled down on this Wednesday to lower the average cost. The UUP can be used to recreate long exposure to the dollar, but as I prefer the leverage of futures when trading currencies, one may want to consider buying ITM (in-the-money) call options on the ETF and defraying some of the cost by selling OTM (out-of-the-money) call options. (I'll let you decide your own strike prices and expiration months unless you are willing to compensate for such advice.)
Finally, regarding my outlooks for the euro (FXE/UUP) and yen (FXY/UUP), I believe the yen has considerably more downside risk. However, this is a longer-term trade, as it will require time and economic reality to tunnel underneath this safe haven and sap its foundation. If and when it violates this bullish channel on the right shoulder of its H-and-S pattern, then there is potential for it to trade beneath its neckline. The technical outlook for the euro is not as severe. It is possible to complete its right shoulder and test support at its neckline without violating its bullish channel. Either of these trades may be synthetically created by pairing put and call options on the above-mentioned ETFs.
Disclosure: I am/we are long SEPT-2016 US DOLLAR INDEX FUTURES CONTRACTS.
I wrote this article myself, and it expresses my own opinions. I am not receiving compensation for it (other than from Seeking Alpha). I have no business relationship with any company whose stock is mentioned in this article.