Despite all the doomsday predictions about Chesapeake Energy (NYSE:CHK) last month, the stock has made a remarkable comeback in recent days. In fact, over the past month, Chesapeake shares have gained more than 20% on the back of a sustained rally in natural gas prices and the company's moves to swap more debt for equity.
Now, while debt-equity exchanges could potentially lead to pullbacks in Chesapeake shares on account of dilution, I believe that a sustained recovery in natural gas prices going forward will allow the stock to deliver more upside. So, in this article, we will take a closer look at the reasons why natural gas prices have improved of late and why they might get even better this year.
The reason behind the rally
In the past couple of weeks, natural gas prices have rallied a remarkable 25%, with futures now trading at 5-month highs. This impressive comeback in natural gas prices has been driven by a slowdown in the build-up of inventory as the demand for the commodity is increasing. For instance, for the week ending May 27, total natural gas inventory increased by 82 Bcf and this was lower than the consensus estimate of 86 Bcf.
What's more, the level of overall surplus in the natural gas market came down to 35% as against 37% in the preceding week on a five-year average basis. As such, the amount of total natural gas in storage this year is trending lower than last year's levels as shown in the chart given below: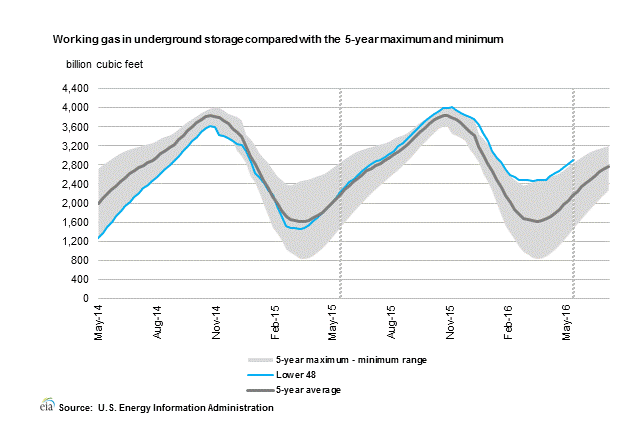 Source: EIA
Looking ahead, I believe that natural gas inventories will keep coming down as demand for the commodity is set to increase in light of a hot summer season. As reported by Market Realist, the weather in the U.S. will remain hotter-than-expected in the coming weeks. This is a boon for natural gas demand since the heating and cooling needs of half of the households in the U.S. is met by natural gas.
What's more, the cooling requirements this year will remain higher in the next couple of months as compared to both 2014 and 2015, while in 2017 as well, the number of summer cooling degree days in the U.S. will continue to increase. This is shown in the chart given below: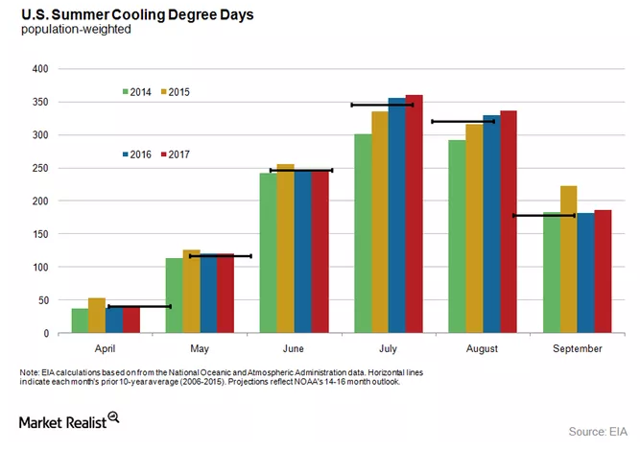 Click to enlarge
Source: EIA
As a result, demand for natural gas is set to increase going forward. In fact, the EIA estimates that natural gas consumption in 2016 will average 76.6 billion cubic feet per day and then rise to 77.8 billion cubic feet per day in 2017. Comparatively, natural gas consumption was lower at 75.3 billion cubic feet per day last year.
Driven by the increase in consumption, natural gas inventories will come down going forward. This will lead to an increase in price of the commodity, as shown in the forecast below: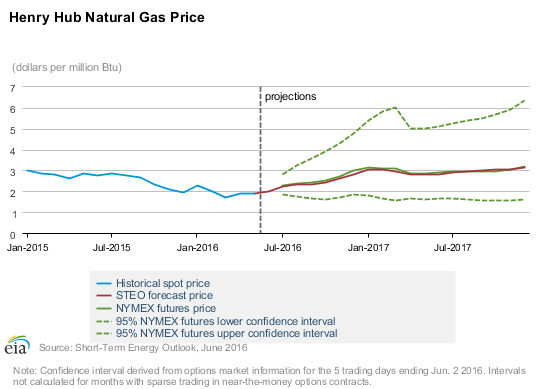 Source: EIA
As seen above, natural gas prices are expected to exceed $3/MMBtu in a year's time as the consumption of the commodity rises and inventories decline. This will create a favorable situation for Chesapeake Energy going forward since the company has brought into place a number of cost reduction moves.
Why higher prices will put Chesapeake toward accelerated recovery
An increase in natural gas prices will allow Chesapeake to increase its margin profile impressively, especially considering that the company has been lowering its cash costs in an aggressive manner. For instance, during the first quarter, Chesapeake's cash costs were down 28% year-over-year as the company focused more on the adoption of longer well laterals.
The reason why Chesapeake is deploying longer laterals is because the company is seeing a 63% bump in production in cumulative gas production in the initial 160 days. The deployment of these longer laterals is driving Chesapeake's efficiency gains, allowing the company to project a 23% decline in drilling and completion costs this year. The following charts clearly show how an increase in lateral lengths is driving Chesapeake's well productivity: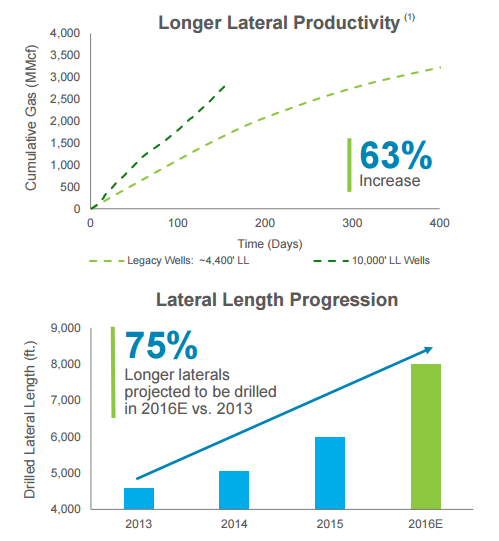 Source: Chesapeake Energy
The increase in the lateral lengths is also driving down Chesapeake's development cost on a per foot basis. For instance, in the Eagle Ford, Chesapeake has reduced the per foot development costs by approximately 50%, which will allow it to deliver 25-50% rate of returns at wells developed this year.
Conclusion
All in all, a combination of higher natural gas prices and lower costs will allow Chesapeake Energy to continue its rally going forward. The stock has recovered impressively of late and I won't be surprised if the positive momentum continues in the long run, which is why investors should stick to the stock for more gains.
Disclosure: I/we have no positions in any stocks mentioned, and no plans to initiate any positions within the next 72 hours.
I wrote this article myself, and it expresses my own opinions. I am not receiving compensation for it (other than from Seeking Alpha). I have no business relationship with any company whose stock is mentioned in this article.