Our portfolio is almost up 20% since mid January and with silver up more than 8% since the start of this month, it seems to be back trading as it has done in the past (it's up twice as much as gold since the start of the month - see chart). Miners continue to trade strongly but I wonder how long this can last as they are stretched well above their 200 day moving average. Some silver mining companies like Silver Standard (NASDAQ:SSRI) have tripled in price since the bottom of the bear market 6 months ago. As I pointed out in a recent article, I believe now is the time for silver to shine.

Click to enlarge
Silvers strength yesterday when the dollar started to rally out of its daily cycle low confirmed to me that this intermediate cycle has bottomed. Therefore we should see generally see rising prices in precious metals for the next 15+ or so weeks so our entry of (NASDAQ:USLV) should be extremely profitable before this cycle tops out. This ETF is a triple leveraged ETF and must be used with extreme caution. If one is over leveraged (borrowing brokers capital) when using this instrument, it has the potential to wipe out your account so position sizing here is key.
Why? Well even if the dollar rallies hard in the next few weeks and tanks silver to the tune that it tests its lows of last week, then USLV could drop by 25% which would mean USLV would drop to 13. Remember this is only if the lows get tested (not pierced). Although time is on our side, we can never rule out the unthinkable which is why leverage should not be used with these instruments.
Another habit you need to get out of is the day trading mentality. If Silver does what I think it will do and rallies for the next 4 months, then there is no need to try and day trade this market. If you are a long term gold and silver investor, you may have been trading this sector when gold was caught in a bear market since 2011. However the best thing to do when markets return to bull mode is to let your profits run. Why? Because if you try to trade around the daily cycles (usually around the 30 day mark), you may lose your position and not get a better entry.
Silver for example (if it keeps rallying like it is doing at present) is going to get overbought quite quickly. Short term traders will try and sell at the top and buy in somewhere underneath their exit price. We can see this already on the chart below as the 5 day RSI indicator is illustrating that the metal is overbought. Again resist the temptation to sell and take your profits. We will only consider selling when we are in the timing band to do so... (intermediate top)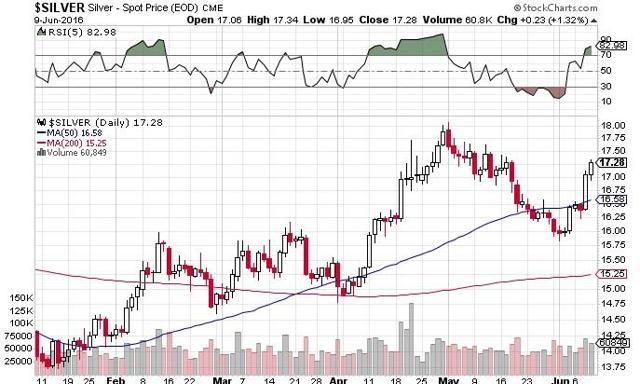 Click to enlarge
There are 3 main reasons why we primarily went with silver for this intermediate cycle rally ahead of gold and miners.
First is the gold/silver ratio which is around 73 at the moment (see chart). This ratio is still far too high compared to historic averages and sooner rather than later, one would feel the silver must start meaningfully outperforming gold to bring the ratio back into sync.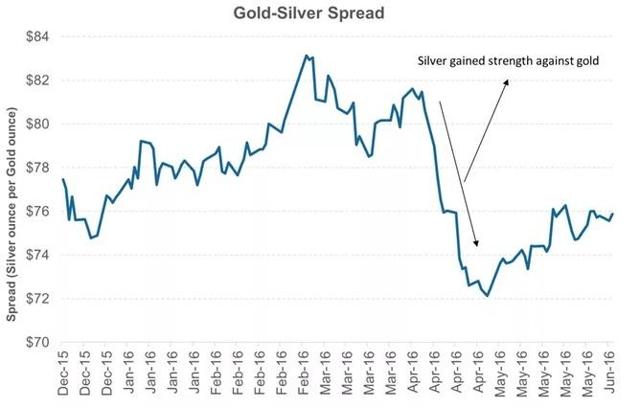 Click to enlarge
Source : Comex
Secondly Gold bottomed at the start of December but Miners bottomed more or less 6 weeks later in January of this year. Why? Well if we look at home the stock market behaved in this time, we can see in the chart below that the S&P500 dropped by 10%. Even Gold's rally out of its intermediate bottom wasn't enough to keep miners in the green. Therefore we could have the possibility of a similar scenario playing out at present. If the stock market drops into a strong daily or intermediate cycle low, miners could again suffer even if metals continued to rally. This brings underperformance risk to the miners in my opinion.

Click to enlarge
Thirdly Silver

barely kept up with gold in the last intermediate cycle but dropped over 10% from peak to trough over the last month compared to gold's 6%. Miners surprisingly only dropped 12% in our most recent intermediate decline which ruled them out in my book. Silvers has to make headway soon and I'm betting it will occur in this intermediate cycle.
To sum up, I'm going to be adding a few good dividend and growth stocks to the elevation portfolio over the next several weeks when I see value. It's imperative that they are not correlated and all don't have similar valuations to ensure that income is brought in every month, which, over time, will increase our share count. Follow along by pressing the "Follow" button above
Disclosure: I am/we are long USLV.
I wrote this article myself, and it expresses my own opinions. I am not receiving compensation for it (other than from Seeking Alpha). I have no business relationship with any company whose stock is mentioned in this article.