Background
It's a shame. In recent times, oil has been rising, but it is generally due to upsetting circumstances. Last time I wrote about oil in an article, there was a massive strike in Kuwait that was hampering supply. Then there was the massive fire in Canada's oil sands. There were warnings that Canada would not be able to adequately meet supply contracts as they rushed to get operations back to running smoothly and efficiently. Reuters wrote:
BP Plc and Phillips 66 alerted customers some grades of Canadian crude would not be available, while Suncor Energy, Canada's largest producer, warned clients that some supplies from the region would be disrupted by the fires.
Just look at how the USO ETF (NYSEARCA:USO) performed during this entire debacle in Canada: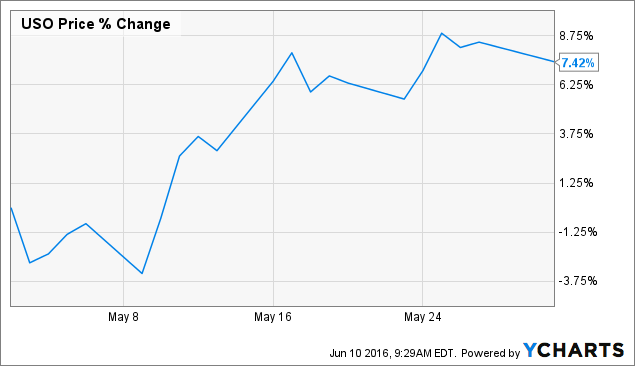 USO data by YCharts
While some investor saw oil rise and was likely jubilant, I don't think that this would have been the case if he saw that over 90,000 Canadians had to evacuate their homes, and the fire spanned nearly 600,000 acres. Villages were lost and homes were destroyed. But the reality is that production was halted, and longs of oil were handsomely rewarded.
Now, why do I bring up this wildfire? Obviously, this event isn't a long-term hindrance of oil supply, and it will not be the reason for oil to remain at $50. But it was what got oil there in the first place, and new factors will keep it there.
Nigeria's Production Halt
Nigeria is in the middle of a war, and has drastically seen poorer and poorer performances from its oil industry as the fight has waged onward. For March, production came in at only 1.8 million barrels per day, a 3% decline from the February output figure. What was the reason for such a drastic and sudden decline? Vandalism on pipelines heavily disrupted production (by up to 380,000 barrels per day according to WSJ). While some were hopeful that things would change in Nigeria, reports today show that Niger's Delta Militants successfully attacked the Obi Obi Brass Trunk, a key part of Nigeria's oil infrastructure. Recent developments in this conflict have led analysts to believe that production has now dipped to a measly 1 million barrels per day. If that is the true case, we will see oil stay put in the coming month, as this is a major decline in supply in the oil market.
The Greenback
A poor US job performance report has seriously hampered the chance for the Fed to justify raising rates when they meet next. The report showed the creation of a meager 38,000 jobs, the worst result since September 2010. Gold (NYSEARCA:GLD) skyrocketed after the report, and will likely continue to do so in the month of June considering a further weakening of the US dollar. Why do I think the US dollar will continue to fall in the short term (to clarify, the VERY-short term)? The Brexit referendum is very close, and while I fully believe that England will remain in the European Union, the concern of a Brexit has gotten people worried. A member of the Fed's Board of Governors, Lael Brainard, said that a Brexit could create a "Significant adverse reaction" to the United States economy. This would mean that a rate hike would be further the delayed, the dollar further weakened, and gold would be set to skyrocket (as it often does in times of economic uncertainty). Over the next month, as concerns weigh on investors, the greenback will pull off of its gains, and oil will return to the realm of $50.
Conclusion
As always, there are plenty of factors affecting the price of oil. Nigeria's war, Canada's wildfire, and the greenback uncertainty are all indications that an investment in USO would be a strong one at the moment. Happy investing!
Disclosure: I/we have no positions in any stocks mentioned, and no plans to initiate any positions within the next 72 hours.
I wrote this article myself, and it expresses my own opinions. I am not receiving compensation for it (other than from Seeking Alpha). I have no business relationship with any company whose stock is mentioned in this article.