Fannie Mae (OTCQB:FNMA) and Freddie Ma (OTCQB:FMCC) are two companies that the government has been taking billions of dollars away from through an unprecedented deal that the government struck with itself. Plaintiffs have alleged that the government has broken the law but the government's accounting for the GSEs says that the GSEs payments to the government don't count. Now, in a new court filing filed by the government in its own defense the government admits that $245.6 billion in dividends equates to not only a return, but an annual return: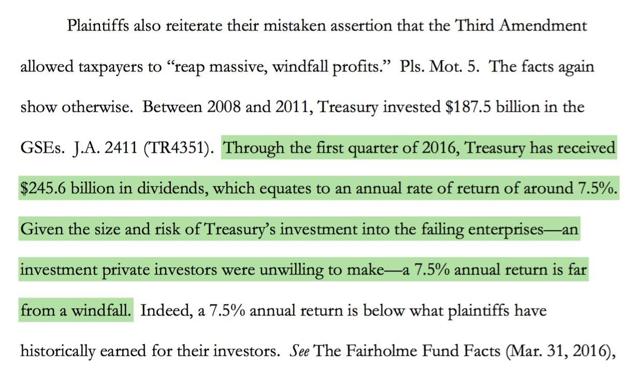 Click to enlarge
Investment Opportunity In Brief: The government currently has structured the GSEs as private companies that give all of their money to the government. Plaintiffs are contesting various actions that led to this outcome and if they prevail in court the publicly traded equity shares stand to benefit. There are preferreds and common. Preferreds will eventually be worth par and commons will be worth a multiple of their respective earnings. Dick Bove and William Ackman forecast share prices of upwards of $20 on the commons. After all, Fannie Mae and Freddie Mac are two Fortune 50 companies that combined make around $15B/annum.
White House Budget Forecasts
Before I begin, it's impossible to have a return on capital without having a return of capital. The White House forecasts billions of dollars of profits for itself. How is it that as part of their ROI calculations they didn't capitalize those estimated future profits? That's the mystery behind government accounting for GSE assets which always seems to purposefully understate their value in order to justify taking the assets without actually paying for them.
The entire purpose of the latest government filing is basically to prevent the Court from taking notice of additional documents produced by discovery in the ongoing takings litigation. The irony here is that the documents that the government is trying to prevent the Court from taking notice of are now publicly available:

Click to enlarge
Government arguments made in these lawsuits have shifted from trying to prevent the information from being made public to trying to prevent the judges from taking notice of public information. It will be interesting to see what plaintiffs have to say about the government's latest filing if they get a chance to reply.
Kentucky Court - Oral Arguments Scheduled July 14
In a new legal filing by Thapar, we find that my original estimate of having a ruling on the motion to dismiss before July 4th is incorrect. Instead, we get oral arguments in the middle of July: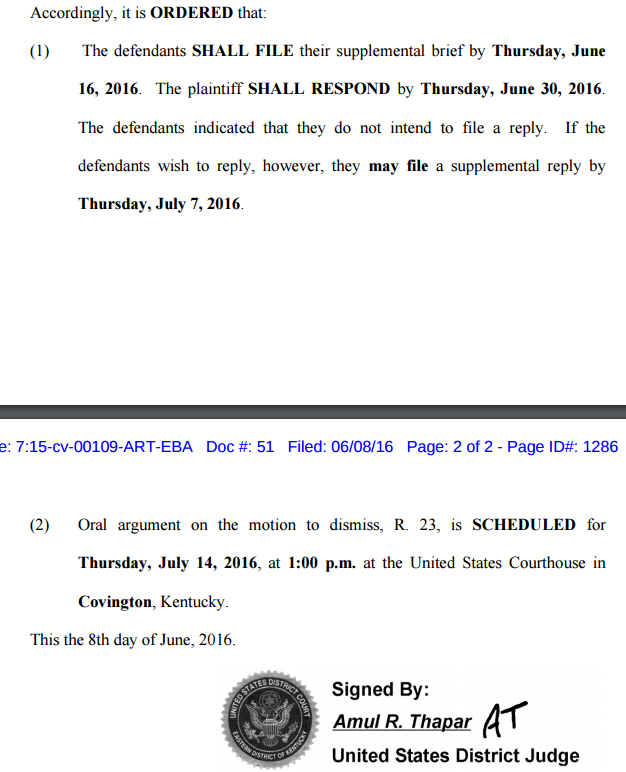 This is the courtroom where plaintiffs looked to potentially consolidate if they lost the MDL. One might expect that based on the oral arguments in this court that a shareholder could get a sense of which way the judge is leaning overall. It is definitely something to look forward to, get your popcorn ready!
Summary & Conclusion
The government wants judges to ignore the documents produced by discovery in the Court of Claims, "Treasury's motives are irrelevant to the question whether HERA's broad anti-injunction and transfer-of-shareholder rights provisions bar plaintiffs' suit," the government's lawyers say. Considering that these documents prove that the government has been lying about their motives, I have little reason to believe that their motives are irrelevant. Judge Ginsburg certainly sees motivation as relevant. In fact, he's identified not one but two scenarios where it is.
I have 4050 shares of FMCCH, 9340 shares of FMCCP, 4442 shares of FMCCT, 5000 shares of FMCKP, 27086 shares of FNMFN, 5 shares of FNMFO and 25092 shares of FNMA. Owning these shares is a statement that the government broke the law and that the law will see to it that at least some of the money that the government has taken from the GSEs will be treated differently in retrospect than it has been.
Disclosure: I am/we are long FMCCH, FMCCP, FMCCT, FMCKP, FNMFN, FNMFO, FNMA.
I wrote this article myself, and it expresses my own opinions. I am not receiving compensation for it (other than from Seeking Alpha). I have no business relationship with any company whose stock is mentioned in this article.
Editor's Note: This article discusses one or more securities that do not trade on a major U.S. exchange. Please be aware of the risks associated with these stocks.