Tesla Motor's (NASDAQ: TSLA) Model 3 is set to take the fully electric vehicle concept and put it in mainstream driver's hands and consciousness. The position of the upcoming Tesla at its expected $42,000 average selling price as stated by CEO Elon Musk is an attractive price point for a number of reasons.
Often drivers at this price range are entrepreneurial professionals who work as many hours as most of those who can afford to own a $100,000 vehicle but are simply at a different, lower-earning station in life. Infact, this segment of buyers tends to be highly value and quality conscious because they know how difficult it is to earn a buck without prior connections to serious money.
At $42,000 Tesla can afford to make a nice car. The paint will look great, the mechanical parts will be solid, and critically, the inside of the car will be composed of high-quality materials. A great driving experience is an important factor to the mainstream driver at this price point and below who, as a group, feel they work very hard in order to afford the vehicles available in the $35,000 - $60,000 range.
By entering their next vehicle at this mid-market position Tesla is able to maintain an image of quality and premium service. That's critical to the further expansion of the brand, which is already being valued as a Top Ten vehicle brand with an estimated value of $4.4 billion.
In this article we are going to take a look at how many vehicles are typically sold at the price range of $35,000 - $50,000 in order to project the Model 3's addressable market and potential annual profit generation in its early years.
The Tesla Model 3 Market Potential
Elon Musk and Tesla Motors have proven that they have what it takes to claim the number one spot in a category. The Model S is the #1 selling large luxury vehicle.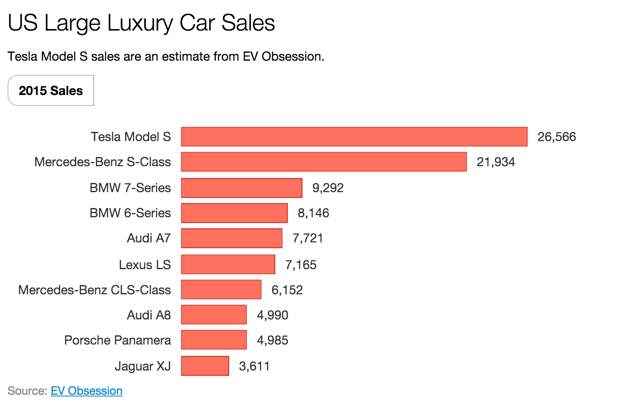 Click to enlarge
Now they plan to do the same in the mainstream.
There are a number of uncertainties in the following projections. Will consumers at these price points take to the Model 3 as luxury buyers have the Model S? Will Tesla be able to produce enough product to achieve solid profits during the early years of the product launch?
We'll have to take any exact numbers we find in the following estimation of the Model 3's addressable market with a certain grain of salt, but its critical that we get an idea of whether or not the company is really going to be able to create significant cash flow in the future.
If The Model 3 Took the Place of Its #1 Competitor..
The fellows at electrek compiled the following table of vehicles in a comparable price range to the upcoming Model 3: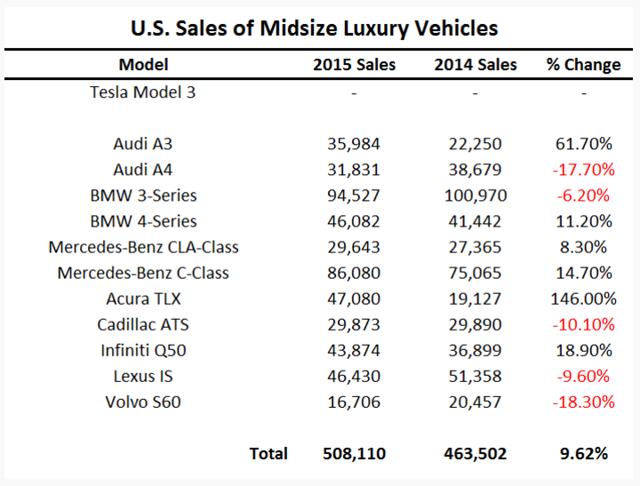 Click to enlarge
Adding up the large luxury vehicle market, we find that just shy of 100,000 cars were sold and the Model S captured about 26% of the market. The mid-size luxury vehicle market of the Model 3 is five times larger at 508,110 units sold during 2015.
If the Model 3 repeats the performance of the Model S in its given segment, we're looking at 125,000 Model 3's sold annually.
If the gas savings of the Model 3 ends up making economic sense to car buyers in the $20,000 - $34,999 price range, this vehicle may tap into the Honda (NYSE: HMC) Accord and Toyota (NYSE: TM) Camry's segment.
The Toyota Camry is #1 here with 429,355 units sold in 2015. Given that the average U.S. driver travels 13,476 miles in their vehicle each year, prices of $2.50 per gallon at 27 miles per gallon the Model 3 offers a gas savings of $1,247 per year. Granted, electricity isn't free and future gasoline prices are not yet known, this still may be a significant factor moving not only shoppers interested in mid-size luxury vehicles toward the new Tesla, but also lure lower range vehicle buyers upmarket.
As of Tesla Motor's most recent quarterly report the company earned 22% gross margin per vehicle sold.

Click to enlarge
By The Numbers & Takeaway
We have the market potential (500,000+ units annually sold in this market), anticipated average selling price ($42,000), and a reasonable estimate of the gross profit margin (22%) on the Model 3.
Let's crunch the numbers under the assumptions that Tesla Motor's claims 25%, 18%, and 10% of the midrange market, respectively. We'll ignore the sales potential of lower market buyers moving upmarket due to it making good economic sense due to gas savings.
Tesla's Entry Into Midsize Luxury Vehicle Market:

Click to enlarge
Source: Faloh Investment
The optimistic scenario for Tesla Motors' Model 3 at 125,000 units sold on an annual basis does not seem terribly unlikely when the company has already taken reservations on over 373,000 units.
With the kind of hot demand that adding 125,000 unit sales to the bottom line in a single product launch indicates, I won't hazard a guess at what kind of market capitalization investors may grant the company at that future time.
Suffice to say, Musk's Tesla Motors is on course to carve out a large and profitable share of the midrange luxury vehicle market currently dominated by the likes of Bayerische Motoren Werke AG (BMW) and Volkswagen (ETR: VOW3). The Model 3 represents Tesla's further encroachment on automakers Toyota, Honda and General Motors (NYSE: GM) territory as well, maybe even taking sales fromthe venerable Toyota Camry.
Tesla Motor's strategic entry into the midsize luxury vehicle segment and high volume of pre-orders are bullish indicators for the stock.
Additional Disclosure: This article represents the opinion of the author as of the date of this article. This article is based upon information reasonably available to the author and obtained from public sources that the author believes are reliable. However, the author does not guarantee the accuracy or completeness of this article. It is merely the author's interpretation of the information contained in the article. The author may close his investment position at any point in time without providing notice. The author encourages all readers to do their own due diligence. This is not a recommendation to buy or sell a security.
Remember to follow Faloh Investment and receive timely market insights. Click here to learn how Starbucks plans to add another $1 billion net profits to the bottom line in 2017 and beyond. Comments welcome.
Disclosure: I/we have no positions in any stocks mentioned, and no plans to initiate any positions within the next 72 hours.
I wrote this article myself, and it expresses my own opinions. I am not receiving compensation for it (other than from Seeking Alpha). I have no business relationship with any company whose stock is mentioned in this article.