WARNING: Exchange-traded products (ETPs) that use leverage to magnify performance are a dangerous epidemic. This warning is the consensus view of many individuals both inside and outside of Wall Street today.
Back in 2014, Larry Fink, the CEO at BlackRock told Bloomberg that leveraged ETFs may "blow up" the industry. Fink added that BlackRock (NYSE:BLK) would never launch leveraged ETFs and that he doesn't understand why the U.S. Securities and Exchange Commission (SEC) allows leveraged ETFs to be listed and trade.
I was contacted by a reporter this week asking for my views about a $2.9 million penalty levied by the Financial Industry Regulatory Authority (FINRA) against Oppenheimer & Co. The New York, NY-based investment firm allegedly made unsuitable sales of leveraged ETFs and had supervisory failures.
First, let it be known that leveraged ETPs - not matter what anybody says, including Larry Fink - are not the trouble. Rather, it's when leveraged products are used the wrong way by individual investors and their advisors that trouble happens. What's the right way to use leveraged ETPs? Before answering that question, I want to mention a major regulatory oversight.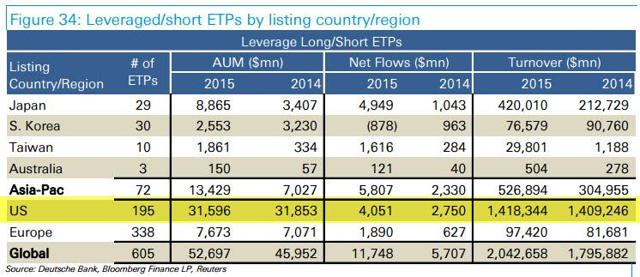 Click to enlarge
The first place financial regulators should've long ago started with properly monitoring leveraged ETPs is specifically with how these products are labeled or named.
For example, ProShares - one of the largest providers of leveraged ETFs - offers a 200% daily leverage Dow Jones Industrial ETF (NYSEARCA:DDM) and a 300% daily leveraged Dow Jones Industrial ETF (NYSEARCA:UDOW).
Instead of requiring ProShares to include the amount of leverage and that it's a daily goal in the product's actual name, the company simply refers to its 200% daily leveraged products as "Ultra" while it's 300% daily leveraged products are referred to as "UltraPro." To the investing public, "Ultra" and "UltraPro" has no meaning, nor is it a helpful label in describing what the fund(s) actually do.
In contrast, I think Direxion Investments does a much better job at labeling their leveraged ETFs.
For example, all of Direxion's leveraged products have the amount of leverage being used 1.25x (125%), 2x (200%), 3x (300%) and the fund names specifically use the word "daily" to describe the fund's leveraged goal.
If FINRA and the SEC really wants to make authentic progress with regulating leveraged ETFs, they would immediately impose uniformity in how leveraged ETFs are named.
As I've already alluded to, a good start would require ETF issuers to explicitly describe in fund names the amount of leverage being used by the fund and what the leverage goal is (daily, monthly, etc.).
Allowing investment firms to devise their own names for describing their leveraged products like "HotSizzle" and "SuperHotSizzle" in a fund's name simply cannot be allowed. Why haven't regulators bothered to outlaw this absurd labeling practice in the leveraged ETP marketplace?
If financial regulators are truly committed to protecting investors against the alleged dangers of leveraged ETPs, it's only logical they would start with imposing uniformity in how funds within the industry are labeled. Again, uniformity in how leveraged products are named and labeled is an absolute no brainer.
Finally, let's talk about the right way to use leverage ETPs. What is it? Basically, it's all about proper context. And as the diagram below illustrates, the only context or place for leveraged ETPs is inside a person's non-core investment portfolio.
For those of you unfamiliar with my approach to portfolio construction and management, a person's non-core portfolio (sometimes referred to as "satellite") always owns non-core assets. This includes a long list of high risk, concentrated, and tactical assets such as individual stocks, hedge funds, and so forth. This non-core container can also include leveraged ETPs.
It's important for you to understand that the non-core portfolio is always smaller in size compared to the much larger core. Also, unlike a person's core portfolio and margin of safety components, the non-core is not necessarily essential.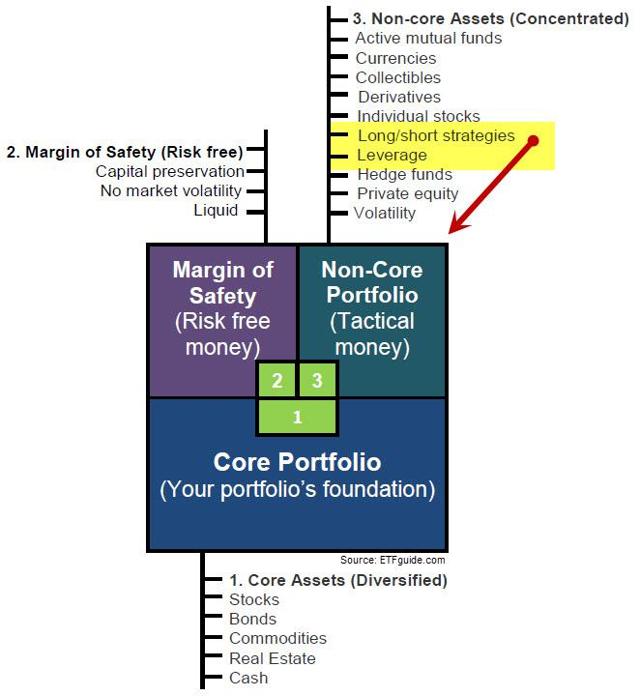 Click to enlarge
One of the most common and totally avoidable errors I've seen in the more than $125 million in Portfolio Report Cards I've diagnosed is when people mistakenly use non-core assets as core building blocks inside their core portfolio. In other words, when non-core assets like leveraged ETPs are taken out of context and allowed to be used for a function they weren't designed (as core holdings), it causes unexpected surprises. For investors, these surprises are usually bloated market losses. And for advisors, it's usually arbitration hearings and FINRA penalties. Again, these problems are totally avoidable, but only if leveraged ETPs are used within the proper context of a person's non-core portfolio.
In the end, financial regulators need to impose uniformity with how leveraged ETPs are named. And what about investors and financial advisors? They need to make sure that whenever they decide to invest in a leveraged ETP that it's exclusively done within the context of the investor's non-core investment portfolio. Any other way is shoddy portfolio construction that is bound to cause trouble ahead.
Disclosure: I/we have no positions in any stocks mentioned, and no plans to initiate any positions within the next 72 hours.
I wrote this article myself, and it expresses my own opinions. I am not receiving compensation for it (other than from Seeking Alpha). I have no business relationship with any company whose stock is mentioned in this article.