Lithium Americas (OTCQX:LACDF) (TSX:LAC) - Price = USD 0.61, CAD 0.79
Lithium Americas (LAC) is a Canadian mining company founded on April 28, 2009, and headquartered in Toronto, Canada. They took over Western Lithium in September 2015. They have three main projects - the flagship lithium brine project at Cauchari-Olaroz in Argentina, the Lithium Nevada Corp (formerly Kings Valley project) clay project in Nevada, and Hectatone Inc (manufactures organoclay products).
Why invest in a lithium miner?
Lithium mining is a leading industry supporting three separate billion-dollar industries - smartphones, electric vehicles and energy storage.
China's lithium-ion battery production tripled in 2015.
With 12 lithium ion battery "mega factories" set to come on line (or expand) by 2020 (including Panasonic (OTCPK:PCRFY), Tesla (NASDAQ:TSLA), LG Chem (OTC:LGCLF), Samsung SDI (OTC:SSDIY), BYD (OTCPK:BYDDF), Foxconn (OTC:FXCOF), according to Benchmark Mineral Intelligence (and 7 of those in China), owning more of the supply chain makes a great deal of strategic sense.
Goldman Sachs (NYSE:GS) calls "lithium the new gasoline." They forecast 22% electric vehicle (EV) penetration by 2025, and "lithium demand for all EV applications could grow more than 11x by 2025.
Macquarie Bank says "lithium is the new wonder resource in the mining sector," and that "demand is expected to systemically outstrip supply in a few years, driven by an estimated 31% CAGR of EVs to 2021."
Over the next two years, 25 new makes and models of electric cars are expected to be released. BYD and Tesla currently lead global sales.
Ford (NYSE:F) is spending USD 4.5b to add 13 new EV models to electrify 40% of its vehicle line up by 2020. General Motors (NYSE:GM) has the Bolt coming, Nissan (OTCPK:NSANY) has the Leaf, Toyota (NYSE:TM) the Prius, Mitsubishi (OTCPK:MSBHY) the Highlander, and VW (OTCPK:VLKAY)(Audi/Porsche), BMW (BAMXY:OTC), Renault (OTC:RNSDF), are all moving fast toward EVs.
The Economist magazine recently called lithium "the world's hottest commodity."
Tesla's Elon Musk also recently announced that Tesla "could triple the total planned battery output of the Gigafactory to ~105 GWh of cells and ~150 GWh of battery packs - or over 3 times the current total lithium-ion battery production worldwide." He also stated around half of this capacity would be needed to cater to the growing energy storage business.
Apple (NASDAQ:AAPL) is working on a secret project called Project Titan, to build an electric car. Musk believes Apple will have a car in the market by 2020.
Energy storage using lithium-ion batteries requires larger volumes of lithium especially for the utility sized 100kWh plus powerpacks. This can be another enormous driver of lithium demand.
Lithium Americas (Western Lithium) Cauchari-Olaroz project in Argentina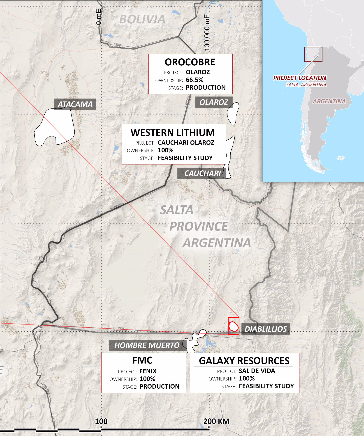 Resource
Cauchari-Olaroz is the 3rd largest lithium brine deposit in the world, behind Uyuni in Bolivia and Atacama in Chile. It is located in Argentina within the lithium triangle. Cauchari-Olaroz is the largest fully-permitted, shovel-ready lithium brine development project in the world. LAC has invested over CAD80m in the project to date, and Cauchari has already undergone extensive development work. LAC effectively owns 45.75%, SQM 45.75%, and the Jujuy government will own 8.5%.
In 2012, LAC's NI 43-101 compliant definitive feasibility study resources were an indicated 8.7 million tonnes lithium carbonate, and an indicated 26.3 million tonnes potash. The lithium grade is of a good quality similar to Orocobre at 666 mg/L.
The Lithium Nevada (Kings Valley) project is one of the largest lithium resources in North America. It is a clay resource. Currently at the PFS stage of development with a production plan of 26ktpa.
A nearby lithium brine pond undergoing evaporation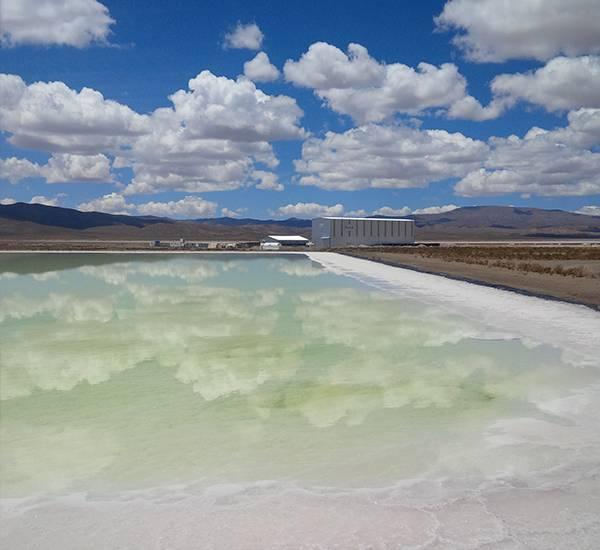 LAC 50/50 joint venture with SQM - Cauchari-Olaroz
LAC recently agreed to combine with SQM for a 50% joint venture in the Cauchari-Olaroz brine project in Argentina. LAC sees this as de-risking the project, by bringing on a well-funded and experienced partner. Whilst SQM only paid USD25m, they will share in future expenses such as the mine and processing plant construction, etc.
SQM currently has a successful lithium brine project at Atacama, producing 38,000 tonnes of LCE, and contributing USD 212m p.a. to their revenue.
It is expected that the local Jujuy government will also take a 8.5% stake in the project as they did with Orocobre (OTCPK:OROCF) (TSX:ORL) (ASX:ORE). That would most leave LAC with 45.75%.
Production target - Cauchari-Olaroz
LAC 2012 Definitive Feasibility Study estimated the following;
Start up capital costs were estimated at USD 314m.
Production of 20,000 tonnes LCE p.a., 40,000 t/p.a. potash.
40 year mine life.
Operating costs (net of potash credits) at USD 1,332.
Average annual revenues of USD 175m.
NPV (post-tax) at 8% discount rate of USD 464m, based on LCE price of $5,900 in first 10 years.
Unlevered IRR (post-tax) of 20%.
Since the study, lithium prices have increased almost 100%. The real IRR at today's lithium prices of around USD 10,000 per tonne would be a lot higher now.
The project is fully permitted (but requires some slight updates).
The 2012 feasibility study will be updated to reflect current costs (USD 550m to build the mine and plant), and the new increased mining plan of 40ktpa (45.75% will be attributable to LAC).
Construction of the mine will begin in the first half of 2017 or earlier.
Production is planned to begin early 2019, initially at 20ktpa, reaching 40ktpa by 2021.
Expected Cauchari-Olaroz project financing
Based on an excellent recent analysis done by Cormark Securities, they have estimated the following scenario for LAC to fund the USD 550m CapEx required to construct the mine and plant, prior to start-up. Noting LAC's share is 50% or USD 275m.
You can see below if LAC were to fund their 275m share with 70% debt and 30% equity, that would require issuing 110m shares at CAD 1.00. That would amount to a dilution of ~33%. This assumes the raising could achieve the price of CAD 1.00.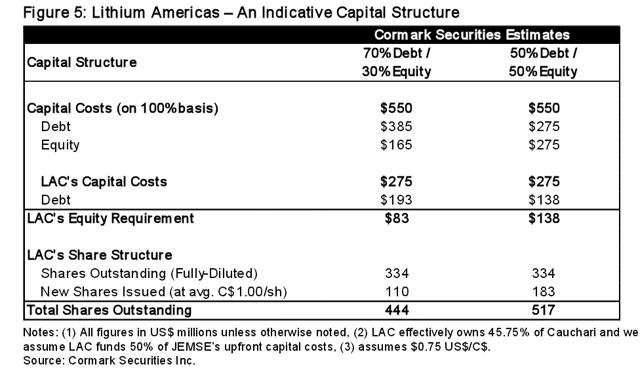 Click to enlarge
The above scenario certainly looks reasonable, especially given the quality of SQM as a partner, the fast tracking toward production and the high margin lithium business for the low-cost brine producers.
Valuation
Lithium Americas' metrics are as follows:
No P/E, as not earning yet. Earnings expected by 2019.
USD 15m in cash reserves (as of May 2016).
Zero debt, 5m liabilities.
Cormack Securities price target is CAD 1.30.
My model shows an end of 2019 stock price target of CAD 1.31, based on 45.75% share of 20ktpa production, at a lithium price of USD 10,000/t, cost of production of USD 2,500/t, and a P/E of 15. The above scenario allows for share dilution to around 444m shares. Net profit would be around CAD 45m.
By 2021, with LAC 45.75% share of 40ktpa production, my model shows an end of 2021 stock price target of CAD 2.80, based on the same above assumptions. Net profit would be around CAD 97m.
I have not yet factored in any earnings from Lithium Nevada or Hectatone Inc. However, if I did factor in Lithium Nevada at 100% of 26ktpa, it would add around CAD 80m to net profit or around CAD 0.80 per share.
Summary of Lithium triangle brine projects - by Cormack Securities

Click to enlarge
Competitors
The existing big three - SQM (Chemical & Mining Co. of Chile Inc.) (NYSE:SQM), FMC Corp. (NYSE:FMC), and Albemarle (NYSE:ALB) - earn less than 20% of their revenues from lithium, and are somewhat limited in the rate they can expand capacity. Additionally, SQM is fighting with the Chilean government. Orocobre is a strong pure-play competitor, but it is likely to bring on only 35ktpa of LCE by 2019, and new lithium demand is expected to be a lot stronger than that.
The soon to be lithium producers are really all in a rush to fill the demand gap. Some will beat Lithium Americas to market, but they are spodumene or higher cost producers.
In 2016 Neometals (OTC:RRSSF) will produce spodumene concentrate in from its Mt Marion Lithium Project with partners Mineral Resources Ltd. (OTC:MALRF) and Jiangxi Ganfeng Lithium Co Ltd. Galaxy Resources (ASX:GXY) will also start producing in 2016 around 60,000 tonnes of spodumene.
In 2017, Pilbara Minerals (ASX:PLS) is expected to come online.
European Metals (LSX:EMH), Altura Mining (OTC:ALTAF) (ASX:AJM), Nemaska lithium [TSXV:NMX] (OTCQX:NMKEF), Bacanora Minerals (OTC:BCRMF) (TSXV:BCN) and Lithium X (TSXV:LIX) (OTCQB:LIXXF) - All of these are expected to come on as producers within the next few years prior to 2021, and only Galaxy (Sal de Vida) and Lithium X (ROCEF) (TSXV:LIX) (80% owner of Sal de Los Angeles) have brine projects.
You can read a great summary of the 17 lithium miners with Ni 43-101 compliant resource estimates here.
Risks
Lithium Americas may not make it to production. Unlikely given the backing of SQM.
LAC may not be able to raise the USD 275m needed to construct the mine and plant. They may fail in a capital raise or be refused a loan. Seems unlikely given the value of the Cauchari asset and again the backing of SQM who can contribute USD 275m in cash.
Lithium price falls back sharply. Unlikely for some time as demand is rising faster than supply.
Lithium replaced by other chemistries. Unlikely, as no other technology is as compelling as lithium. Plus, lithium itself is only 2-5% of the cost of manufacturing lithium batteries. You can view the battery cost breakup here.
Lithium oversupply. Perhaps by 2021, if demand were to weaken and very large supply came on say from Bolivia or elsewhere. Not looking imminent or likely for now.
EV adoption to stop or slow considerably. Possible, but unlikely.
Political risk in Argentina. The new Government is pro-business, recently removing the 5% tax on lithium exports.
The Government may change current arrangements, as has been happening in Chile.
Liquidity risk for those investors buying on the US exchange. Better to buy on the TSXV, as higher liquidity.
Experts top picks
Joe Lowry ("Mr Lithium") - Joe likes Lithium Americas and Galaxy Resources.
Chen Lin - Likes Orocobre and Lithium Americas
Conclusion
I wrote previously about Lithium Americas in the "Lithium miners are booming" when LACDF was at USD 0.45, and again in "The junior lithium miners - high risk/high reward," when LACDF was at USD 0.58. Since then the stock has moved up only a small amount to USD 0.61 or market cap of USD 183m, therefore still giving investors a chance to buy in at good levels. By way of comparison, Orocobre which is producing now has a market cap of USD 693m.
Whilst I am still very positive on Orocobre for the long term, it has run up in price by 83% in the past year as it is now a producer.
Lithium Americas will be in that same situation by 2019. Capital costs of USD 550m can be shared with partner SQM (USD 275m each), so the project is now significantly de-risked. LAC can meet its USD 275m share, by raising USD 82.5m in equity and 192.5m in debt, with an approximate 33% dilution.
Its market cap is 3.78 x less than Orocobre, and to me represents excellent value, and an excellent time to take a position.
Near-term catalysts are an updated feasibility study coming soon, which will reveal a significantly higher NPV. Then some capital raising (and debt funding), and an announcement of mine and plant construction sometime in 2017, with production commencement in 2019.
My stock price target for Lithium Americas would be to reach CAD 1.00 after the updated feasibility study, financing is arranged and construction begins all in 2017, and CAD 1.31 by end 2019, assuming they reach production targets. By end 2021, my target price rises to CAD 2.80. That represents a 3.5 fold increase and allows for stock dilution.
Large upside potential for a soon to be producer that is largely de-risked and backed by SQM. Future upside (of around CAD 0.80 per share) once Lithium Nevada goes into production. If I include Lithium Nevada the target price would be CAD 2.11 by 2019 (a 2.7 fold increase), and CAD 3.60 by 2021, a 4.5 fold increase.
Investors should do their own due diligence and be aware of the risks as well as the possible reward.
As usual, all comments are welcome.
Disclosure: I am/we are long OROCOBRE (ASX:ORE), LITHIUM AMERICAS (TSX:LAC), GALAXY RESOURCES (ASX:GXY), PILBARA MINERALS (ASX:PLS), BACANORA MINERALS (TSXV:BCN), LITHIUM X (TSXV:LIX), CRITICAL ELEMENTS (TSXV:CRE).
I wrote this article myself, and it expresses my own opinions. I am not receiving compensation for it (other than from Seeking Alpha). I have no business relationship with any company whose stock is mentioned in this article.
Additional disclosure: The information in this article is general in nature and should not be relied upon as personal financial advice.
Editor's Note: This article covers one or more stocks trading at less than $1 per share and/or with less than a $100 million market cap. Please be aware of the risks associated with these stocks.