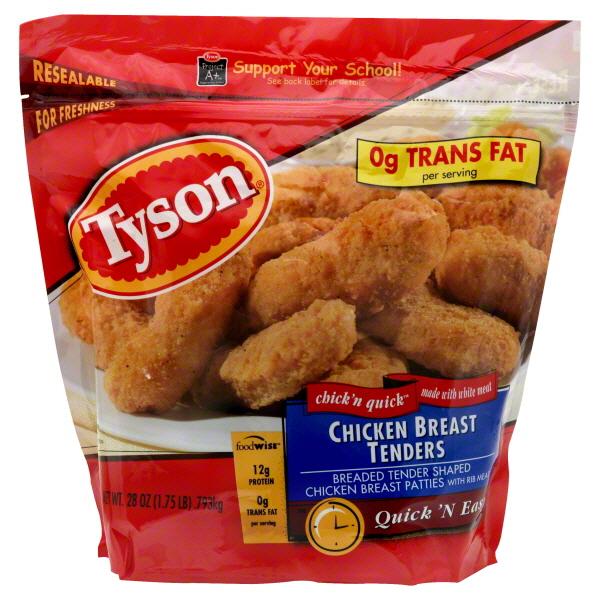 Tyson (NYSE:TSN) has had a nice run in the last year soaring from $39 in August to more than $70 last month. However, recently Tyson has fallen back under $62 alongside a recent downgrade by BMO Capital from outperform to market perform. Thanks to the downgrade Tyson is now back in the outperform range. Management has done a great job of delivering outstanding results this year and there's no reason to bet against them now.
Management Turnaround
In the last 7 months, TSN has raised their earnings outlook twice. Management's outlook was $3.50-3.65 at the end of FY15, then $3.85-$3.95 in February and now $4.20-$4.30 in May. With the number of upward revisions, I wouldn't be surprised if management is being conservative in their current estimate. Delivering on earnings would result in an increase of over 30% of last year's earnings. Tyson has accomplished this by strategically investing in operations to help reduce and control costs. This all can be seen in the increase in operating margin year over year from 5.1% to 8.1%.
(click to enlarge)

Click to enlarge
Synergies
In August 2014, Tyson closed on an $8 Billion merger with The Hillshire Brands Company. At the time, the merger was said to save Tyson $225 million in 2015 and over $500 million in fiscal 2017 in operational efficiencies. Tyson has since greatly exceeded this mark by saving $322 million in 2015 and $265 million in synergies through the second quarter of 2016. Additionally, Tyson is now forecasting to save $700 million in 2017. Not only is the merger saving Tyson in operational costs, but adding Hillshire strengthens Tyson's overall meat portfolio by adding a well-known and liked brand.
Buy vs. Growth Strategy
Specifically within the chicken segment, owning the entire production process requires significant capital, labor and overhead costs. Also, there's always the risk of under or overproduction due to external factors popping up like the bird flu virus reducing demand dramatically. To help combat this, Tyson has implemented a "buy vs. grow strategy" in which they buy the majority of the raw chicken they process instead of producing it themselves. Tyson might be able to produce most of their chicken themselves cheaper, but the risk and cost of matching supply with demand far outweighs the benefit of self-producing.
Sales
While Tyson is focusing on improving its cost structure, sales are expected to drop from $40 billion to $37 billion this year due to a mix of volume and pricing. Regarding the volume, Tyson divested chicken operations in Brazil and Mexico and sold its Heinold Hog Markets business. Excluding these divestitures, Tyson's volume is slightly up by 0.4% through two quarters of 2016. The pricing is the result of a general deflationary environment for meat prices. According to the BLS and Department of Agriculture, the average 2016 wholesale beef price has decreased by 6.2% from the 2015 average, chicken has decreased by around 5% and pork 1.5-4%. Revenue will start to increase once meat prices start going up again.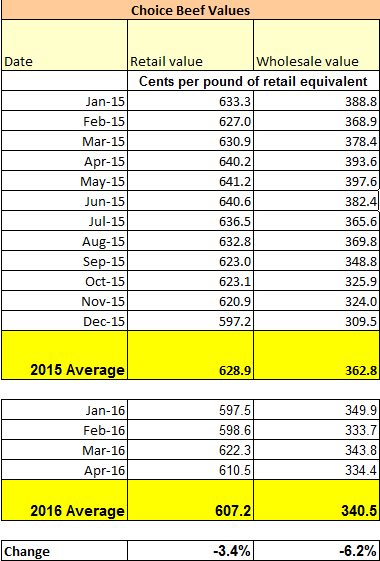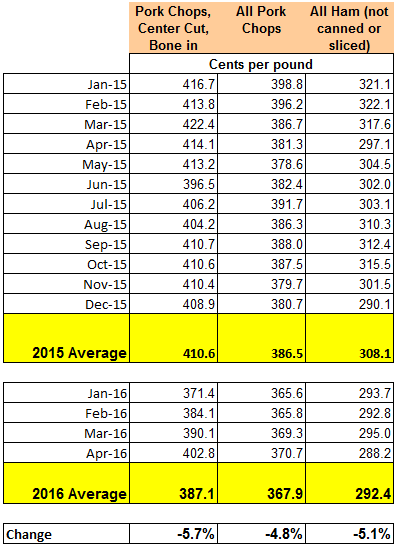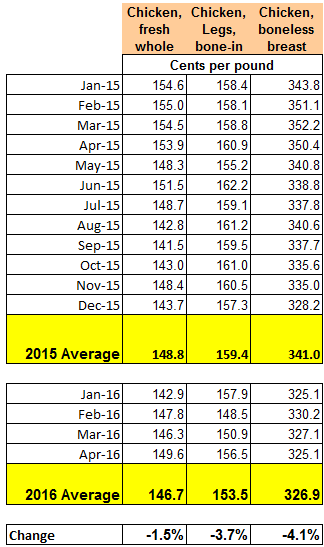 Conclusion
Tyson is a buy right now because of its solid management team that is committed to growing profitably instead of just growing the top line. You could get a little greedy and try to wait to see if the price drops under $60, but there is over 20% upside to the current average analyst price target of $75. This is a great investment for the next year, but an even better long-term buy and hold.
Disclosure: I/we have no positions in any stocks mentioned, but may initiate a long position in TSN over the next 72 hours.
I wrote this article myself, and it expresses my own opinions. I am not receiving compensation for it (other than from Seeking Alpha). I have no business relationship with any company whose stock is mentioned in this article.