"You're never too old to reinvent yourself."
Sir Martin Sorrell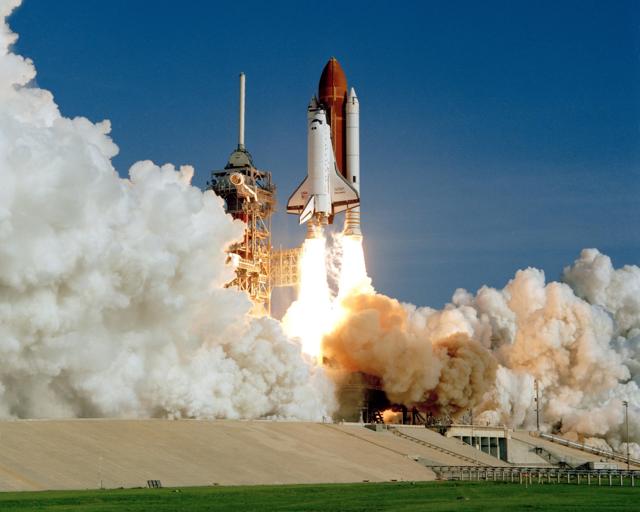 Click to enlarge
Introduction
Last week, I made a case for a potential 20% move higher in the S&P 500 Index over the course of the next year, before an ultimate market meltdown, based primarily on the prevailing levels of negative sentiment that are now in place.
This week, I am examining another positive factor that could positively impact the broader equity markets, and this is the end of negative earnings estimate revisions.
Thesis
After two years of negative revisions, earnings estimates are about to turn higher, providing further fuel for the final innings of the current bull market.
Earnings Estimates Have Been Coming Down
Over roughly the past two years, the S&P 500 Index, as measured by the SPDR S&P 500 ETF (NYSEARCA:SPY), has traded sideways, after an explosive surge higher that began out of the 2011 lows.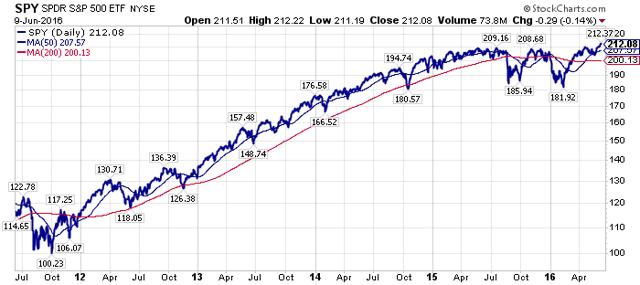 Click to enlarge
While the S&P 500 Index has churned, and even improbably rallied from its 2016 lows, earnings estimates, for the S&P 500 Index, have continually declined.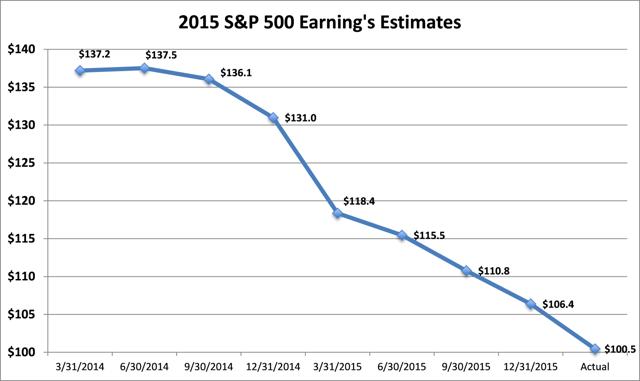 Click to enlarge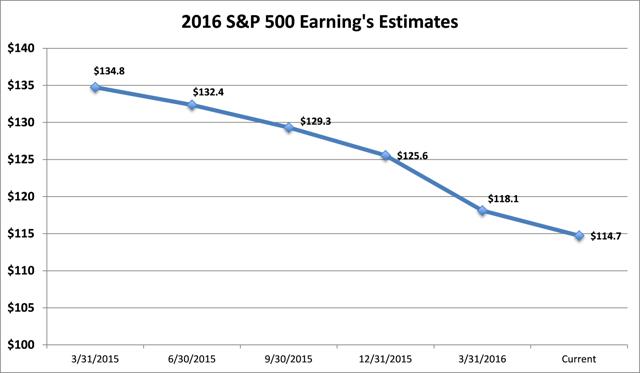 Click to enlarge
Adding further fuel to the bear case is that the decline in S&P 500 Index earnings estimates has actually understated the actual decline in actual, as reported earnings.
Declining Earnings Create Negative Sentiment
Understandably, the decline in earnings has made investors, including myself, pessimistic on the markets prospects. The chart below, which I showed last week, from Bespoke, illustrates that when investors are historically this bearish; the stock market has usually experienced a significant rally, of nearly 20% on average.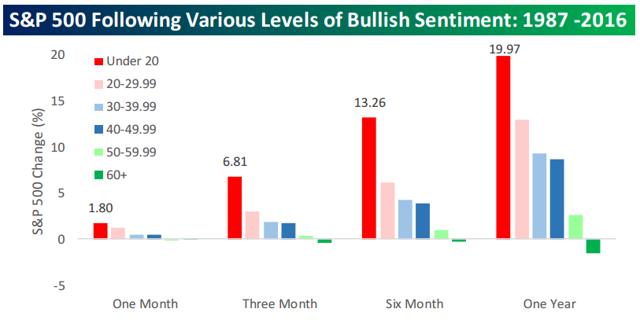 Click to enlarge
Building Out The Bullish Case
Sentiment is negative as earnings estimates, and actual operating results, have declined for nearly two years straight. However, according to Ned Davis Research, one of my favorite providers of independent, actionable market research, whom I have used for over a decade, MSCI World Index earnings are set to turn higher.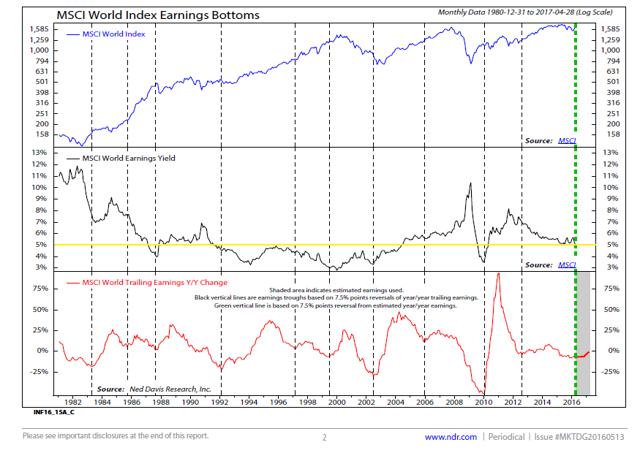 Click to enlarge
Headwinds Are Abating
The negative headwinds on a year-over-year basis that have hurt earnings, including declining energy sector results (NYSEARCA:USO), (NYSEARCA:UNG), (NYSEARCA:XLE), and a stronger U.S. Dollar (NYSEARCA:UUP), are abating.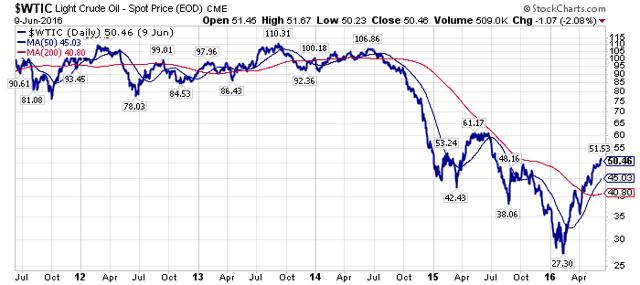 Click to enlarge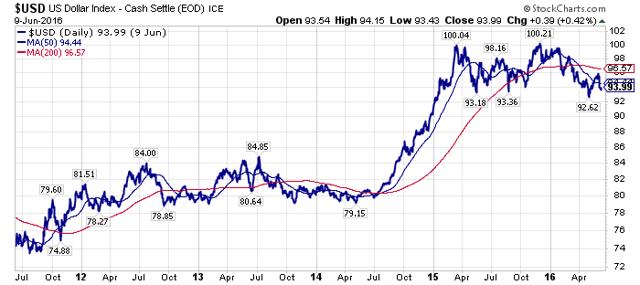 Click to enlarge
An Upturn In Earnings Estimates Leads To A Rally
Historically, according to NDR, when the MSCI World Index's earnings bottom, there is a significant, investable rally, of roughly 15% on average.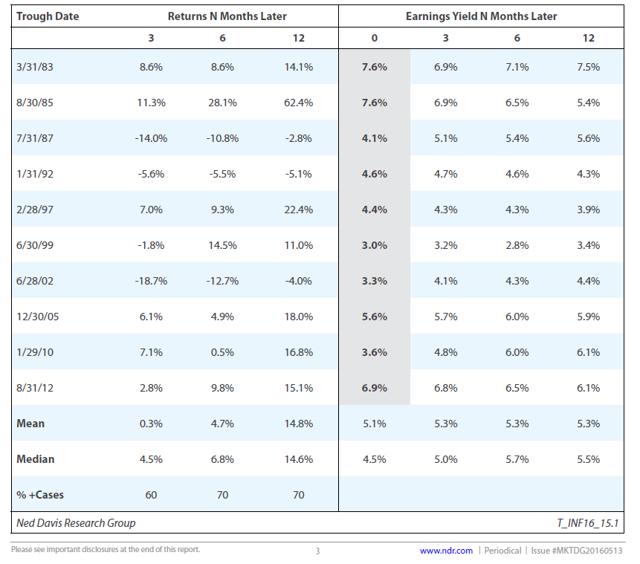 Click to enlarge
MSCI World Index
Look for the MSCI World Index, as measured by the iShares MSCI ACWI ETF (NASDAQ:ACWI) to outperform the S&P 500 Index on a relative basis, as out-of-favor developed international markets (NYSEARCA:EFA), and emerging international markets (NYSEARCA:EEM) bounce back in a reversion-to-the-mean trade.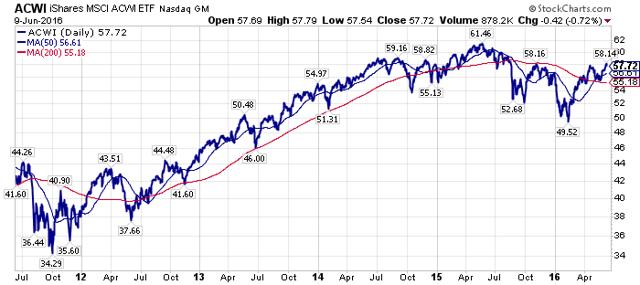 Click to enlarge
Conclusion - Earnings Lift Could Provide One Last Boost
It is no secret that I believe the stock market is extremely overvalued, yet an upturn in earnings estimates could provide the fuel for the final innings of the current bull market.
I have regularly used a table I have created, using data from GMO, to illustrate the meager returns awaiting investors over the next seven years.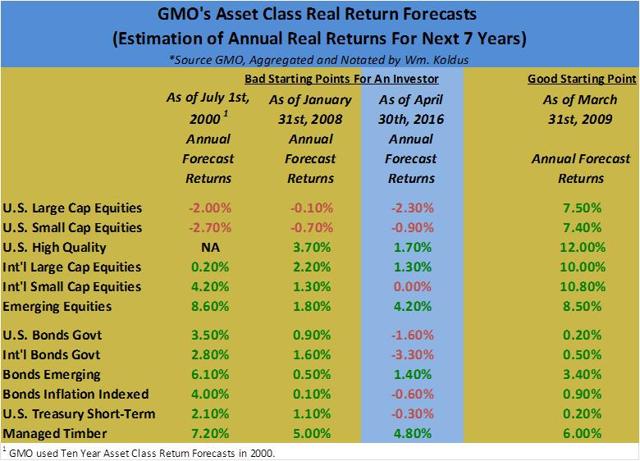 Click to enlarge
With prospective future returns, from today's price levels, negative over the next seven years, it is my opinion that investors need to consider alternative investment strategies.
These include long/short equity strategies, strategies that emphasize heavier cash weightings, so that investors can preserve cash to buy assets on pullbacks, and strategies that focus on out-of-favor inflationary assets.
Disclosure: I am/we are short SPY AGAINST A BROAD INFLATIONARY BASKET OF SECURITIES.
I wrote this article myself, and it expresses my own opinions. I am not receiving compensation for it (other than from Seeking Alpha). I have no business relationship with any company whose stock is mentioned in this article.
Additional disclosure: Every investor's situation is different. Positions can change at any time without warning. Please do your own due diligence and consult with your financial advisor, if you have one, before making any investment decisions. The author is not acting in an investment adviser capacity. The author's opinions expressed herein address only select aspects of potential investment in securities of the companies mentioned and cannot be a substitute for comprehensive investment analysis. The author recommends that potential and existing investors conduct thorough investment research of their own, including detailed review of the companies' SEC filings. Any opinions or estimates constitute the author's best judgment as of the date of publication, and are subject to change without notice.