Tag Oil (OTCQX:TAOIF) recently began to do more than collect the money from the oil production. Ever since the last article was written, oil and gas prices have continued downward. So the founder at first ran the company after the senior managers resigned. Since oil and gas prices were declining, there was certainly no rush to replace key senior personnel. Especially since the company ceased drilling new wells. Slowly but surely, the company has been hiring key personnel to replace the executives that had resigned.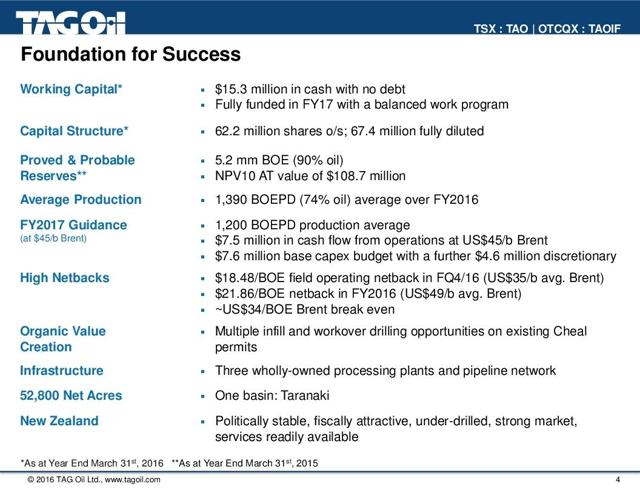 Click to enlarge
Source: Tag Oil, April, 2016, Institutional Presentation
Tag Oil is a Canadian company with operations in New Zealand. New Zealand offers a stable government with a western style democracy, a fair amount of stability, and a government that wants to help the oil industry. Tag has had operations in New Zealand for several years, though its oil production is actual quite recent (less than five years).
The latest fiscal year was brutal at the nine month measurement with only about C$2.7 million in cash flow before the change in non-operating working capital accounts. After that change is taken into account the cash flow expands to C$3.4 million, but that amount is still a small fraction of the cash flow from operations for the previous year period of $23 million. However, just the fact that the company had any cash flow at all puts the company way ahead of many companies in the industry with negative cash flow.
Given the current market value of the company of C$52 million the stock may seem expensive. But the company has $C15 million in cash that can be subtracted out, and with the rally in commodity pricing, management is now predicting at least C$7.5 million cash flow in the future, making the stock price a mere 5 times expected future cash flow. Since oil prices are currently higher than management's guidance, the stock is cheaper than these calculations suggest.
Then the company and its partner purchased the new 21,000 acre Puka permit lease from a company that was liquidating. Initially, the partners plan to start a survey of the lease with a possible well by the end of 2018. How important this lease will be to the company future has yet to be determined. However, any property purchased in the middle of an industry downturn as significant as the latest down-turn should be watched carefully. There is a significant chance that operating costs on this lease will be as low or lower than the leases that the company already owns and has production. There is also a significant chance that the leases could contain no oil. But the company appears to have done enough homework to minimize that chance.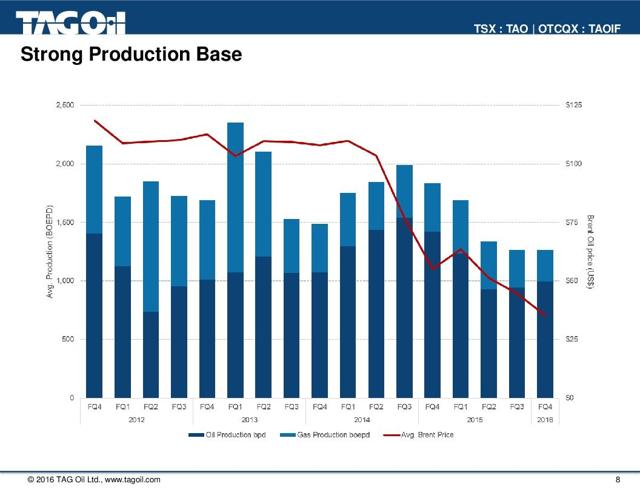 Click to enlarge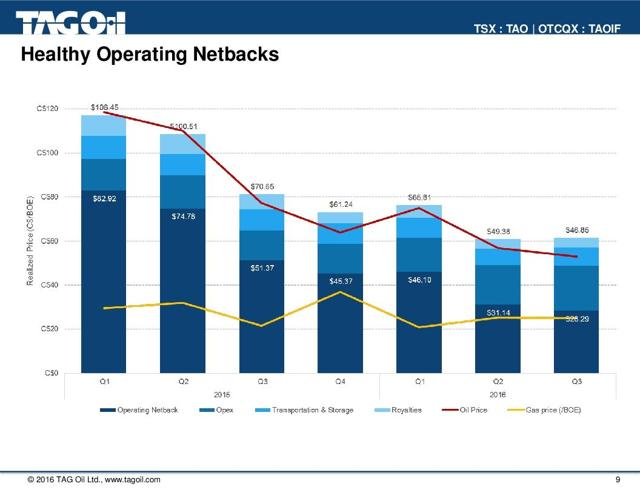 Click to enlarge
Source: Tag Oil, April, 2016, Institutional Presentation
Its low cost production can easily expand once management is convinced of the staying power of the latest price rally. Those generous netbacks pictured above will be providing some excellent cash flow as commodity prices improve. Since a fair number of competitors are going bankrupt, oil and gas prices are unlikely to significantly decline and stay lower for more than a short while.
Management hopes to reduce costs further by introducing a waterflood program. The progress of this program should be updated around the end of June or so. Preliminarily, management has guided to about 1,200 BOED for the current fiscal year until the full effects of waterflooding and some rework programs are known. At year end, net production had topped 1,500 BOED.
As shown below, the waterflooding will decrease the decline rate. Should that trend continue, the amount of resource recovered should increase considerably, lowering the costs of the project.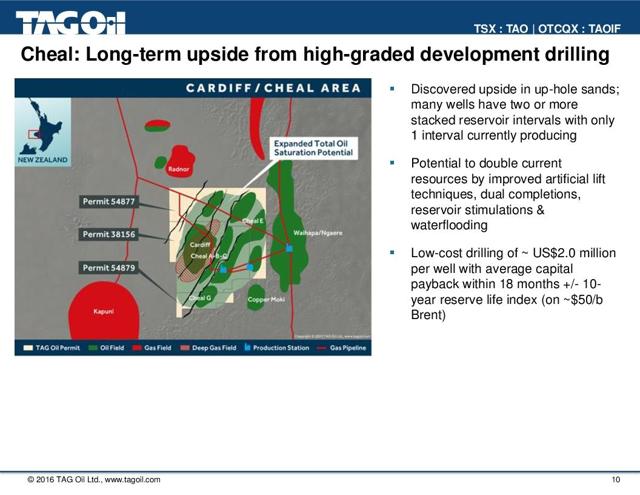 Click to enlarge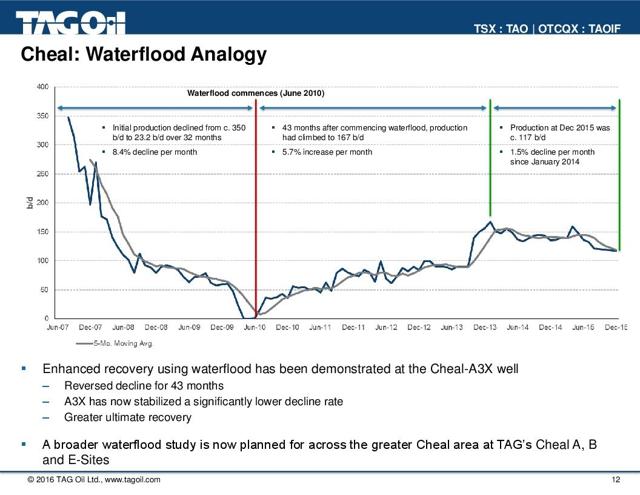 Click to enlarge
Source: Tag Oil, April, 2016, Institutional Presentation
Clearly the company is in the early stages of exploring its leases. The current waterflooding project and recompletions in different zones can keep the company busy for some time until either industry conditions improve enough to start drilling more wells or until another attractive opportunity becomes available. Currently all of the company's operations are in New Zealand, although management has expressed interest in expanding to Australia where several senior managers have experience.
With the wells being fairly simple vertical wells that cost $2 million, the company has the ability to double its production fairly quickly. This operating leverage will be an advantage as commodity prices rally and so will the lack of long term debt on the balance sheet. In fact, the current ratio of the company is approximately 8:1. So for a company its size it has extra cash that can be used for more acquisitions or to accelerate production expansion if needed. Plus the company has the ability to obtain a line of credit, should one be needed with its debt free balance sheet.
The company has drilled deeper wells in the Cardiff area. As noted before, the company had a discovery with the Waitangi well. However, the well design was not able to handle the pressure so the well was abandoned for safety reasons. The abandonment of this well could probably have been the source of several senior manager resignations. At some point, this deep discovery that is part of the Cardiff will be re-examined for its potential and will probably add to the value of the company. If the company has the ability to re-enter this well and rework it, the additional production could be added with a relatively low additional cash investment.
Plus management has the ability to make more acquisitions (even using debt if needed to acquire an attractive candidate). That cash flow figure is very conservative and could expand as management lowers production costs through the use of waterflooding and other modern techniques. With its debt free balance sheet and low costs, the company may be a takeover or buyout candidate in the future. Investors could do far worse than this company.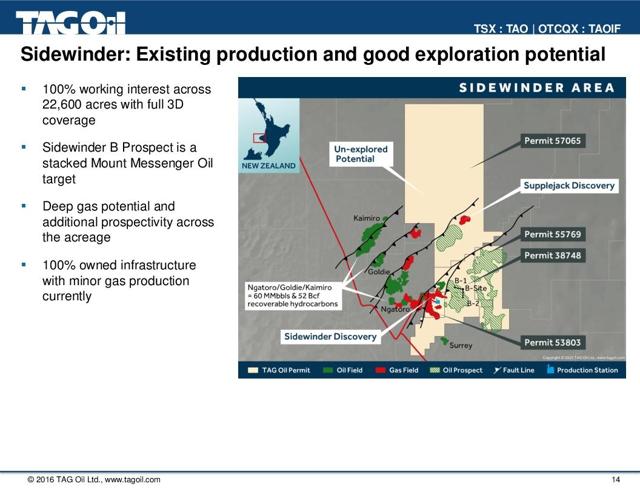 Click to enlarge
Source: Tag Oil, April, 2016, Institutional Presentation
These leases also offer some gas potential. Since the infrastructure is already present, additional wells can be drilled and production expansion can be achieved with less cost and hassle. These deep wells are a higher risk for a company this size. Therefore the company probably will not develop these leases without a joint venture partner to lessen the risk. Another possibility would be for the company to expand its oil production to the point that developing these leases would be not so risky for the company, although that would take a few years. Nonetheless, the minor production does hold the leases and give the company some flexible options.
The company also has some off-shore leases that it will probably develop by way of a joint venture.
Tag Oil remains a play on the future of the New Zealand oil and gas industry. The company does have some cash flow to maintain its production, and this debt free company is cheap. While its future prospects are speculative, the current low stock price relative to some very depressed cash flow probably indicates that the risk of losing money by investing in this company is low. A major discovery on any of the company leases could return this company to favor quickly. With the majors, such as Chevron (NYSE:CVX) currently bidding on leases in New Zealand, a major discovery on one of its leases is a distinct possibility. In the meantime, the company has cash flow and the ability to expand its production. Management also has some solid exploration prospects available. Typically investors invest in a company such as this with a goal of at least tripling their money. With a current market value below C$100 million and two discoveries already, this company's stock could easily triple over the next five years. If all management did was invest the cash on hand, management could more than double cash flow. Any exploratory discoveries are extra. So with the latest rally in commodity prices, this stock appears to be an excellent speculation.
Disclaimer: I am not a registered investment advisor, and this article is not to be construed as an offer to purchase or sell stock. All investors are recommended to read all the filings of the company and the press releases to assess for themselves whether or not this company fits their investment risk profile.
Disclosure: I/we have no positions in any stocks mentioned, and no plans to initiate any positions within the next 72 hours.
I wrote this article myself, and it expresses my own opinions. I am not receiving compensation for it (other than from Seeking Alpha). I have no business relationship with any company whose stock is mentioned in this article.
Editor's Note: This article covers one or more stocks trading at less than $1 per share and/or with less than a $100 million market cap. Please be aware of the risks associated with these stocks.