Consumer Credit
Consumer credit, which excludes mortgage debt, rose $13.42 billion in April. This was the smallest increase in a year, as can be seen below. Revolving credit, which is predominately credit card debt, rose at just a 2% annualized rate. This data indicates consumers were a little more cautious in their spending habits as the second quarter began.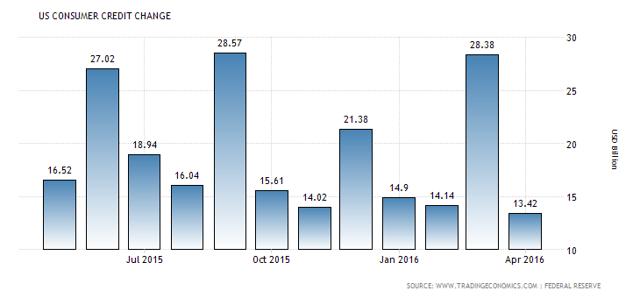 Click to enlarge
The relevance of this data is that it runs in stark contrast to the Commerce Department's estimate of a surge in personal spending of 1.0% for April, which was the fastest pace of growth in seven years. It also raises questions about the estimated surge in retail sales for April, driven by online spending. We suspect there will be meaningful revisions to these numbers in the coming month.
Wholesale Inventories
Inventories held by wholesalers grew a much larger than expected 0.6% in April. The expectation was for a 0.2% increase. The one positive aspect of the report was that sales increased at a faster pace (+1.0%) than the build-up in inventories for the month, but on a year-over-year basis we are still moving in the wrong direction. Wholesale sales are down 2.6%, while inventories are up 0.9%. The slightly faster pace of sales led to a decrease in the inventory-to-sales ratio, which still stands at an expansion high of 1.35. This is up from the year-ago level of 1.31.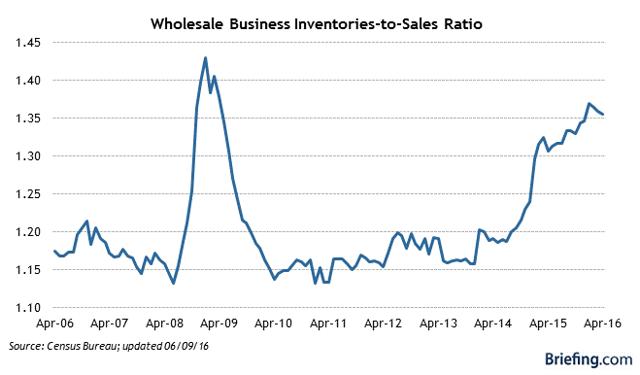 Click to enlarge
Inventories continue to grow on a year-over-year basis, while sales continue to decline, as can be seen below. The increase in business inventories for March means that first-quarter economic growth will likely be revised higher, but it also portends weaker rates of growth moving forward until the excessive inventory levels are reduced.
Productivity
Productivity measures how efficient workers are in producing goods and services. Productivity decreased at a 0.6% annual rate in the first quarter, and as a result, unit labor costs rose at an upwardly revised pace of 4.5%. On a year-over-year basis productivity is increasing at a paltry 0.7%, while labor costs are rising 3.0%.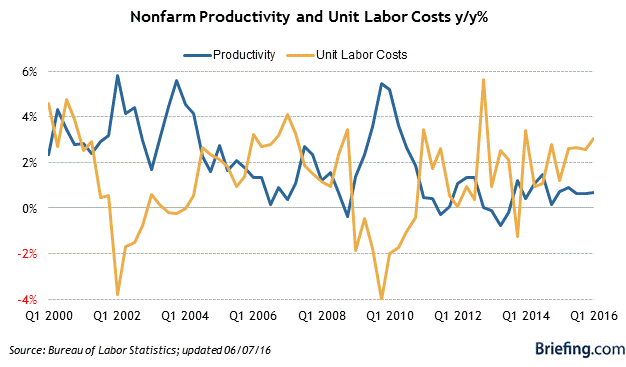 Productivity remains extremely weak during this expansion. This is largely due to the lack of capital investment in plants and equipment by corporations since the economic recovery began. Instead, corporations have placed more emphasis on financial engineering.
Conclusion
As we have postulated for the past five months in this weekly writing, we are nearing the end of the current economic expansion. We see it in declining corporate profits, flat equity returns, declining long-term bond yields, and now it is showing up in the economic statistics. In particular, the labor market data. Those more optimistic assert that we are not seeing the excesses that result from a huge build-up in debt, which has typified the end of previous cycles. Nor are we seeing runaway inflation that forces the Federal Reserve to tighten monetary policy.
To the contrary, we have seen a record build-up of debt, but it is not on the consumer balance sheet. Instead, it is on government balance sheets. The excesses and inflation can be found in financial market valuations rather than consumer goods and services. This is because the credit, as in fuel, has been provided to investors instead of consumers. This is an economic expansion unlike any other, and the signs of its unraveling are likely to be unrecognizable to most.
Disclosure: I/we have no positions in any stocks mentioned, and no plans to initiate any positions within the next 72 hours.
I wrote this article myself, and it expresses my own opinions. I am not receiving compensation for it (other than from Seeking Alpha). I have no business relationship with any company whose stock is mentioned in this article.