Traders are selling Bank of America (NYSE:BAC) this week on the idea of lower rates for longer. The share price is down 9% or $1.30 since May 25th. Twice in the last few weeks, the stock has made a run, cracking the $15 level only to break back to the downside.
As a trader, I have listened to all the rhetoric from the talking heads on the direction of interest rates and where the market sees the future of the banking industry. The market is voting that there will not be a raise, but I wonder if the market is wrong.
On the last conference call, CEO Brian Moynihan outlined his plan for BAC and buying back company stock. I believe there is a solid floor in the $12.50 range. In other words, at this price, risk reward is on the side of the longs.
Last week, I wrote an article stating Bank of America was going to $20. I still believe Mr. Market will take the stock to that level quicker than people think, however, it now needs to fill the gap created at $13.27 on April 12th.
Investing and trading are two different animals in this market. What do I mean when I say know your exit points before making any trade?
Here it is, short and sweet: When you buy a stock, know when you're willing to sell it whether it goes up or down and then have the conviction to do just that. Yesterday, I sold BAC as the charts told me it was wanting to retest the gap created almost one month ago.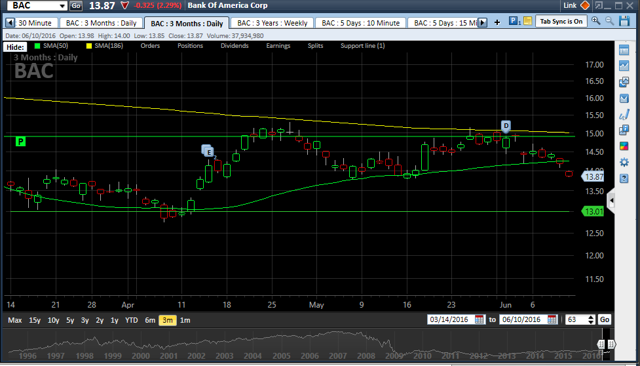 Click to enlarge
You can see the bottom green line showing the gap up and the attempt to break out over $15 twice in the last two weeks. For the long-term investor, today is a fine entry point, but this algorithm is likely to find a way down to that $13.27 level and then push that a little further to the downside. As a trader, I will likely be buying between $12.69 and $13.12 if it gets there.
Will the Fed raise or not?
There are some really smart people on both sides of this argument. I think they will raise at least once this year, but I could be wrong. We will all get more clarity in the next 10 days after Brexit comes to fruition.
Shorting the market has caused massive pain for many
The market is near all-time highs, and the bears have been getting their hat handed to them on most every occasion.
Just look at this chart of the VIX (NYSEARCA:VXX).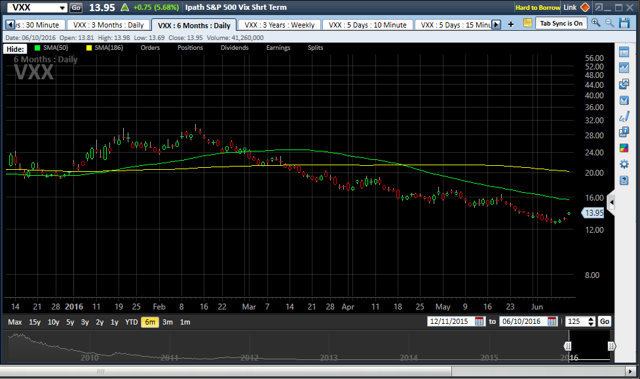 Click to enlarge
Three days ago, it touched $12.60; it is now up over 10% in the last couple sessions. This can be a great short-term hedge, but the rallies have been short lived.
Before any stock makes a big run, it almost always sells off in a panic with lots of negative sentiment. I believe that this trade is setting up to be another one of those situations.
Bottom line
Bank of America is testing the lower end of its recent trading range, and the market is set up for a temporary sell-off. BAC is the largest deposit holder in the US. Brexit has people on edge, and this may be the perfect opportunity in the next days to pick up BAC on the cheap for the 50% run to $20. As always, know your risk tolerance and exit point before making any trade.
Disclosure: I/we have no positions in any stocks mentioned, but may initiate a long position in BAC over the next 72 hours.
I wrote this article myself, and it expresses my own opinions. I am not receiving compensation for it (other than from Seeking Alpha). I have no business relationship with any company whose stock is mentioned in this article.