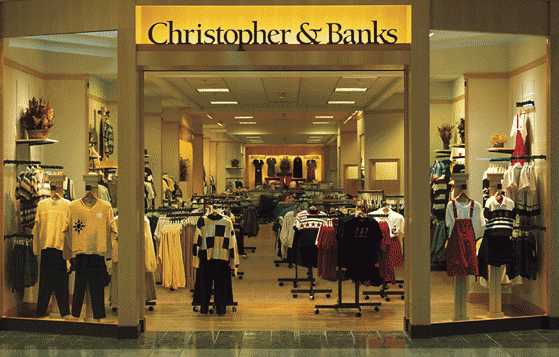 Women's apparel retailer Christopher & Banks (NYSE:CBK) has been left for dead by investors over the past couple of years. Losses have mounted, and the company continues to struggle to pull itself out of the hole it has dug. But the stock is up roughly 130% from the lows set last December, and a sizable rally off of the Q1 report has investors interested in buying the stock again. With shares up so much, so quickly, is this a case of a knee-jerk rally or is CBK making a significant, long-term base?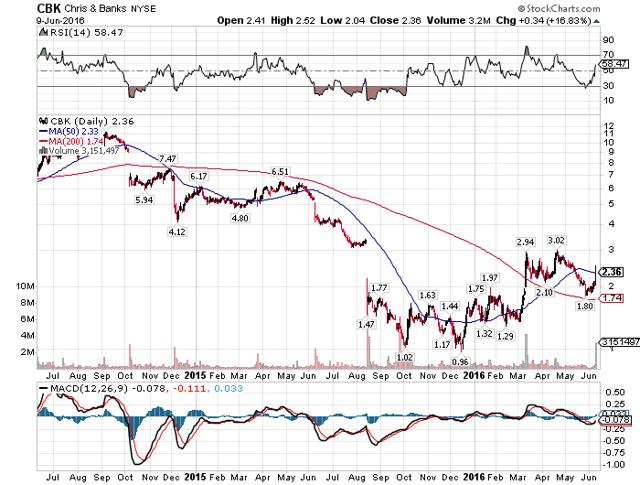 Click to enlarge
Total sales were up an impressive 9% in Q1 as CBK produced a very impressive 6% comp. That compares to last year's Q1 comp of -11.7%, and while a two-year stacked comp of -5.7% isn't anything to write home about, the improvement is impossible to ignore. CBK was trading for a dollar last fall because of things like -11.7% comps, but Q1 showed that the turnaround effort is gaining some traction and should not be overlooked.
In addition, margins saw a sizable improvement as gross margins gained 250bps to 37.7% of revenue. While those margins are fairly low for an apparel-focused retailer, the improvement is tremendous. It means CBK is returning to a place where it may see some pricing power once again, and while we're a long way off from that, simply reducing dead inventory and the resulting discounting that inevitably takes place is a huge step forward. CBK should be very proud of the work it accomplished in Q1 with respect to comp sales and especially with respect to margins.
The company still posted a loss in Q1, but it was much smaller than last year's loss, and indeed, was very close to break even. Again, these results by themselves aren't impressive except when viewed through the lens that this is a $2 stock that was trading like it was going out of business six months ago. Breakeven would be a huge accomplishment for CBK, but it seems that may be at least a year off.
CBK also has a very important piece of the puzzle on its side and that is a clean balance sheet. The stock is trading right at book value, and its only long term liabilities are leases, and even at that, they are small in magnitude. Given that CBK is reducing its cash burn and is producing the terrific improvements in operating results we looked at, its balance sheet will allow it to operate indefinitely and, more importantly, allow for strategic investment in the business where prudent. That's something a lot of turnaround stories don't have on their side but CBK certainly does.
CBK doesn't have positive EPS, so valuing it based upon earnings is impossible. But, as I said, it is trading for book value with very limited non-trade liabilities and that's a terrific thing. It will be a long time before CBK can grow its EPS to the point where it can see share price appreciation based up on that, but if the company continues to produce nice results like it did in Q1 and in particular, if it can produce positive EPS for a quarter this year, buying interest will move up in the stock and investors will certainly become interested enough to move shares higher.
At this point, given that CBK is trading for book value, you really need to believe in the turnaround story to buy here. Shares at $1 were obviously too cheap considering the strength in the balance sheet, but at book value, you can't make the same argument. For that reason, I'm cautiously bullish here pending Q2 results. The stock isn't cheap enough for me to take a flyer on it, but if it trades with a one handle again, I'll be interested. One quarter is not a turnaround, but Q1 certainly looked very good in comparison to other recent results for CBK, so I'm cautiously optimistic here.
Disclosure: I/we have no positions in any stocks mentioned, and no plans to initiate any positions within the next 72 hours.
I wrote this article myself, and it expresses my own opinions. I am not receiving compensation for it (other than from Seeking Alpha). I have no business relationship with any company whose stock is mentioned in this article.
Editor's Note: This article covers one or more stocks trading at less than $1 per share and/or with less than a $100 million market cap. Please be aware of the risks associated with these stocks.