I still strongly favor Bank of America (NYSE: BAC) shares, but for the last couple of weeks, I bet holders are feeling like an opponent of the great Muhammad Ali. The Greatest, God rest his soul, was known for wearing opponents out by making them chase him around the ring and by blocking their early barrages. Then, finally, after tiring them out, he would back up against the ropes for one last bit of exhausting trickery, before unloading on the tired out dope.
Holders of Bank of America are probably feeling that same sort of exhaustion these days, especially after the last couple of body blows we have taken. So is Bank of America a dope on a rope? Or, are the sellers of BAC shares here the real dopes, tired out by the volatility and now knocked out of the stock just before the big opportunity is realized?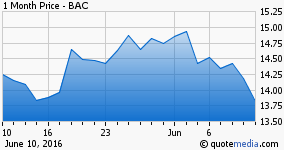 1-Month Chart of BAC at Seeking Alpha
Bank of America holders have taken two big body blows over the last couple of weeks. First and foremost, the last Employment Situation Report completely altered market sentiment about the next Fed rate hike. It was especially frustrating, given that just before the data release, we learned from the last Federal Open Market Committee (FOMC) meeting minutes that many Fed members were itching to move rates higher. It seemed sure the Fed would raise interest rates in June after that release.
But when the jobs data for May showed nonfarm payrolls only increased by 38K (body blow #1), suddenly sentiment about the Fed changed. Considering there is a trend of decreasing job creation over the last three months, with significant revisions lower of the prior months' figures, it is all the more troubling. I was looking for a sub-100K number myself (see my Twitter), because of the weekly jobless claims data in May and the information we had about the Verizon (NYSE: VZ) strike impact. Still, 38K is far too close to zero. If the Fed is not raising rates in June and we need more information before we can say for sure about July, the case for BAC is weakened.
The second body blow, though it may have been first on the calendar, was the auto sales data for May. Automakers reported significantly lower sales for May, with General Motors (NYSE: GM) leading all losers and Ford (NYSE: F) not doing well either. Bank of America is a major auto lender and so any trouble signaled in autos reaches BAC shares, as it should. Lower auto sales also signal poorly about the state of the consumer in America, and the media jumped all over the data and speculated about "peak auto sales" and extended lending.
Those two body blows battered BAC shares over the last couple of weeks, and caused some shortsighted investors to sell the stock. I think that was a mistake, and here's why.
First the auto sales were misreported and misunderstood, as I explained in my report about the May auto sales. There were two less selling days in May that caused the comparison to be anomalous if not inappropriate. Secondly, the Memorial Day holiday fell at the close of the month this year, whereas it was a week earlier last year. I believe that caused some sales to fall into June. Importantly, the aggregate data showed that the seasonally adjusted annual pace of sales for May, at 17.5 million, was up from April's 17.4 million, and it was better than the economists' consensus expectation (17.4 million) as well. Now it was still lower than last May's pace, but we know why.
Secondly, the market's perceptions about the Fed are likely overdone now. I am still looking for a Fed rate action for no later than July, and the market currently estimates just a 23% chance of that happening. Fed Funds Futures indicate the Fed action will not come until all the way out to December. I think that is wrong.
I believe the May jobs data was a remnant of the generally poor first quarter, which I saw as a product of an anomalous negative feedback loop. If I am right, the job creation data will improve moving forward and not continue the deterioration trend of the last three months. Recent jobless claims data concurs with my view, as it has improved importantly.
Anyway, economists expect job creation to normalize at a lower level given near full employment levels. The unemployment rate marked a two-tenths improvement to 4.7% for May, though that benefited from a shift in workforce (a follower of mine reminded me recently in a comment below an article that we should see 100K a month leave the workforce due to the aging of baby boomers).
So, if I'm right, then the two body blows we took recently were blocked. That means sellers of BAC have been roped like a dope and have been knocked out of the shares by an anomaly. BAC shares continue to trade at a severe discount to peers and cheaply relative to book value, and represent to me an important opportunity. Holders of BAC will be looking here for mention of this month's specific industry risk of the CCAR. I'm going to cover that and how to navigate that risk in a near-term report. I welcome interested readers to follow my financial column here at Seeking Alpha for that report and for my close regular coverage of BAC.
Disclosure: I/we have no positions in any stocks mentioned, and no plans to initiate any positions within the next 72 hours.
I wrote this article myself, and it expresses my own opinions. I am not receiving compensation for it (other than from Seeking Alpha). I have no business relationship with any company whose stock is mentioned in this article.