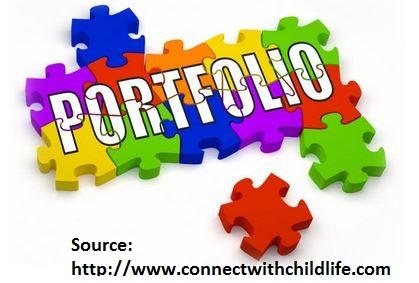 This is the 7th article in the series of putting together a $100,000 portfolio of CEFs and ETFs that offers 7% cash dividends annually while at the same time growing or at least maintaining capital. You can read the first 6 articles by clicking here. The goal is to design a portfolio that generates the cash a retiree requires to live on that does not need monitoring on a daily basis; someone whose situation is similar to my own.
This article follows the health care CEF study to find and back test health care ETFs to ascertain which fund or funds offer the best alternative for this portfolio. The ETF screener presented the following funds over 5 years old with the lowest expense ratios:
Since XBI, XHS and XHE are specialized within the health care industry they were excluded from this list and 3 other health care ETFs with low expense ratios were chosen:
Guggenheim S&P Equal Weight Health Care ETF

(NYSEARCA:RYH)

iShares U.S. Healthcare ETF

(NYSEARCA:IYH)
First Trust Health Care AlphaDEX ETF (NYSEARCA:FXH)
These 5 funds were placed in TD Ameritrade's Compare Funds table.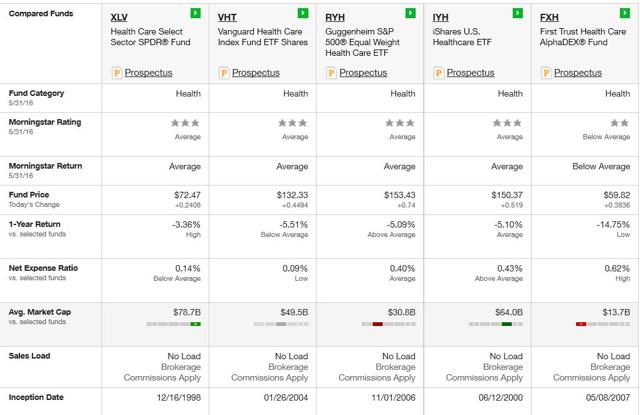 Click to enlarge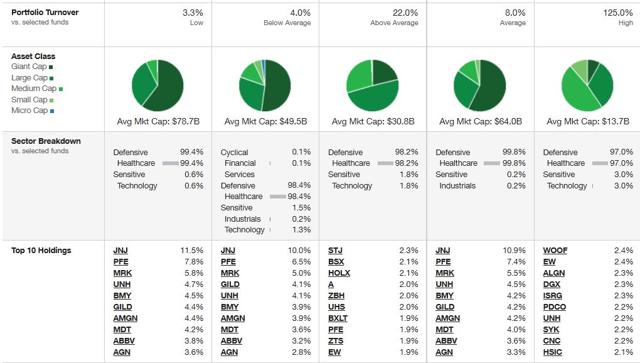 Click to enlarge
Source: TD Ameritrade Web Site
Starting with XLV this article back tests these ETFs 5 years to ascertain the best performer. The graph for XLV is below.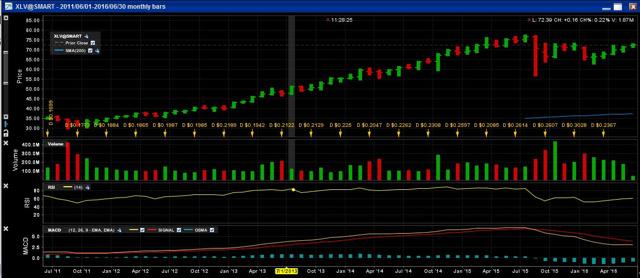 Click to enlarge
Source: Interactive Brokers Web Site
XLV started trading at $35.00 per share 5 years ago and currently trades at $72.00 per share. It has more than doubled over the 5 year period, a sure cure for helping one's portfolio take care of inflation. Dividends for the first year started at $0.7434 and amounted to $1.06 per share for the last 4 quarters; a yield of just over 1%. Since the dividends do not meet the yield objective of this portfolio, stock sales to cash in on capital gains are necessary to make up the 6% difference. If one has a low cost broker and one doesn't mind selling stock every year, this ETF is a possibility for the portfolio. Notice how closely this fund follows the health care select index by looking at the graphs below.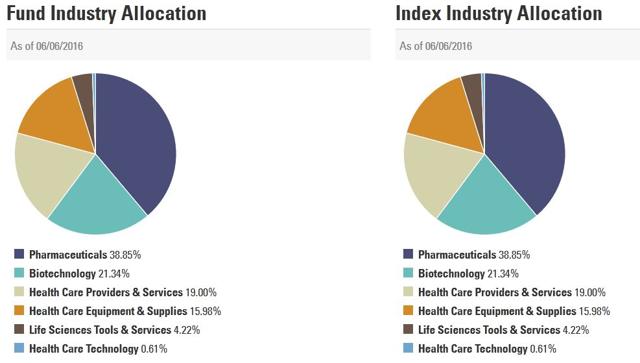 Click to enlarge
Source: State Street Global Advisors Website
The next graph for VHT is shown below: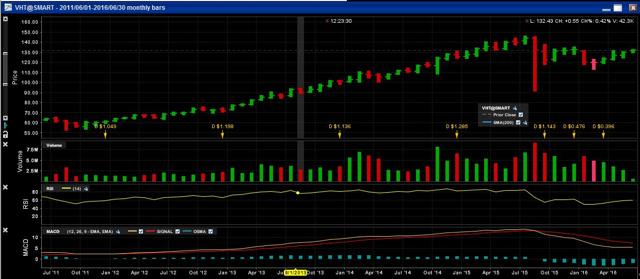 Click to enlarge
Source: Interactive Brokers Web Site
VHT's graph looks similar to XLV's graph where the market price more than doubles during the 5 year period. It starts at $65.00 per share at the beginning of the 5 year period and moves on to its current price of $132.00 per share. The first year's dividend was $1.049 and since the ETF has started to pay dividends quarterly, there are only 3 quarters of dividends for the last year which amounts to $2.015. The dividend for the next quarter will likely be around $0.40, so the dividend is about $2.40. This health care ETF seeks to mimic the MSCI US Investable Market Health Care 25/50 Index. VHT just as XLV has a yield just over 1% and again selling some appreciated stock is necessary to yield 7% in cash. Both funds have appreciated enough to offer a 7% cash return annually while still allowing one to maintain the portfolio's original capital.
The next issue to back test is RYH and the graph is displayed below.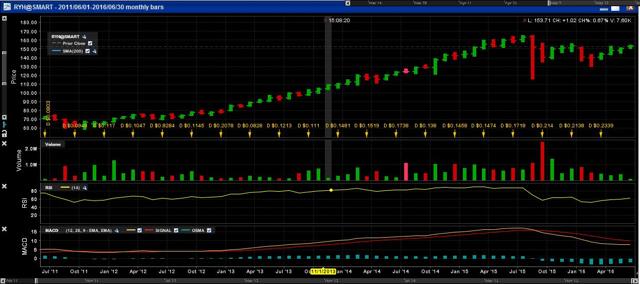 Click to enlarge
Source: Interactive Brokers Web Site
RYH shows the same upward price momentum portrayed in the prior 2 ETFs with a market price that starts at $70.00 and ends with a current price of $153.00 per share. RYH, like XLV and VHT, has more than doubled over the 5 year period and resembles the other funds by tracking a health care index; the S&P 500 Equal Weight Index Health Care. Dividends for the first year were $1.1449 and dividends came in at $0.83 for the last 4 quarters, a decline of 28% from the first year. The current dividend is less than 1%, yet the market price expansion would permit share sales to garner a 7% yield annually without diminishing capital.
The next graph covers IYH for the 5 year period.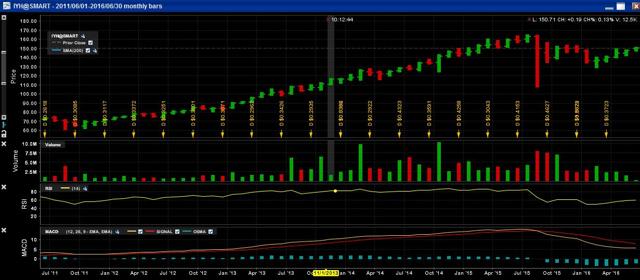 Click to enlarge
Source: Interactive Brokers Web Site
IYH like the other funds starts at $75.00 and moves on to sell at $150.00 per share, doubling its market price over the 5 year period. The dividend payments started at $1.2191 for the first year and ended at $2.6851 for the latest 4 quarters. The dividend currently offers a 1.75% yield, well short of the 7% goal. However, here again stock sales can also provide 7% cash without losing capital to cover the difference. IYH, like the other 3 funds covered above, also attempts to track the investment results of US equities in the healthcare sector.
The final graph covers FXH for the 5 year period.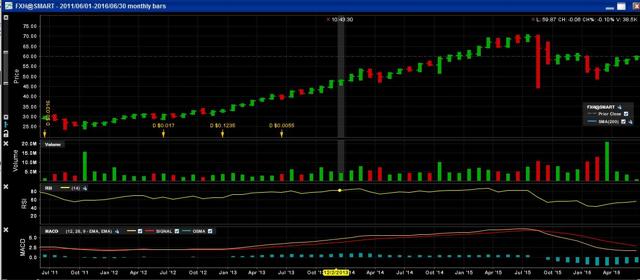 Click to enlarge
Source: TD Ameritrade Web Site
FXH's graph pretty much follows the route taken by the graphs above. The market price at the beginning of the period was $30.00 and now is $60.00 per share, another fund that doubled over the past 5 years. This fund also tracks an index, the StrataQuant Health Care Index, an index built from members of the Russell 1000 that meet the top 75% of health care issues that meet certain growth and value criteria. Comparing the top 10 holdings with the other 4 funds, one can see that the issues in this fund are very different.
The distribution history indicates that there were only 4 minor distributions over the last 5 years. This fact was verified by checking FXH's Web Site which showed that 6/28/2013 was the date of the last cash distribution and that was for only ½ a penny per share. If one is interested in cash dividends, FXH is not the fund to buy. Furthermore its market price expansion was less than the other 4 ETFs covered here thereby eliminating it from consideration.
A summary of the health care sector fund results follow in the tables below starting with the table taken from the prior article on CEFs.

Click to enlarge
Source: Author's work
A similar table constructed from the health care ETFs covered in this article is shown below.
| | | | | | | | |
| --- | --- | --- | --- | --- | --- | --- | --- |
| ETF | Curr Yld | Yld 5 Yrs ago | Price 5 Yrs ago | Curr Price | Curr Yld if bought 5 Yrs ago | Price Growth Over 5 Yrs | Payout Growth Over 5 Yrs |
| XLV | 1.5% | 2.1% | $35.00 | $72.00 | 3.0% | 105% | 43% |
| VHT | 1.5% | 1.6% | $65.00 | $132.00 | 3.1% | 103% | 92% |
| RYH | .5% | 1.6% | $70.00 | $153.00 | 1.1% | 119% | -28% |
| IYH | 1.8% | 1.6% | $75.00 | $150.00 | 3.6% | 100% | 120% |
| FXH | 0% | .1% | $30.00 | $60.00 | 0% | 100% | n/a |
Source: Author's work
The comparison between CEFs and ETFs show that the best options for a 7% cash return portfolio are the Tekla Healthcare Investors (HQH) and the Tekla Life Sciences Investors (HQL). If purchased 5 years ago, they would offer double digit cash payouts exceeding 20%. Furthermore their market prices have grown, offering excellent capital gains as well. A retiree would not have to sell one's stocks to obtain the 7% to live on since these 2 CEFs provide the dividends quarterly throughout the year. While there is no guarantee that the next 5 years are going to be as productive as the last 5 years in the health care industry, a growing elder population that need increased health care favor continued growth in the sector. Not only will these 2 CEFs in the health care industry provide over 7% in dividends, but they should also help the retiree keep up with inflation.
If one is not a retiree, but rather a younger person looking to grow one's accounts, the superior performing health care ETFs would be the better choice. The capital gains would grow the account without the concern of reinvesting dividends. Almost all of the health care ETFs covered in this article have shown excellent growth and are likely to continue to grow for the next few years.
Disclosure: I/we have no positions in any stocks mentioned, and no plans to initiate any positions within the next 72 hours.
I wrote this article myself, and it expresses my own opinions. I am not receiving compensation for it (other than from Seeking Alpha). I have no business relationship with any company whose stock is mentioned in this article.