The low valuation among the companies in the regional airline industry [average forward P/E of 10.4] as compared to the S&P 500's average forward P/E of 17.5, made me take notice of the potential investment opportunities at hand. Southwest Airlines (NYSE:LUV) is the clear leader in the industry with the highest market cap of $28 billion and revenue of $20 billion TTM. Ryanair Holdings (NASDAQ:RYAAY) is the company with the next highest market cap [$22.5 billion] and revenue [$7.3 billion TTM] in the regional airline industry.
Southwest Airlines recently reported strength in its business with a 6.4% increase in revenue passenger miles and a 4.6% increase in available seat miles in May. This implies that the company is likely to have a modest increase in revenue per available seat mile [RASM] for Q2. This would be an improvement over the flat RASM that Southwest reported in Q1. Although Southwest's RASM was flat in Q1, it was the best performance in the industry. This speaks to Southwest's leadership with its ability to outperform its peers.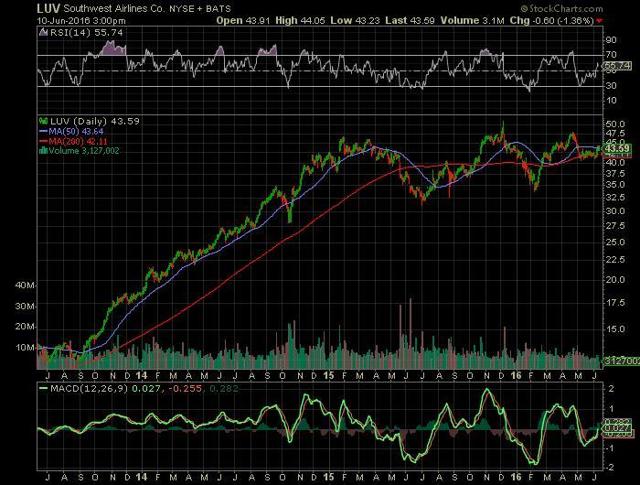 Click to enlarge
The main reasons for Southwest's success for its RASM performance in my opinion is a result of having attractive fare prices and by retaining repeat customers through the Rapid Rewards program. Although Southwest's fares may not be the lowest among the airlines, the company is attractive for its baggage fee policy and for changing flights. My family is attracted to Southwest's policy of the first two bags flying free. This is attractive for traveling passengers who don't desire to shell out extra money for checked bags at the airport.
Southwest's Rapid Rewards program is ranked #3 behind Alaska Air Group's (NYSE:ALK) mileage plan and American Airlines' (NYSE:AA) AAdvantage plan according to US News. Alaska Air is limited to travel within Alaska and to and from Seattle, Portland, and Oregon. Southwest's plan covers 90 destinations. The rankings are based on ease of earnings free flights, network coverage, award flight availability, and other benefits. American does have a larger network coverage, but Southwest has a higher ranking for the east of earning free flights. Earning free flights is one of the main reasons for participating in a rewards program. So, I think that Southwest's Rapid Rewards program will attract and retain customers more than most of the other airlines, thus helping to boost RASM going forward.
Southwest also has a no change fee for passengers in the event that flights have to be changed. This gives customers peace of mind as various unexpected circumstances can change travel plans. I think that Southwest's luggage and no change fee policies give customers a perception of not getting hosed by the airline. These are strong customer service features that can entice passengers to remain loyal to Southwest.
JetBlue (NASDAQ:JBLU) does allow the 1st bag to fly free if it is within certain dimensions and weight, but there is a fee for the second bag. So, if you have to check a bag and a golf bag, JetBlue will charge a fee for the 2nd bag, while Southwest will allow both for no extra fee. Virgin America (NASDAQ:VA) charges for the first and second checked bags.
JetBlue has per person fees for flight changes and cancellations. Virgin also has change of reservation and cancellation fees in certain regions. So, I think Southwest stands out for its customer service policies of not charging extra for checked bags and for flight changes. This is likely to lead many passengers to use Southwest for their traveling needs. So, I see further strength for the company's top line growth for the foreseeable future.
Undervaluation
The entire regional airline industry is trading at a 41% discount valuation to the S&P 500 in terms of next year's expected earnings as I showed in the first paragraph. The reason for the significant difference in valuation is a result of the industry's high correlation to economic conditions. The industry is likely to take a large negative hit during a recession, after a large-scale terrorist attack, or during times of uncertainty. So, investors give companies in the industry a lower valuation because of this risk.
Southwest is trading below its closest peer in terms of market cap (Ryanair). Here is how the two companies stack up:
Southwest

Ryanair

Forward PE

9.6

12

PEG

0.54

1.22

EV/FCF

19

31

EV/EBITDA

5.17

10.5

Expected EPS Growth

For Next Year (consensus)

8.7%

7%
Data source: Capitol IQ
Southwest has the advantage of having a lower valuation with higher expected earnings growth. This is likely to allow Southwest's stock to outperform Ryanair's stock over the next year. However, Ryanair does pay a higher dividend of 3.8% on a 60% payout ratio as compared to Southwest's yield of about 1% on a 9% payout ratio.
I don't really see anything wrong with Ryanair as an investment other than having a higher valuation. Income seeking investors are probably awarding Ryanair's stock with a higher valuation because of the generous dividend payments. However, Southwest does balance the use of its free cash flow well with dividends and buybacks. Since Southwest's payout ratio is so low, the company has a strong ability to raise the dividend going forward.
Conclusion
Since the economy is moving along with incremental improvements and the Fed is taking its time raising rates, I don't think a recession will take place any time soon (at least not for the next year). Therefore, the airline industry and Southwest are still likely to thrive under these conditions.
I think that Southwest will continue to benefit from the incrementally growing economy and from company- specific policies of its rewards program, no-bag fees, and no flight cancellation fees. Earnings for U.S. workers have been increasing, which is likely to help keep the demand for air travel strong. I think that travelers will continue to be attracted to Southwest's customer-friendly policies.
The EIA.gov is expecting oil prices to average $46 per barrel in Q3, $47 in Q4, and $52 in 2017. So, there is not much difference to the current price of $50. Therefore, this should keep a lid on significant fuel cost increases over the next year for Southwest, thus helping the company's bottom line.
Southwest's attractive valuation and earnings growth is likely to lead the stock to achieve an approximate 10% gain over the next year. This will be driven by earnings growth plus some P/E expansion.
Disclosure: I/we have no positions in any stocks mentioned, and no plans to initiate any positions within the next 72 hours.
I wrote this article myself, and it expresses my own opinions. I am not receiving compensation for it (other than from Seeking Alpha). I have no business relationship with any company whose stock is mentioned in this article.
Additional disclosure: If you like my analysis, click on FOLLOW at the top of the article near my name. This will allow my articles to appear on your homepage as they are published.