Overview:
AMD (NASDAQ:AMD) critics often cite Intel's (NASDAQ:INTC) vast technical dominance as a reason why AMD is always on the cusp of dissolution. SA Contributor Mark Hibben has been one of those critics and in his most recent article (here) he claims Intel is in a "last man standing" strategy. As part of that strategy Intel must and will drive AMD out of the x86 market.
There are several reasons why that won't happen and in this article I will present counter arguments to Hibben's premise.
"Threat is in the eye of the beholder."
Mohamed ElBaradei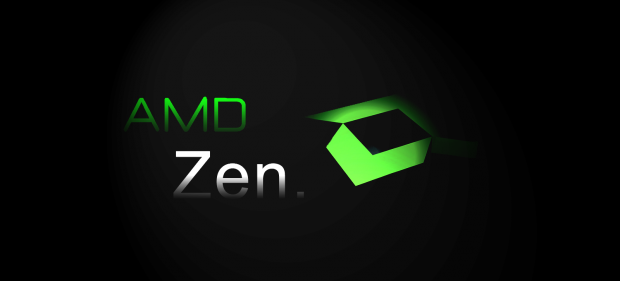 Source: techfrag.com
Elephants don't chase fleas.
One problem with the "crush AMD" argument is AMD's x86 desktop business is a very small fraction of Intel's sales. That's because currently AMD is only able to compete at the lowest price (and margin) range of PCs. In their latest 10Q AMD reported $460 million in sales from the Computing and Graphics segment. Since AMD does not break out CPU vs GPU we will assume a 50-50 split or $230 million in x86 desktop products. This compares to Intel's $13.7 billion in sales over the same period. It seems to me the pie chart below shows Intel needs to concentrate on other more promising areas. Taking even 50% of AMD's miniscule share of a shrinking market is unlikely to push Intel forward. I would think major management efforts will more likely be in growth areas like Data Center, IoT, 3D NAND and 3D Xpoint.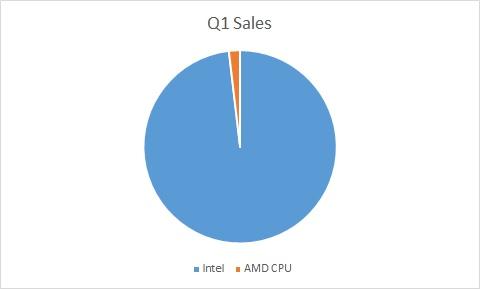 Because AMD is so lacking in viable x86 products Zen will open large new market areas.
Market share numbers are provided by cpubenchmark.net every month. As you can see from the chart AMD's share is falling and currently resides at about the 20% mark, down from 50% in 2006. (market share)
But even those harsh numbers are deceptively inaccurate because AMD's share is exclusively low-end, low-margin products. That is, on a unit share basis they have 20% but on a dollar share basis it is much smaller than that. That can be easily seen from the following price tables of the five highest-priced CPUs by company. Data for tables is from CDW and New Egg websites.

If we look at those prices in graph form you can see Zen has a huge potential to capture at least part of Intel's current dominant share. It is easy to imagine Zen addressing at least 80% of that price range differential. That would still leave Intel in the high end but expand AMD's market considerably.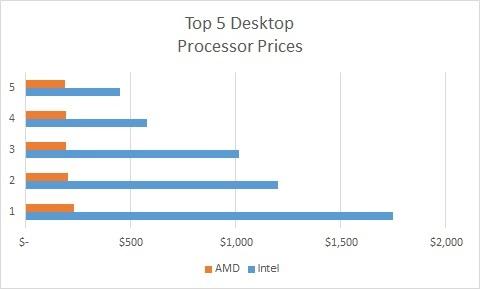 And servers are even worse since AMD currently has virtually a zero market share.
As everyone knows, Intel is so dominant in the server chip market that's basically a monopoly. Even the distorted prices shown below don't tell the true story because AMD hardly sells any of these chips. So how much market share will Zen servers get next year? I don't know but certainly a lot more than zero.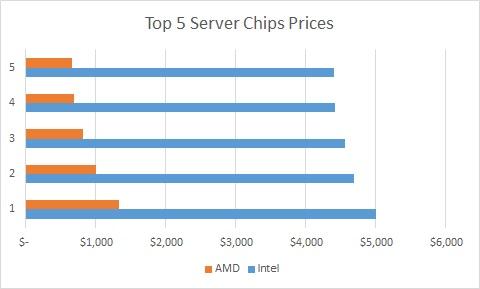 Virtual Reality is a perfect fit for the Polaris/Zen combo.
As VR continues to grow rapidly (77% CAGR 2016 to 2022) AMD's Polaris GPU (scheduled for release June 30) in combination with Zen will provide one of the leading VR GPU/CPU combinations in the market. I don't see how Intel out competes AMD in VR any time soon.
And don't forget semi-custom and licensing deals.
AMD has $1.5 billion in semi-custom deals in house with more possibly on the way. Also new game consoles will provide another avenue for increased future sales of x86 products. I wrote about those in this article "AMD: New PlayStation 4 And Xbox Consoles Should Boost 2017 Results Significantly." And after the recent Chinese x86 licensing deal with THATIC look for more licensing deals for x86 and graphics. I wrote about the THATOC deal here "AMD: The Good News Continues."
It's hard to go out of business if you have $1 billion in cash and have positive cash flow.
At the latest investors conference AMD's management stated they would be cash flow positive in the second half of 2016. With the closing of the Nantong-Fujitsu Joint Venture and the licensing deal with THATIC AMD now has about $1.1 billion in cash, the most since 2011.
Per CFO Devinder Kumar:
"For the full-year 2016 we continue to expect revenue to grow year over year, to be non-GAAP operating profitable in the second half of 2016, and to generate positive free cash flow from operations for 2016."
That doesn't sound like someone who is about to be "put down for good."
Conclusion:
AMD's critics continue to miss the point: Polaris and Zen will allow AMD to finally address and capture some of the market share they have lost over the last 10 years. They do not need to recapture all of it to have a very successful and profitable company.
And that doesn't even count the new expansion of semi-custom, joint ventures and licensing. AMD is on a roll but critics don't believe it.
Mark Hibben is a very smart guy and has had a sell on AMD about as long as I have had a buy on it. May the friendly competition continue until one of us is proven wrong.
AMD is a strong buy.
If you found this article to be of value please scroll up and click the "Follow" button next to my name.
Disclosure: I am/we are long AMD.
I wrote this article myself, and it expresses my own opinions. I am not receiving compensation for it (other than from Seeking Alpha). I have no business relationship with any company whose stock is mentioned in this article.