Over the past month, Kate Spade's (NYSE:KATE) share price has fallen almost 15% over the past month, and just last week KATE dropped 6.7% after Telsey lowered its price target on Vera Bradley (NASDAQ:VRA) to $19 while maintaining its target on KATE. For me, this pullback provides an opportunity for investors to buy into a strong growth story at a relative discount.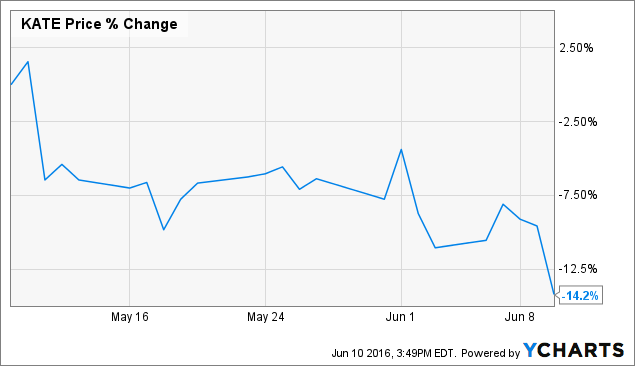 KATE data by YCharts
While the bear thesis is predicated upon a dying teen mall retail environment, I argue KATE is much more diversified than typical niche teen retailers. KATE has four main focuses: Men's (Jack Spade), Women's, Children's and Home retail. I think the two sections investors likely think are most at-risk, Men's and Women's, will grow over the next several years even in the face of Amazon's (NASDAQ:AMZN) competition.
On the Women's side, Kate Spade is driving brand recognition through with its Miss Adventure series. The series, featuring Kate Spade clothes and accessories, generated 31 million views in the spring. It is an interesting and unique move by the company to leverage entertainment over advertisement and engage consumers in a more thematic manner. I see the success of this series persisting over time and continuing to drive higher consumer engagement. The KATE Women's line also will benefit from secular trends in the athleisure space. KATE recently teamed up with Beyond Yoga to make an athleisure fashion line. This fashion line should see immense success this summer.
On the Men's side, Jack Spade is driving brand recognition through columns written in Esquire and Men's Health magazines, again evidence of the company leveraging entertainment over advertisement. These magazines on a monthly basis generate millions of readers, and this should spill into increased traffic.
Moreover, international expansion will be spurred on by a few major plays by KATE. First, KATE has made UK super model Jourdan Dunn the face of Kate Spade's spring and early summer campaign. Dunn is one of the more popular girls in high-end fashion, and I see this as a catalyst for strong summer sales. Second, KATE opened a new store on Regent Street in London. This is the English equivalent of Sachs Fifth Ave in New York City. The new location should drive recognition among English locals and tourists in London. Third, KATE opened 28 new stores in Japan since August, which means to me that it should have no problem gaining appeal in Asia as a whole.
In the larger scheme of things, KATE now offers free two-day shipping, which can compete with the convenience of Amazon Prime. While I don't feel that this will drive sales, I do feel that it provides a viable moat against AMZN's encroachment. After all, KATE grew DTC revenues 19% and guided for mid-teen DTC growth for FY17.
Lastly, KATE plans on opening 40-45 new stores for FY17, which seems achievable to me as it already opened 14 in the first quarter. These new stores will include licensed stores in Japan, Hong Kong and the UK, yet again helping international growth. Furthermore, KATE will continue to drive accessory sales through smart watches and smart jewelry as it already is the leader in high-end tech jewelry and accessories. Solid store growth and fashion growth coupled with the ability to drive positive comps make KATE a good value play. However, with this good story, we see an expensive valuation that makes the stock wholly less attractive to me.
Currently, we see KATE trading at a rich valuation with a trailing P/E of ~33x and an EV/OCF multiple of ~22x. KATE is trading at a premium to its brick-and-mortar competitors, but the recent 15% share price depreciation gives investors a new opportunity to get back in at relatively lower levels. Looking at the press release for the last quarter, investors were reassured that the rich valuation is supported by strong growth. KATE reported overall sales growth of 15% on top of adjusted EBITDA margin expansion.
In conclusion, I believe KATE has a good growth story and an attractive line of products. The originality and diversity of the company gives me a lot of hope for future growth. I do, however, feel that the expensive multiples make the investment a bit more risky as a lot of growth is already priced in. The pullback priced some of this growth out, so it looks like an appropriate time to add some here.
Disclosure: I/we have no positions in any stocks mentioned, and no plans to initiate any positions within the next 72 hours.
I wrote this article myself, and it expresses my own opinions. I am not receiving compensation for it (other than from Seeking Alpha). I have no business relationship with any company whose stock is mentioned in this article.